Oklahoma City Butcher
Unsolved Murders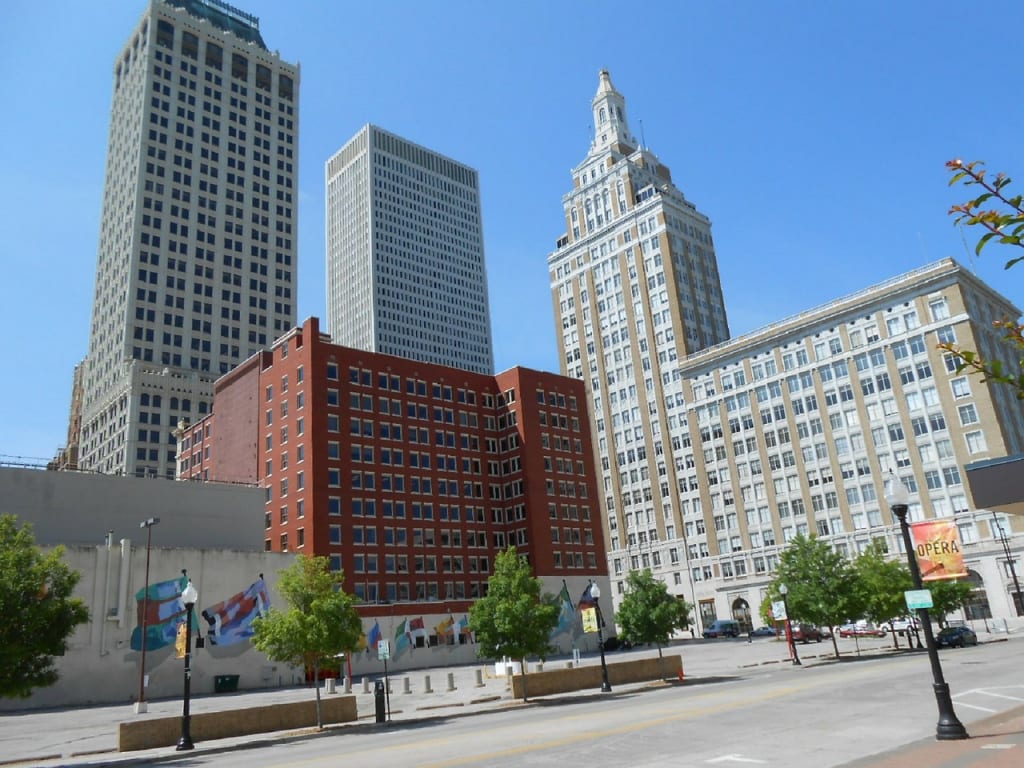 As I live in Oklahoma and recently decided to spread awareness about unsolved true crime cases, I stumbled across this particularly surprising case. While doing research, the story kept getting more crazy, so be prepared for that.
Three utility workers who were in between shifts decided to check out an abandoned house near the worksite. This building was located at 325 NE 6th street in Oklahoma City. One of the men was quoted saying the house "smelled of death." The workers found a severed thigh and later a human head inside a large popcorn bucket. One worker stated that the head was so beat up that it was barely recognizable as human. Police also found a torso in the abandoned building after further searching. The police noted that the head was mutilated at the mouth to form an extended smile.
The remains were identified 17 years later using DNA. The victim was identified as Cathy Lyn Shakelford. Andra Medina asked authorities if she could report her cousin missing after 17 years. Sargent Norma Adams remembered a photo she had seen hanging by the information desk at the police station which seemed to match Andra's report. The key to matching the missing woman with the remains of the victim was that Cathy had short, deformed fingers. In search for dental records, detectives learned that Shackelford's dental charts were destroyed in a fire at her dentist's clinic.
A tooth from the woman's remains was compared against blood DNA from Shackelford's sister, a perfect match. Vera Grant, Shackelford's older sister, said loved ones searched for Cathy for years to find out the woman's fate. "Our search began that very year that the body was found," Grant said. The family always assumed the woman was alive because of reports that she had been seen in different parts of the country. Shackelford was reported as a runaway at age 17 in June, 1975. She turned 18 one month later and was last heard from two months before her death, when she was treated at University Hospital in OKC. Cathy Lyn Shackelford was buried in accordance with Sac and Fox tradition.
Three years later on April 19, 1979, a group of kids playing basketball near the 300 block NE 10th street saw a dog running down the street dragging what appeared to be a human head. Reddit user "Happyfoods" commented on a post about this case that they remembered this. "My brother was among the group of kids, it was his friend's dog and this happened in a field next to our house. I have never forgotten it." Authorities discovered many parts of the same body scattered throughout the neighborhood, covered with newspaper or put in brown paper sacks. These remains included a hand, a woman's pelvis, several pancake-sized portions of human skin, and some other tissues. Each was reportedly carefully cleaned by the killer.
After two days, detectives began to attempt to identify the victim. However, remains were found in the neighborhood for the following two weeks. A week later, after the body was discovered, fingerprints accurately identified the victim as Arley Killian. She was reportedly involved in sex trafficking. Her family claimed to have seen her only hours before the first remains were recovered.
The final victim was discovered on March 6, 1986. A woman's torso and left leg were found behind a residence on 501 NE 1st street. A week later, a homeless person found a head in the garbage behind a garage located at 507 Lindsey Avenue. Through her tattoos, authorities identified the remains as missing person, Tina Marcia Sanders. She was last seen the previous day.
All bodies were found within a mile of each other. None of the body parts were hidden, but not out in plain sight either. All three women were of Native American lineage and of the same build, early 20 years of age. Two were known prostitutes and each murder occurred in spring. In each case, some of the body parts, including sexual organs, were never found. There is evidence to suggest that this person took time with the victims at least post-mortem, not to mention the time it would have taken to dissect them.
The dismemberment was non-surgical, but instead described as crude and sloppy. The killer took pleasure in placing the bodies out to be found, taunting police and making sure what he wanted to be found was found by someone. The remains were placed in areas where they would be found at a great shock value. It is still unknown who committed these gruesome crimes or what the killer was doing in the years between the murders. Theories include: jail, working overseas, or serving in the military. A possible suspect was considered in Arley's case, a man named Henry Lee Lucas, who was a known drifter eventually convicted of killing 11 people. His involvement was ruled out.
This case may be old, but I believe all unsolved cases deserve to be mentioned to raise exposure. I am a native to Oklahoma and have never heard of this case before doing my own research.
investigation