No justice for Jody LeCornu
The search for a killer continues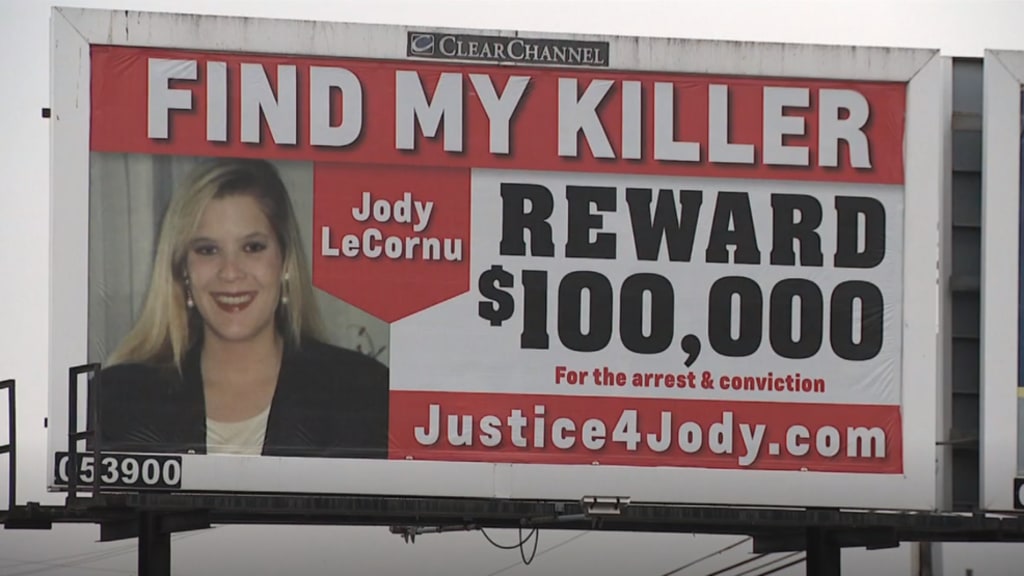 Who murdered Jody LeCornu?
My younger brothers are twins. Since birth, they have been inseparable. As children, they did everything together. Today, their relationship remains strong. The bond they formed within our mother's womb remains unbroken.
Jody and Jenny LeCornu were no different than my brothers—inseparable.
The LeCornu sisters were best friends and did everything together. Although Jenny moved away from Maryland, the sisters kept in touch by phone. So, what do 23-year-old twin sisters discuss when they are together? I am sure they planned on growing old together and sitting in lawn chairs somewhere reminiscing about the past. Isn't that what people do? We hope to live long enough so we can relive our happiest moments.
Unfortunately, the happiness of the LeCornu sisters ended with a single bullet on a cold winter evening in 1996. Although one sister died, the other one suffers from a wound that will never heal. It's called a broken heart.
On March 2, 1996, Jody LeCornu, 23, had stopped by the Mount Washington Tavern in Baltimore, Maryland to unwind. Afterward, Jody drove a bar employee home. After dropping him off, she stopped at a local liquor store and bought some beer. Sometime before 4 a.m., Jody pulled into a shopping center parking lot. After parking her car, a stocky black man wearing an Army fatigue jacket pulled up to Jody in a white BMW.
Jody LeCornu died alone in a parking lot
Witnesses saw a brief exchange between the unidentified man and LeCornu. He then fired one shot through the back of Jody's car. The bullet struck her in the back and traveled into her spine. With her life fading into darkness, Jody drove away into another parking lot where she died.
The killer then followed her into the parking lot. He was seen placing his hand in the car, putting the dead woman's car into park and then removing items from the car. The man sped off into the night. Today, the case remains unsolved.
Local authorities have investigated the case and made no arrests. Jenny said she doesn't have any faith in the Baltimore County police department. Since Jody's death, Jenny has appeared on various television programs, podcasts and in newspaper articles discussing her sister's death. She has even used billboards to plead for the public's help in solving her sister's murder.
Jenny is determined to find out who killed her sister. While reviewing this unsolved homicide, I had a couple questions:
Why was Jody in a deserted parking lot so late in the evening? Was she waiting on someone? Jenny said Jody didn't enjoy driving in snow and feared becoming a crime statistic.
Was Jody's homicide planned or just a random shooting?
For over two decades, no one has answered these questions. Since Jody's death, Jenny has become her sister's lone voice. She has spent thousands in her quest to find Jody's killer.
However, she feels her biggest hurdle has been dealing with law enforcement. According to Jenny, the Baltimore County police have been "inappropriate, disrespectful and horrible." They won't share anything or even discuss Jody's case with her.
She realizes the police cannot show all their cards because it could comprise the investigation. However, Baltimore authorities have had the case for over two decades and still have no answers. Jenny feels that if the police shared information with her, she might figure out what happened to her sister.
Jenny said she had a glimmer of hope when she learned that an inmate might either be the shooter or know something about her sister's homicide. She has inquired about this individual, but the police won't divulge any information about him.
Justice denied for over 20 years
Jenny has tried to live a regular life. She started a family, got married and became Mrs. Jenny Carrieri. Unfortunately, Jody didn't live long enough to become a bride or start a family. She will forever remain known as a young woman who was murdered in a parking lot.
Do you know who killed Jody LeCornu? Can you help her twin sister get justice? Over two decades have passed since this brutal murder occurred. If the killer is still alive, he may have confided in someone about the homicide.
Could you be that person? If you know something about Jody LeCornu's senseless death, please call 410-200-6284. And if you would like additional information about this cold case, please visit www.justice4jody.com.