Murder Files: JonBenet Ramsey Part 1
The tragic story of a young beauty pageant child with her whole future ahead of her...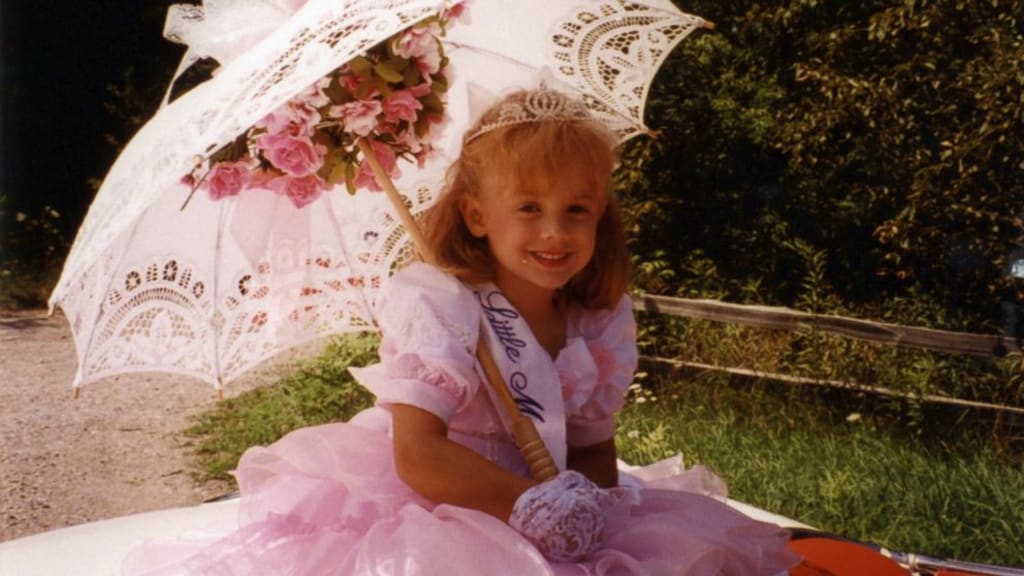 In this Murder File we look into the life and brutal death of JonBenet Ramsey.
Basic Info
Name: JonBenet Ramsey.
Born: August 6th 1990.
Died: December 25th-26th 1996 (Age 6).
Cause of Death: Asphyxia by strangulation and cranial trauma.
Parents: (Mother) Patsy Ramsey (Father) John Ramsey.
Siblings: (Brother) Burke Ramsey.
Final Resting Place: St. James Episcopal Cemetery Marietta, Georgia, US.
Family Life
JonBenet Ramsey was born on the 6 of August 1990 in Atlanta Georgia. Named after he parents, John Bennett and her mother Patricia, JonBenet Patricia Ramsey was the youngest of the couples two children. Her brother, Burke Ramsey, was born on the 27 of January 1987.
Burke and JonBenet had a "difficult" relationship when they were children. Burke was said to be very quite and reserved. He was also very into computer technology. JonBenet on the other hand was very outgoing. The common image that conjures to your mind when you think of her is the beautiful girl in a gown with a tiara and sash. But there are many accounts of JonBenet being much more of a tomboy, spending her days jumping into piles of leaves and getting muddy.
This along with the fact that when JonBenet came along, it is said that he was pushed to one side, causing obvious conflict. There are records of an incident where Burke hit JonBenet over the head with a golf club, leaving her with a scar on her cheek.
Patricia Ramsey was four days away from turning 40 at the time of her daughters death. Patricia "Patsy" Ramsey was born on the 29 of December 1956 in Gilbert, West Virginia. In 1975 she began to attend the West Virginia University, where she belonged to the Alpha Xi Delta sorority. Patsy graduated in 1978 with a B.A in journalism.
Both Patsy and her sister, Pamela Ellen Paugh, were fairly successful in the pageant circuit, with both sisters winning well known titles. Patsy won the Miss West Virginia pageant in 1977 at the age of 20 and her sister won the Miss South Charleston title at the age of 21 in 1980.
Patsy met her future husband John Ramsey and soon the two married on the 5 of November 1980, at the age of 23. Patsy unfortunately passed away on June 24 2006, aged 49, due to ovarian cancer.
John Bennett Ramsey was born on December 7, 1943 in Lincoln Nebraska. He was the son of Mary Jane and James Dudley Ramsey, a decorated WWII pilot. After graduating Michigan State University, John joined the navy in 1966. He served for three years as a Civil Engineer Corps officer in the Philippines and then continued with an additional eight years for the reserve unit in Atlanta.
In 1989 John formed the Advanced Product Group, after joining it with two other companies he became CEO of the collaboration company named Access Graphics. Access Graphics was a computer services company and was a subsidiary of Lockheed Martin. The company quickly became successful, only a few years later (1996) grossing over $1 billion. In the same year he was also named "Entrepreneur of the Year" by the Boulder Chamber of Commerce. His net worth at this time was speculated to be about $6.4 million.
After the couple married and had their two children they moved to Boulder, Colorado in 1991.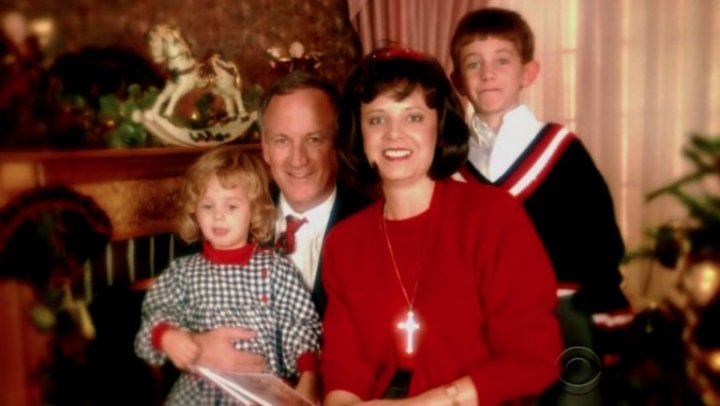 The Day Of...
The 25 of December 1996 will be a day forever ingrained in the family's memory for the tragic death of JonBenet, but what happened before that?
Timeline. (As told by Patsy on the 27 of December in police interview.)
25 December, 1996.
06:00: The Ramsey family woke up early in the morning to go downstairs and open their Christmas presents.
07:00: After spending approximately one hour opening presents the family then went to make pancakes together for breakfast.
07:30: After having breakfast the family broke up. Both Burke and JonBenet went to play with their gifts. Patsy was getting herself ready for the day.
08:00: Children from the neighbourhood started showing up to compare their gifts with each other.
12:00: John went to a hanger to check on the company's private plane.
During the time John was out Patsy and the kids had lunch. She however was not too sure on the exact time or what they had.
14:30: John returns home and the family begin to get ready for the party that night.
17:30: The Ramsey's arrive at Fleet and Priscilla White's annual Christmas party.
During the party the guests who were interviewed later all gave the indication that there was nothing out of the ordinary.
20:00: After they left the party, on the way home they dropped off a gift at the Walkers family home. According to Patsy, JonBenet had fallen asleep in the back of the car.
21:30: The family arrived home. JonBenet was still asleep so her father carried her into the house and put her to bed.
21:45: Burke was downstairs putting a toy he had gotten together. Patsy helped him and then took him to bed.
22:00: Patsy went to bed.
22:15" John came to bed.
To be continued...
investigation