Michigan's Missing: Five Unsolved Disappearances From the Mitten State
Where Are These People? What Happened to Them? Who Has the Answers?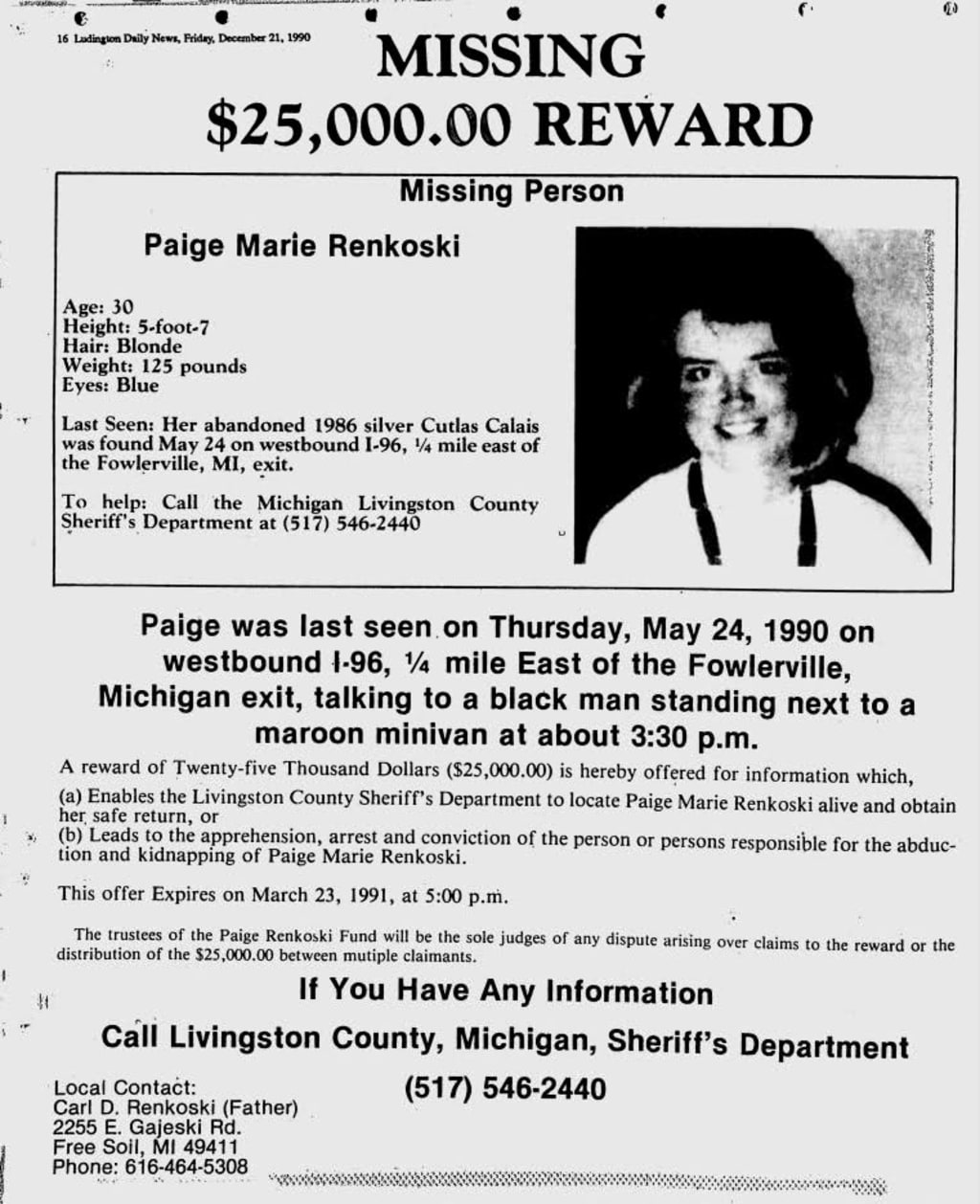 Paige Marie Renkoski, missing since 1990.
Every day, we go about our business, not spending much time thinking about what it would be like to vanish off the face of the earth. These missing persons probably never entertained those thoughts, either, as they went about their lives in the Midwestern state of Michigan.
So, who are these people? What happened to them?
Someone out there knows. If that person is you, speak up. It's time to give the loved ones of these five folks the closure they deserve.
1. Paige Marie Renkoski
Paige Renkoski was a vivacious 30-year-old from Okemos who had no real reason to disappear on May 24, 1990. But that's exactly what happened.
Paige had dropped her mother off at the Detroit Metropolitan Airport that morning, then went to visit a friend in Canton Township. Around 3:30 that afternoon, her Olds Cutlass Calais was found abandoned on the side of westbound I-96.
Witnesses reported seeing Paige standing on the side of the road, speaking to several men in a maroon van. Unfortunately, law enforcement did not respond until about 6 PM, and the trail had already gone cold.
Over the years, police have tried to follow up on leads, including scanning a pond in Handy Township during May of 2011. However, after 28 years, no significant clues have surfaced, and no one seems to know who took Paige or why.
2. Deanie Peters
Deanie Peters is Grand Rapids' most chilling and baffling missing persons' cold case. Deanie was just 14-years-old at the time of her disappearance in February of 1981. She had been attending her brother's wrestling match at Ada's Forrest Hills Central Middle School when, after her mother got up to use the restroom, Deanie got up, crossed the gym floor, and was never seen again.
Law enforcement and Search and Rescue combed the surrounding area for days but came up empty-handed. In 1991, after receiving no concrete leads, Deanie was officially declared deceased.
The case was re-opened in 2008, but more dead-ends followed. The team has reportedly cornered a few people still living in the area who know what happened to Deanie and where she is buried, but they have not been cooperative.
The prime suspect in Deanie's disappearance is her ex-boyfriend who, along with his new girlfriend at the time, might have killed Deanie out of spite and jealousy. A source close to me reports that a few other teens were involved and that one girl ended up going into witness protection because she was too terrified of what would happen should she have spoken out.
3. Shannon Verhage
This case is truly a sad one. Baby Shannon Verhage went missing after her mother, Rachel Timmerman was abducted along with her in June of 1997 from her parents' home in Cedar Springs.
Rachel had been raped (allegedly, at least) by Marvin Charles Gabrion II just a few weeks after giving birth in 1996. Rachel, though terrified of Gabrion's retaliation, went to the cops the next day. Gabrion was charged within two months but couldn't be located until January of 1998.
Wayne Davis, who had been with Gabrion the night of the rape and was set to testify against him, also disappeared in February of 1997. Rachel was preparing to testify as well, but then she and Shannon vanished.
Rachel's father received several letters from Rachel (or someone posing as her) in the following weeks, saying that she and the baby were alive and well, and that Rachel had eloped. Her parents found this sketchy since Rachel had expressed no travel or marital plans.
Rachel's corpse was found July 5, 1997 in Manistee National Forest. Her eyes and mouth were duct-taped shut, and her wrists were bound in handcuffs. She was just 19.
Gabrion was eventually convicted of her murder in 2002, and, while in prison, he allegedly told other inmates he had, "killed the baby because there was nowhere else to put it," and even marked the site on a map.
Shannon has never been located.
4. Richard Hitchcock
21 year-old Richard Hitchcock had just gotten asked to leave Allegan's Riverfront Lounge on December 22, 1990. He apparently hopped an 8-foot-tall fence and was never seen again. This left his cousin Kellie Yunginger wondering what happened to Richard.
The family joined in the search efforts for Richard, but he was never found. Kellie, who has gone on to work with other families of missing persons and dedicates her life to helping them, still hasn't given up hope on finding out what happened. Richard wasn't known to have any suicidal tendencies.
Recently, the family was given reason to believe that Richard was killed, and that his body was buried in a West Michigan field. Ground-penetrating sonar scanners and cadaver dogs have shown that this is a promising area in which to dig.
5. D'wan Sims
4-year-old D'wan Sims entered the Wonderland Mall in Livonia on December 11, 1994 and soon slipped away from her side, as young children are prone to do. Unfortunately, in D'wan's case, he was never seen again, leaving his family devastated.
Dwanna (the boy's mother) was given two polygraph tests and failed both. Police did not believe her version of events, and there is no security footage or witness to verify that D'wan was ever there to begin with. However, Dwanna maintained her innocence and even had to receive therapy for what happened.
A few leads have come about over the years, but no positive identifications of D'wan's body have ever been made. There are still many people who believe Dwanna is responsible for D'wan's disappearance, and word has it that people even saw her partying right after D'wan was reported missing. She eventually ended up pleading guilty to assaulting her husband, having stabbed him repeatedly after a childcare disagreement.
Could this have been a case of a mother offloading her child when he became an inconvenience, or did someone really kidnap D'wan from the mall that day?

Jen Chichester
Greetings, Readers of Quality!
I am your humble host, Jen Chichester. No pen names. No pretentiousness. Just a love for horror, writing, music, and more. Whatever I'm thinking or feeling, I write it out.
See all posts by Jen Chichester →