Man Sentenced to Nearly 7 Years in Prison for Federal Hate Crime
He'll be back on the streets far too soon despite repeated hate crime offenses
U.S District Judge for the Northern District of California, Edward J. Davila sentenced 45-year-old Ole Hougen to eighty-two months in prison and three years of supervised probation based on the 2009 law known as theMatthew Shepard and James Byrd Jr. Hate Crimes Prevention Act. Hougen's crime involves a 2020 knife attack on a Black man while crossing a street in Santa Cruz, California.
Hougen was indicted by a grand jury on November 17, 2020. Less than 5 months later, on April 9, 2021, a jury convicted him of the federal hate crime after a six-day trial. His case is the first conviction and sentencing in the Northern District of California that has used the federal hate crime act signed into law by President Barack Obama in 2009. The charges pending against him in a Santa Cruz County Superior Court for the same crime were dropped after he was indicted at the federal level.
Evidence presented in his trial proved that Hougen accosted a 29-year-old Black man while crossing a public street in Santa Cruz on July 5, 2020. During the encounter, Hougen began screaming racial slurs at him and then assaulted him with a nine-inch knife. Witnesses to the incident said that Hougen slashed at the victim's head, chest and stomach while continuing to berate him with racial epithets. They estimated that he had slashed at the man between ten and twenty times. Fortunately, the victim was able to avoid injury by fending off Hougen until police arrived.
Hougen has a history of racially motivated attacks. He was already on probation after pleading no contest to state charges related to a 2018 attack on another Black man. Evidence of other incidents involving threats and violent acts committed by Hougen while yelling racial slurs were also presented at trial. This most recent conviction is the fourth racially motivated attack committed by Hougen in the past seven years. Every attack has involved violence or threats against Black men.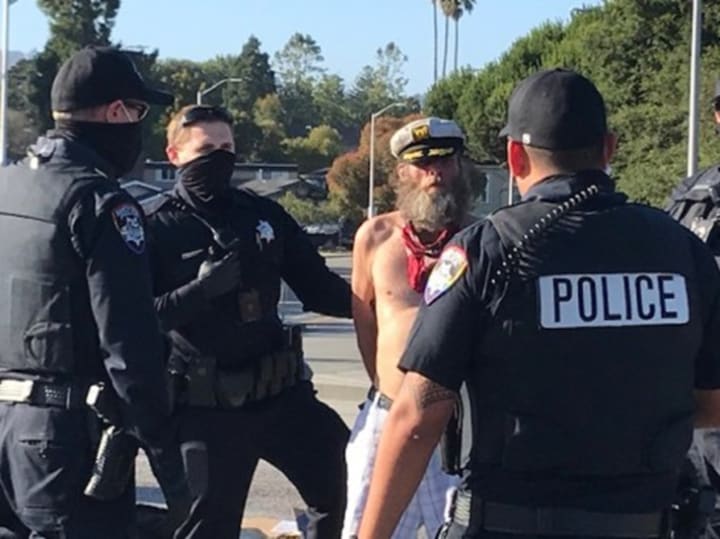 Assistant Attorney General Kristen Clarke of the Justice Department's Civil Rights Division had this to say about the case:
"Racially motivated crimes have no place in our society. This defendant has attacked at least four people because they are Black, and for his most recent racially motivated attack of a Black man, the defendant has been convicted. The Justice Department will continue to vigorously prosecute bias-motivated crimes in an effort to secure justice for victims of these crimes and the communities they are meant to target and intimidate."
Her thoughts were echoed by Acting U.S. Attorney Stephanie Hinds of the Northern District of California:
"Racially motivated violent attacks cannot be tolerated in any society. The Matthew Shepard and James Byrd Jr. Hate Crimes Prevention Act provides significant penalties for violence motivated by racism and other group-hate. This office will use this and every other tool to ensure prosecutions are brought down on criminals committing violence motivated by animus towards our community's protected groups."
With hate crimes (especially racially motivated ones) on the rise, one must wonder if the sentence given to Hougen is sufficient to prevent further offenses once he is released. It certainly doesn't seem to have affected any change in him since his first conviction and it is unlikely to this time either with such a light sentence and a lack of serious therapy to address what drives his unreasonable hate for Black men.
One has to wonder if it isn't just a matter of time before his crimes escalate and another innocent Black man pays the price for the system's failure to truly address the culture of hate embracing so much of America.