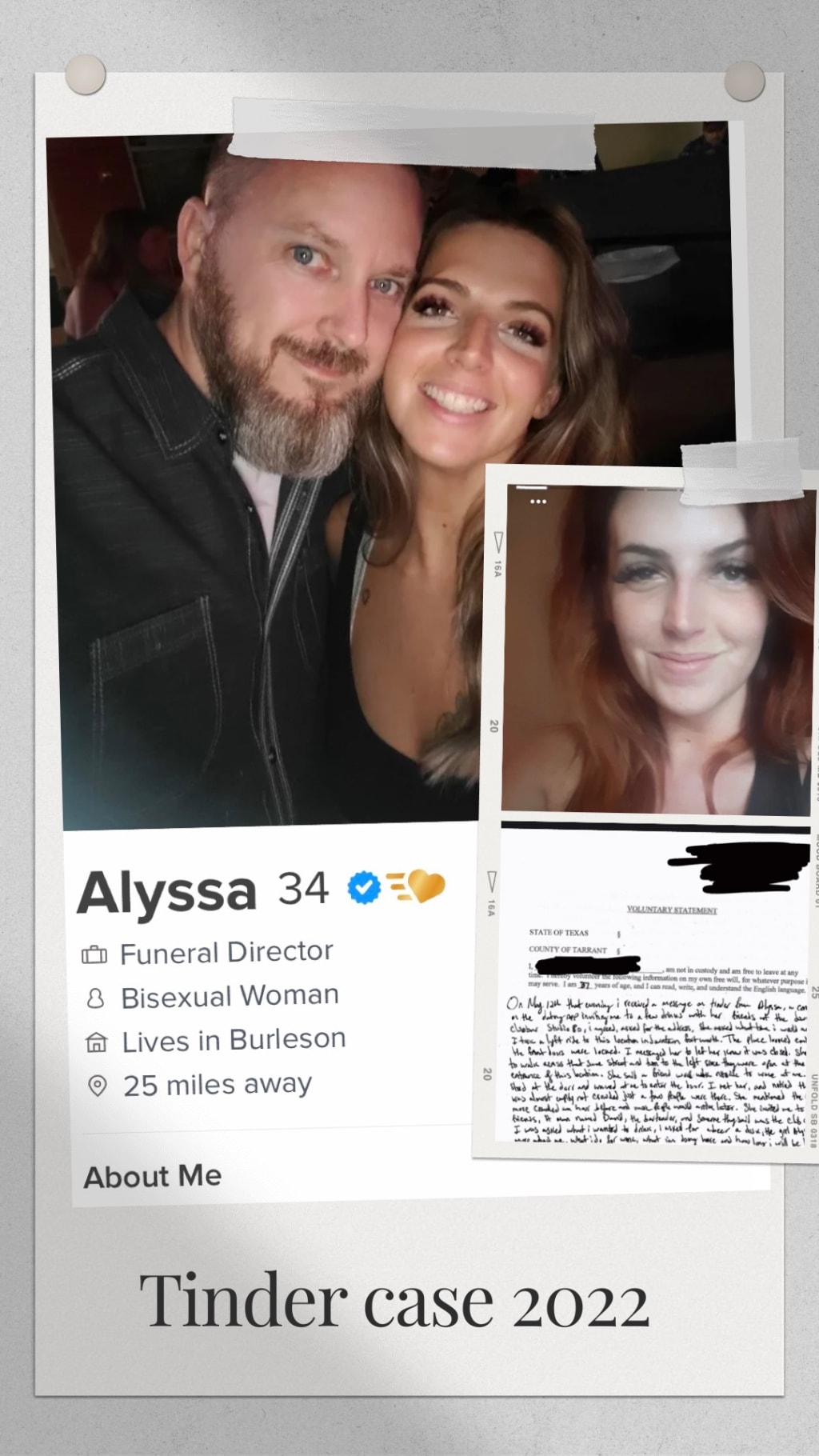 Tinder case 2022/Alyssa dating profile + victim testimony
During the summer of 2022, someone I know was deceived, and roofied-raped but she never got the justice she expected hence this piece. Sometime afterward she decided to file a report creating a case which she later lost due to a corrupt justice system in the state of Texas that said there was a lack of initial evidence (rape kit was not done in time), meaning no charges were filed aside from a file that was kept as a reference by the department who even denied her a copy of her own records, victim statement after the case was closed. It took some pressure from various people to finally receive a copy of the report a month later. Time went by… as she continued her life yet struggled to write this because she wasn't believed initially so she kept this story mostly to herself, and an advocate friend who supported her through the process until now
Perhaps what is worse than not being able to sleep through entire nights due to insomnia is having to replay flashes of memories, scenarios, and thoughts in your head of waking up to someone on top of you while another simply watches 
Because after all… she could have made a last-minute decision to leave on her own, despite the alcohol in her system, and she could have still said NO despite the passive-aggressive comment she heard made about her "should we kidnap her" because after all… she decided to go out and get distracted by having fun… and fitting in with strangers and most of all because being a survivor means you're smart enough-strong enough to not fall into similar situations over a decade later in life 
The truth is nobody understands what a rape victim-survivor goes through in that moment or the days, and weeks afterward because only that person is left to deal with the aftermath on their mental health and well-being. Assuming and accusing someone of wanting to have fun, cheating, promiscuity, etc is victim blaming at its core. We need to understand that while we can't change the past we can certainly change the present moment -and the future by choosing to not deny someone's story regardless of our personal beliefs and opinions 
Denying justice to appease a white couple who utilize online apps to befriend single women with intent to deceive/roofie/encourage or allow rape is and should be a crime. Especially when they target LGBTQ and those who are questioning. That is what happened in this particular case that began on a popular dating app known as tinder, a widely used app to find friends, dates, and more. The app has previously been investigated for its misuse which allows individuals to target women and men alike 
Plenty of cases have been documented about the App's lack of safety which has led some to be harassed, deceived, and in some cases kidnapped, raped, and trafficked. This has led to an increase in security on the app including photo verification, anti-harassment prompts, and a Trust and Safety team. Recently the app along with other apps could also include mandatory background checks as outlined below 
"A Texas woman was allegedly kidnapped by a man she met on a dating app after repeatedly refusing his sexual advances. The suspect, Zachary Mills, was taken into custody and is accused of assaulting the 21-year-old woman and denying her food and water for a week, Harris County Police reported." The article Could Mandatory Background Checks Curb Trust Issues on Dating Apps?
Could Mandatory Background Checks Curb Trust Issues on Dating Apps?
Despite these measures, an increase in security-individuals can be deleted and remake an account on any of these dating apps allowing them to continue targeting more women and men. Therefore it is crucial for apps such as Tinder to NOT allow these individuals to use their app for this purpose as it poses a risk to others
Being denied justice is probably one of the worst feelings in the world but not being believed is even worse
I would know because this story is about myself but before I continue… let me interrupt with the following important information 
Given that in my particular case where I clearly documented my case and was still denied justice-I have decided to share this short story so that others who come across these individuals Alyssa Mathews a funeral director, and David Meyer who may be a construction company owner, and who are very likely still utilizing these popular dating-friendship apps in the DFW area can avoid them as it seems these dating apps do have flaws and one of the biggest is being for profit 
Above is a screenshot of a photo this female had on her tinder page. Note she didn't label the man pictured with her as a partner, she uploaded more photos of both only after the case had evolved before closing. At the time I also submitted a report to the tinder app which led me to believe they only removed these people from my side of the app and not from the app itself as paying members
I've chosen to share this very personal story for both accountability, lack of justice, and safety awareness for those who are actively using this app and who may come across these individuals
Hopefully, this will help someone avoid these individuals and therefore avoid mental -psychological -emotional damage caused by this in addition to broken trust -relationships in addition to any financial loss as a result of this
My final advice is always to trust your intuition regardless of what someone on the other side of an app portrays. In the end, we can't count on apps or the justice system to protect us therefore we have to do the work ourselves. 
Reader insights
Be the first to share your insights about this piece.
Add your insights