Inga Maria Hauser: Where beauty and brutality meet
How a remote Irish forest retains the aura of a murder committed over 30 years ago.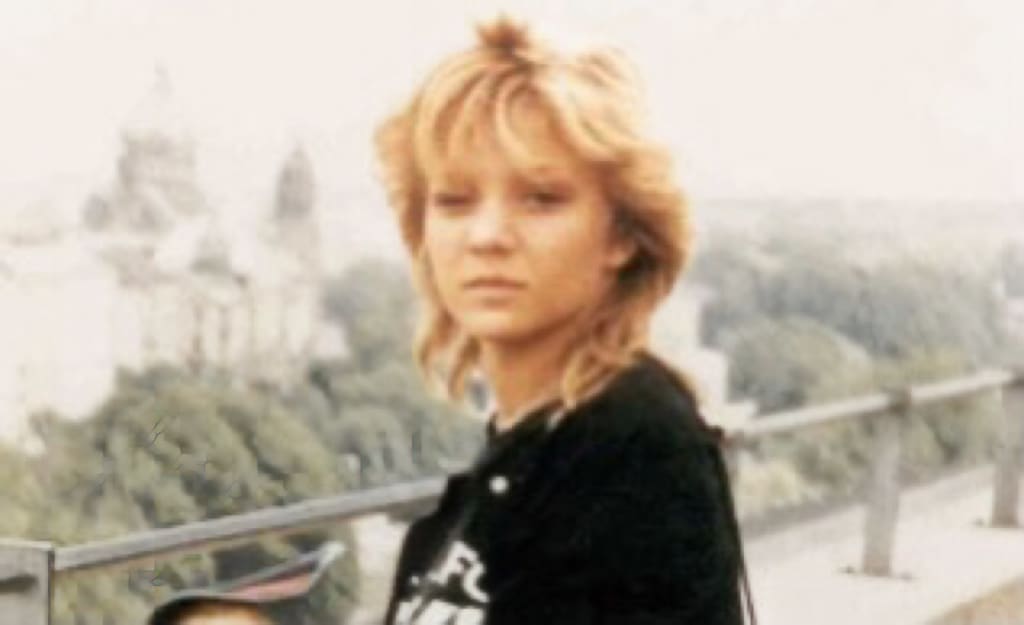 18-year-old Inga Maria Hauser from Munich was murdered after travelling to Northern Ireland in 1988.
It's breezy in Ballypatrick Forest, but the car park is well-populated.
Families step out of cars, stretching and reaching for jackets. Cyclists kick off down the forest path.
Motorcycles race past on the main road at the top of the hill. Though no more than 200 yards away, the noise of their engines feels distant.
In the corner of the car park, the breeze is rippling a German flag, its strips of yellow, red and black catching the eye.
A small gravel path leads across the grass to a memorial stone. Candles, photographs and ornaments have been placed in front of it.
The name engraved on the stone, of course, is Inga Maria Hauser.
Since the beginning of the Covid-19 pandemic, the public have been clambering over mountains, rounding lakes, walking along rivers and staring wistfully into the water at their nearest beach.
People have discovered places they always knew were there, but never had the time or inclination to properly explore.
These places are inherently beautiful. Families spend days trailing through them, finding joy in their simplicity.
The excitement on the face of our three-year-old daughter Muireann as she throws stones in the stream, dips her welly-clad feet in and peers through the trees tells its own story.
But there is a darkness to this country's beauty spots too.
Over the course of the Troubles, for example, sixteen people were 'disappeared'. In the years that followed, their remains were discovered in remote locations across Ireland and beyond.
Just miles from Ballypatrick, the body of west Belfast man Peter Wilson was discovered at Waterfoot beach in November 2010.
The darkness that has clung to this remote area of north Antrim for over three decades is compelling, and cloaks it in an aura of sadness and intrigue.
On the way through the forest, Muireann spots a photograph on the edge of the path. Candles are strewn around it. Ribbons are tied to nearby bushes.
Anyone with a three-year-old knows a 'do not touch' message can be the proverbial chocolate teapot, but they are perceptive. Muireann leaves it alone.
The face of Inga Maria Hauser smiles back at her from the foot of the hedge.
Inga's story has been pored over since her death in 1988, when the 18-year-old's body was found in a remote clearing of Ballypatrick Forest by a local sheep farmer.
She had been backpacking across Europe and had travelled from Stranraer to Larne, a port town just 34 miles away from where her body was eventually found.
Police said she had been subject to a 'vicious and ruthless assault'. Her neck had been broken. There was evidence she had fought for her life.
In the immediate aftermath of her murder, reports a man had been seen in the area with scratch marks on his face came to nothing.
A reported investigation from a local IRA unit also failed to yield any progress for the authorities investigating.
The DNA taken from Inga's body has indicated a male suspect. While he has enjoyed his freedom, Inga's family suffered the prolonged bereavement of justice both delayed and denied.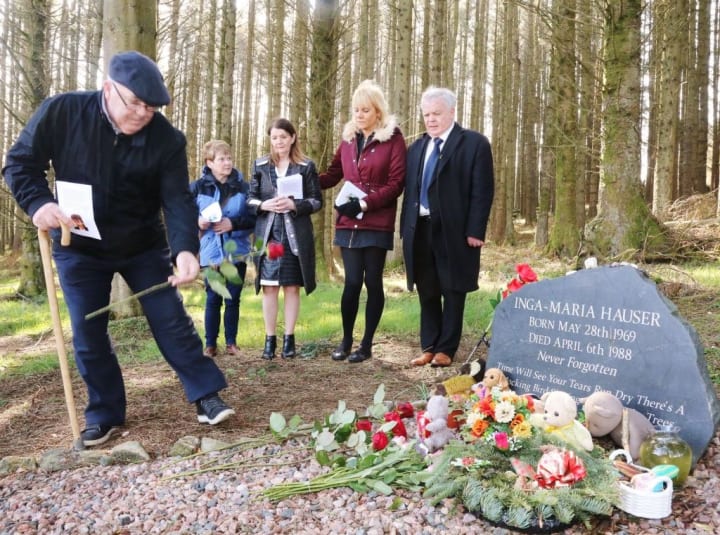 Her father passed away from cancer in 2006, her mother in October 2019. The late John Dallat MLA, who championed the family's plight for decades, died last April.
In July 2020, the family were dealt a further blow when the PSNI revealed proceedings against two suspects would not go any further.
A file had been submitted to the Public Prosecution Service (PPS), but with 'no reasonable prospect of conviction for any offence', the case was unable to proceed.
"Over the 30 years we have spoken to hundreds of potential witnesses, used cutting edge science and made targeted media appeals in Northern Ireland and Scotland to push the enquiry forward," said a police spokesperson last year.
"We have taken 2551 statements, written 662 reports, conducted 292 questionnaires, conducted over 400 house to house enquiries, conducted 29 interviews, processed 7400 documents and consulted with specialists in fields from behavourialism to DNA science.
"Inga Maria's family need to know what happened to her. Her parents both died not knowing who killed their daughter and her sister remains heartbroken."
Inga was just breaking free from childhood when she was brutally taken from her family, thousands of miles from her hometown of Munich.
Back at the car park, we visit her memorial in silence. There is nothing that can really be said. Empathy speaks in silent tones.
My wife and I spent Sunday evening reading about Inga's case. We sat to the early hours talking about her and how her murderer could be anywhere.
He won't be living carefree though. Every news tremor that mentions Inga's name will raise his pulse. He might even be reading this. Guilt and obsession sit easily together.
My wife summed up in the small hours of Monday morning, when we'd exhausted the mutlitude of available articles on the case.
"If I'd died at 18 in a foreign country, I'd like to think someone, somewhere would be thinking about me and remembering me," she said.
Inga's name is never far from the thoughts of those travelling between Ballycastle and Cushendall who pass by the place where her body was found.
If you know anything, contact the police.
Help redress the balance of beauty and brutality in Ballypatrick.