If it looks too good to be true – it probably is
Scam on the Rise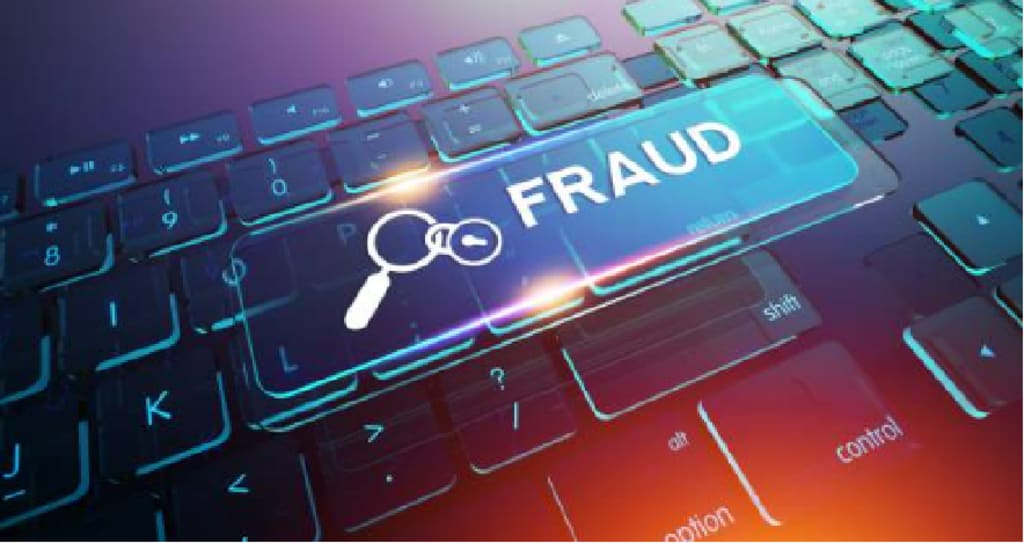 We all live in trying times. Epidemic hit hard the world's economy and everyone personally. Inflation, volatile energy prices, supply chain disruptions, rising interest rates…There were numerous surveys conducted and predictions made on what could we expect in the nearest future: would it become better? Or worse? But a prognosis is not something that is carved in stone or a definite plan to act upon.
How to live, how to make a living is on everyone's mind bringing us to a breaking point: what's next. Not in the nearest future. Today.
Proactive people start searching for online remote jobs where their skills, knowledge and experience can be well applied. There are numerous websites and platforms that connect freelancers and buyers from around the world. Some are well reputable and truly do what they promise. Let's look at People Per Hour, a freelancer website.
What they state is: "There's never been a better time to take yourself online and start making money from your very own fine-tuned set of skills. Work wherever suits you, choose full-time, part-time or flexi-time. On People Per Hour you remain in control of everything — including your price".
And it is so. New projects are posted constantly, by minute even. Most of projects are posted by buyers, looking for someone experienced in the field and able to complete the required task. But not all.
Some are… Scams.
There's no area left where the scams are not present. They cost people a lot of money and cause moral and physical distress. In average one out of ten people falls victim to a fraud or a scam yearly. Almost everyone is approached or will be approached by a scammer, everyone is a target regardless of age, education or income. Scams become more sophisticated and use a huge arsenal of methods and tactics to make one believe they are genuine.
I want to talk about my own recent experience on People Per Hour. This is an example of scam invading such platforms, preying on people looking for jobs.
It starts with a Project posted. People send their proposals not suspecting a foul play. Time is pressing, the number of proposals is growing.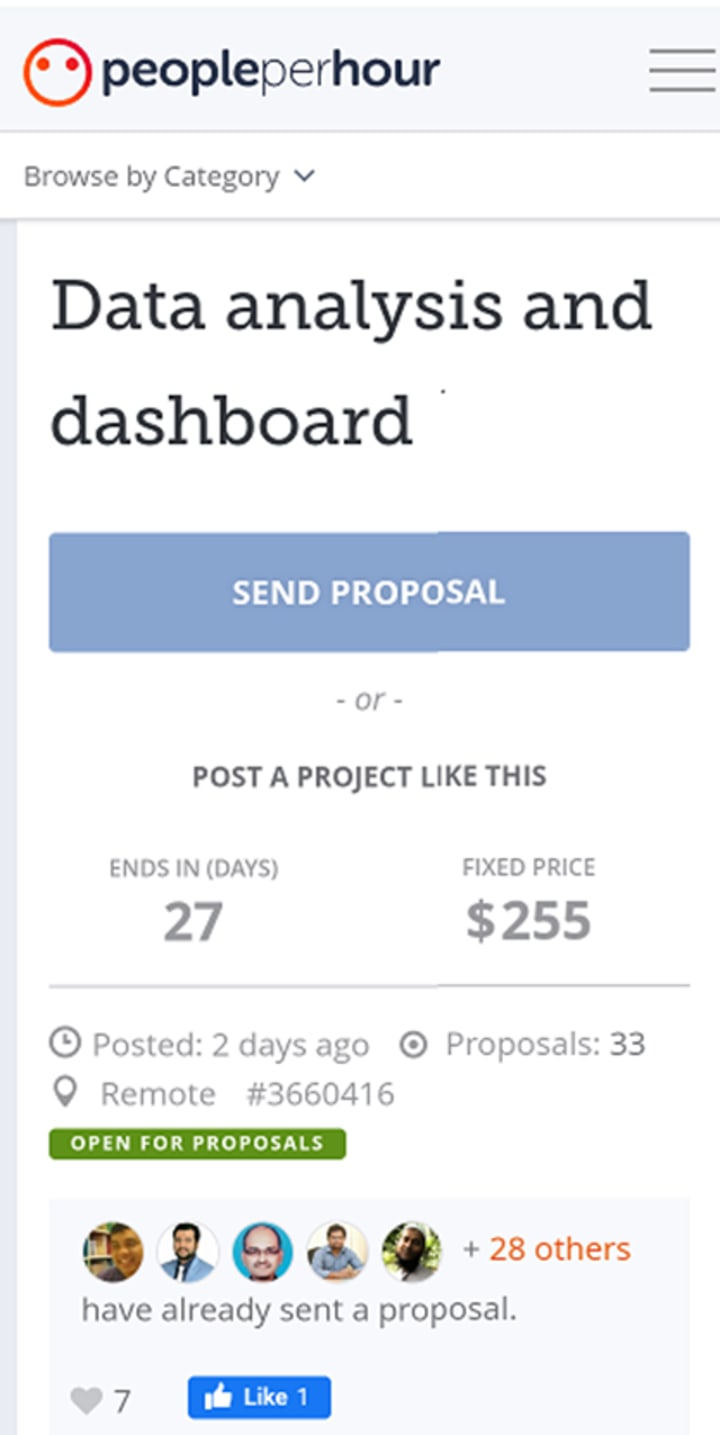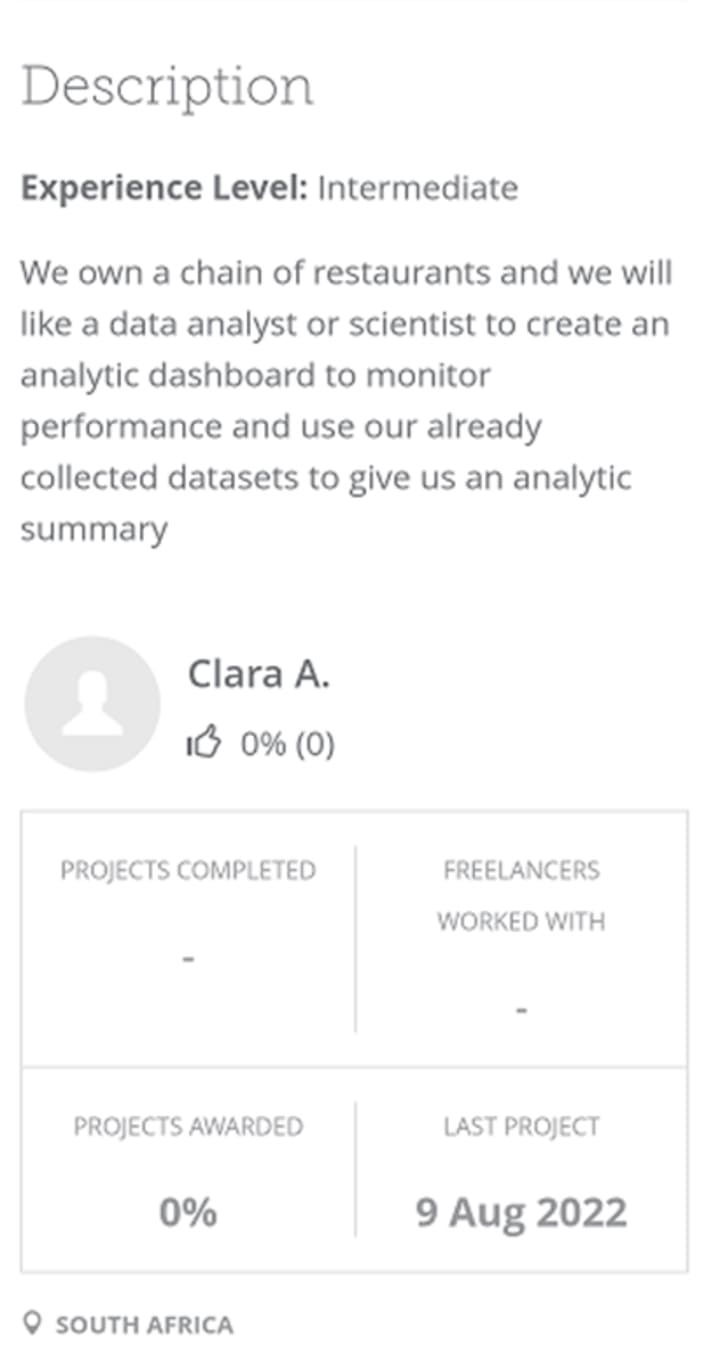 Note the location of this Buyer. I believe, People Per Hour automatically detects the buyer's location. Also, the way of wording "we will like" reminds me of West African scammers' on dating sites and social networks where older lonely women become their victims.
Back to Project. Everyone who sends a proposal gets the following message from the Buyer: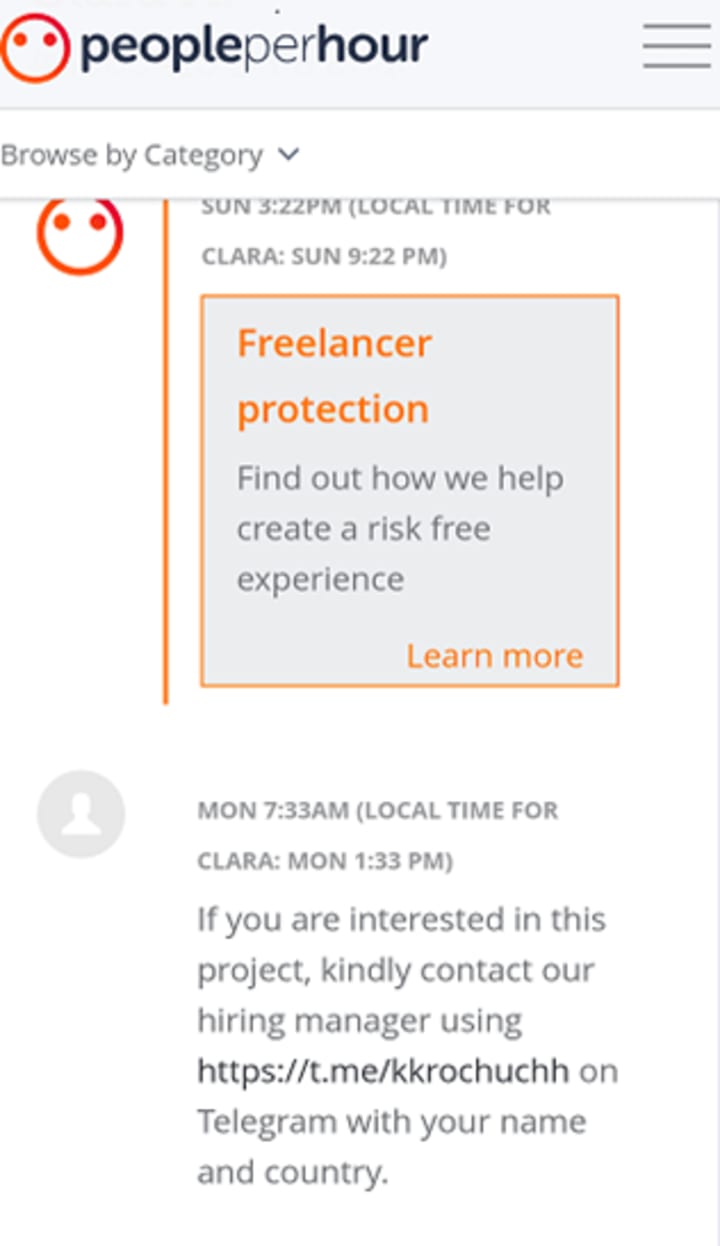 Providing a contact on Telegram for communication, away from official and safe environment, is a sign of a scammer, similar to what an online romance scammer does, asking his potential victim to communicate further on WhatsApp, Google Chat, Skype and similar private chats.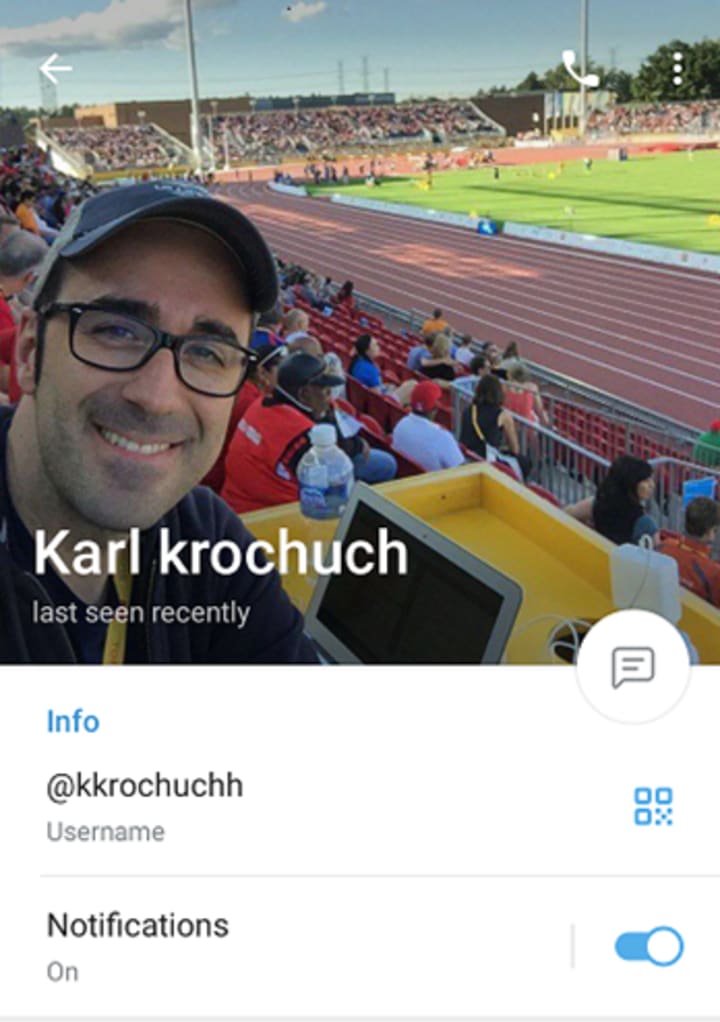 A freelancer contacts this "Hiring Manger" providing their name and country of residence.
Take a closer look at the picture and the name of the person. I've been a scam hunter for over 7 years. This account's picture is stolen from internet. No businessman would use a picture snapped at a recreational event in official account. No business would communicate via Telegram. The name written in a way characteristic to most African scammers writing the names in fake profiles: the first letters in names are not capitalized.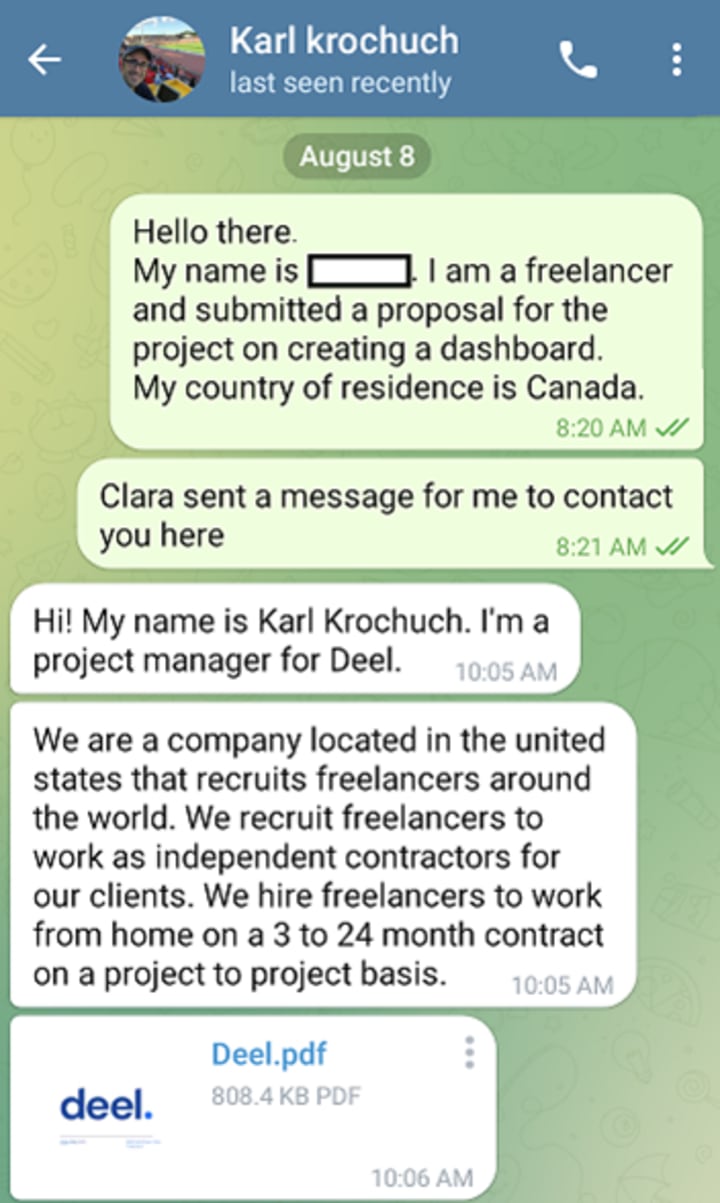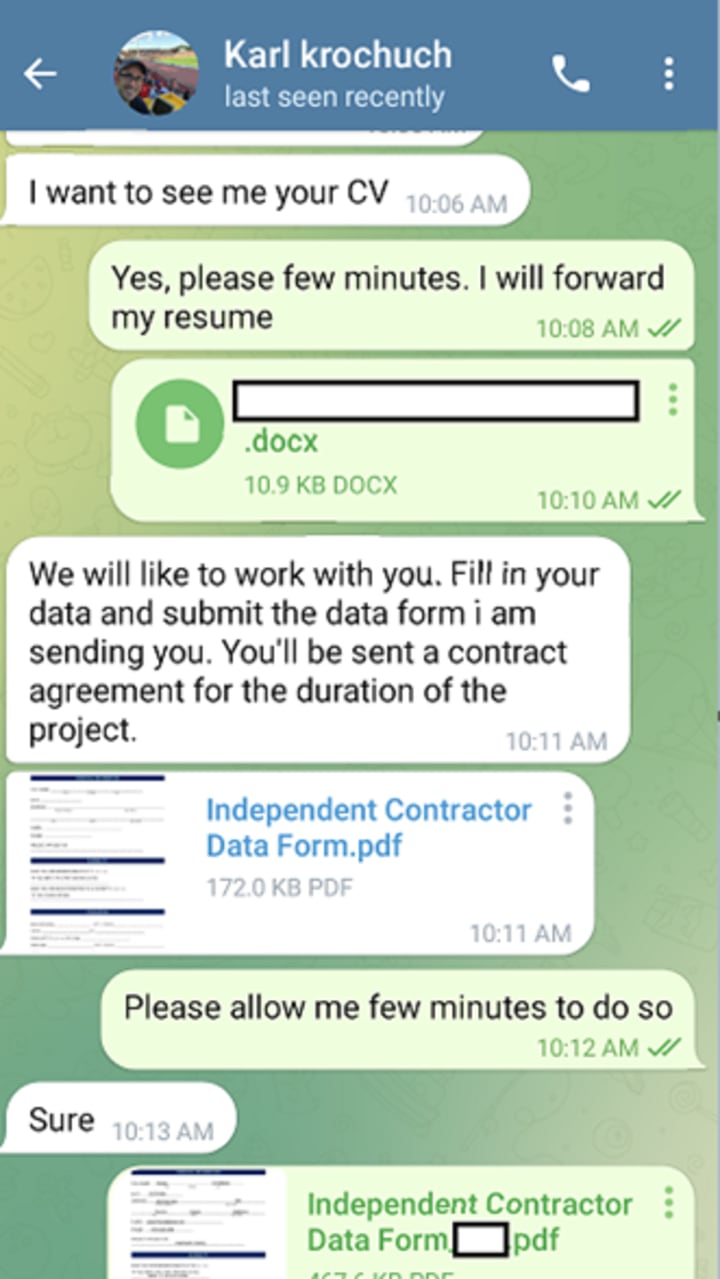 Pay attention to his writing: "In the united states", "I want to see me your CV", "We will like to work with you". Most of Americans would say "resume" rather then "CV", the name "resume" is used more often.
These people use the name of a company Deel that works with independent contractors. If you search it online, it does exist and well established. But scammers do not belong with Deel and use it as a cover.
Once the requested file is sent and the form is filled, an email would come with the following message: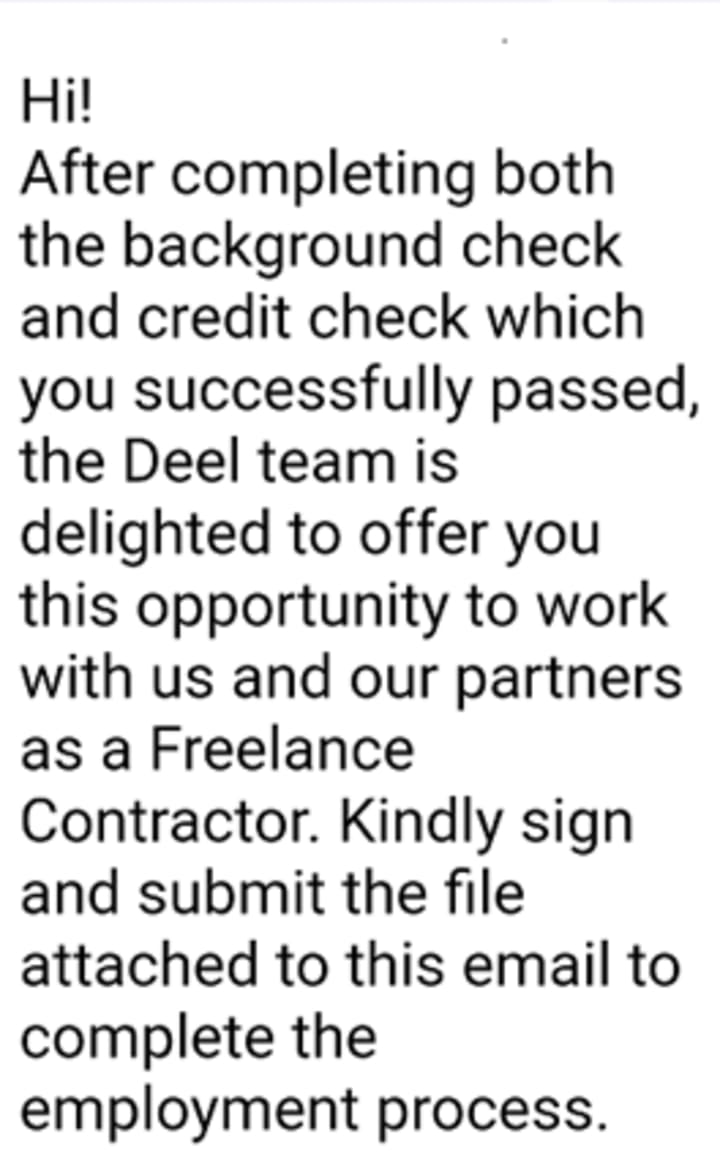 I must confess I entered a fake birth date when filling the form. And my background check and credit check were successful. Without even me providing my national ID or SSN. A miracle! And email address is of course @gmail.com, not @deel.com.
There's a contract attached to email. In section about Services to Be Performed there's no trace of dashboards creating or data analysis from the original project. I personally like the passage about typing quickly and efficiently.
Take a closer look at section about Payment. The amount indicated would look very attractive for a freelancer who completes projects for much less money.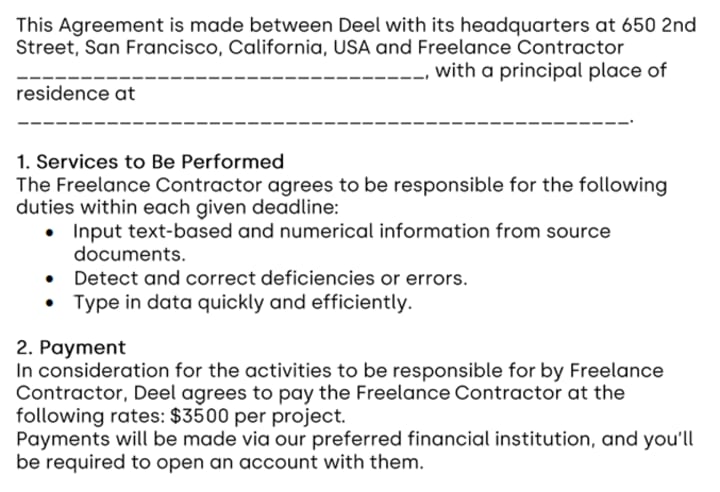 And that's the main goal of the scam, to make you open an account.
The real contract with Deel company looks different, first.
Then, you will be advised to open a bank account with their preferred bank and there would be a deposit in it later.
The deposit will be more than the assumed payment for your work, and you will be asked to return the excess.
There are few scenarios possible.
No deposit in fact would be made, only a fake deposit. And when you would return the "excess paid" to you, you would be sending your own money to scammers. The bank account opened in your name and using your IDs will go overdraft after returning that "excess". And you will have to cover that with your own money.
Or a deposit made would be money laundering and you are an accomplice to this crime. Money into that account will come from a hacked bank account. With the excess again. Continued with scenario 1.
That's called "online banking" with scammers.
Be aware.
Be safe.
Share the knowledge.
About the Creator
Be informed. Be aware. We can fight the online scam. Together.
Scam fighter//Souls rescuer//Thinker//Researcher
God bless my battle
Reader insights
Outstanding
Excellent work. Looking forward to reading more!
Top insights
Excellent storytelling

Original narrative & well developed characters

Eye opening

Niche topic & fresh perspectives

On-point and relevant

Writing reflected the title & theme
Add your insights