I Lost £100,000 to a Bitcoin Scam!
Beware of a company called "Coin-Bits" www.coin-bits.co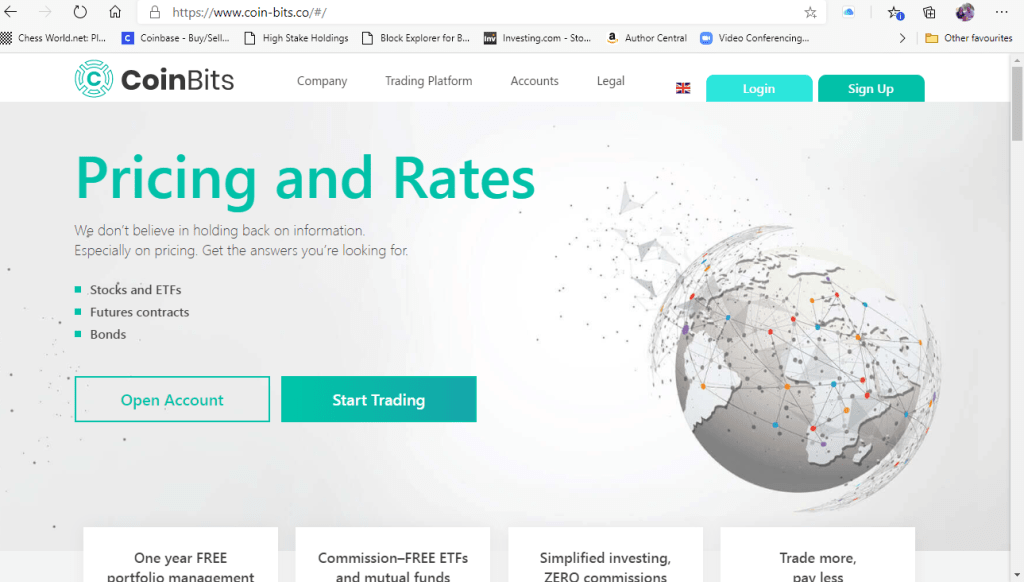 This is apparently my account with Coin-Bits
The website looks professional and the "staff" sound knowledgeable and helpful, but it is all a fraud! Do not fall for it as I did!
Having been put out of work at the age of 60 on 30th April 2019, I decided to withdraw some of my personal pension.
On 10th May 2019 I saw an article apparently by Martin Lewis of the Money Program, praising the Bitcoin Investment Programme. I have great respect for Martin Lewis as he was a supporter of CAP (Christians Against Poverty) debt counselling service of which the church I attend is also a supporter.
On clicking on the link attached to the article, I was taken to the Coin Bits Website: www.coin-bits.com the site later changed to www.coin-bits.co
Before doing anything, I read the reviews of the company on Trust Pilot and although some of the online reviews were of a negative nature; the majority were positive.
After a discussion with a young lady called Malissa and after giving the whole thing some thought; I decided to invest 250.00UST (Tether a Crypto Currency) that is £203.67. This was 6th June 2019. I made this deposit on my credit card.
I later attempted to invest more online using my bank card, but at the time the website said it was not accepted, I made three attempts. I then received a phone call from James Wise (Crypto Specialist) explaining all three attempts had be charged to my bank card. He then organised a refund of $750.00 which appeared in my account in a matter of days.
This convinced me that this was a genuine company.
Having been convinced, on 20th June, I invested a further £7500.00 (9253.08 UST)
Very quickly, credits began to appear in my account as James used my funds to trade on the Crypto Market by 16thJuly I had profits of 5,785.92 UST. I was impressed.
On 30th July, I had a call from Andy Fisher (Senior Analyst) who helped me withdraw 300UST. Account were set up with Kraken and Coinbase (Crypto Wallet Companies) and I was able to convert the UST to euros and then withdraw them to my bank account. The funds appeared in my account the next working day. I received £274.00 and was pleased with the way things were going.
During August further profits appeared in my account amounting to 727.65UST. On 30th August I was able to withdraw another 300UST. Due to a drop in currency exchanges, this time I received £235.00 but I was still pleased with the progress being made.
A further 537.72USD in profits were added to my account.
After this, I was hooked on the idea of investing in crypto currency, so I took the remaining funds from my personal pension to invest, believing I would get a good monthly return.
On 2nd October I invested a further £25000 (31,330.37UST) and profits continued to rise.
On 24th October, I requested a withdrawal of 1000UST. On this occasion, James said he had several trades going and would I mind waiting until December, when I could expect 5000+UST.
This sounded good, so I took him at his word and waited.
However, on 15th November, I had a call from Max Cutler (Account Manager) who explained he was taking over from James as my main contact. I asked about the 5000+ UST James had mentioned and was told that this would be a new method of working and would generate more income. I suppose I should have been suspicious then, but it all sounded feasible.
He talked of a silver account which would generate a monthly income of between 2500-3000UST per month. But I would need to invest more money. Apparently, the silver account needed an investment of £50000
I had no more available funds, so Max explained that people like Donald Trump made their money by taking out bank loans. He used a function called "Any Desk" which allowed him to take control of my computer. He opened an account with Hitachi Personal Finance and set up a loan for £25000 (30000UST). I said I was not happy about this, but he explained that although the repayments would be around £500.00 per month, my earnings would be 2500-3000 per month. So, I agreed. He said my first payment would arrive on 15th December 2019.
On 5th December, Max called again and said he had a better deal to offer, but it would involve investing another £30000! This was to do with Brexit, and he said it would take my account balance to £100000 and I could expect a return after three months of £20000 due to the decline in the value of GBP after Brexit.
I said I was extremely uncomfortable about these loans, but Max assured me nothing could go wrong. (The loan discussion was copied onto my memory stick via "Snip and Sketch" facility)
It took a while to do this and involved a further bank loan from First Direct, taken out on 5th December with the first payment being due on 15th January.
By 22nd January 2020, I had completed my investment of £100000. £1000.00 was left in my bank account to cover the first loan repayments. Which had already left my bank account.
I asked Max when I could expect to get some returns on my money. He said, "In a month, email me on 12th February, to remind me to send you your money".
On 29th January, I received an email to say the website address had changed from coin-bits.com to coin-bits.co This answered a concern I had because I had been unable to access the website. It served as a further encouragement that things were okay.
On 12th February, I did email Max, but he replied that he was out of the office until the following Tuesday (18th February).
On Monday 17th February, I had a call from Adam Mariano (Crypto Specialist) who said he wanted to teach me about professional trading. I said that I thought Max was doing trades on my behalf, but Adam said this was different.
We had a training session and I learned about how to put on my own trades and make profits.
I asked about the funds Max had said I could get, and he replied by saying I should email Max the following day as it was Max who dealt with withdrawals.
On the Tuesday, I did email Max but received no reply. I emailed again later in the day and again had no reply.
Later, I received another call from Adam with more trading advice. I asked about Max, but Adam said he was not in due to a virus.
On Thursday 20th February I checked the website and saw my account was looking healthy and there was a good deal of money that I could withdraw.
I emailed Max and Adam and asked if it would be okay to do a withdrawal request for 3500UST. I said I would wait till Monday in case Max could get back to me. In minutes, the withdrawal amount on my account was reset to zero!
It appeared that all the funds were now tied up in trading, but the trades were all showing loss figures and there had been no more profits since Thursday 20th February and although the profits had been added to my account balance, I was unable to withdraw any funds.
Finally, on Monday 24th February, I sent another email expressing my fears that this was a fraud. Within a few minutes I received a phone call from Max telling me not to panic and he arranged a withdrawal which went to my Coinbase account from where I was able to transfer it to my First Direct Account. (It arrived on Wednesday 26th February). I received just over £1000.00
This encouraged me and I have had two further withdrawals of similar amounts on 25th March and 12th May. However, the amount received only covered the cost of the two loan repayments I had taken out. I was using what was left of my pension and some money I received through public speaking to cover all my living expenses. However, this was starting to run out.
I have sent regular emails giving updates on trades achieved on the Coin Bits Trading Platform. I have to say I have enjoyed doing these and it was good to see profits apparently increasing.
I decided that in June I would ask for two thousand GBP which would cover the loan repayments and all other living costs. I felt that if I could get this much per month I would be pleased with the programme.
I have never desired to be rich, but the income promised would have been enough to give me and my wife a reasonable living.
On Friday 12th June I emailed Max Cutler sending my regular trade updates and asking for around two thousand pounds GBP as my profits were about 30000 UST. I have yet to receive a reply.
On 18th June I found a notice on the FCA (Financial Conduct Authority) website warning that Coin Bits was trading illegally; and I became concerned. https://www.fca.org.uk/news/warnings/coinbits
I have emailed Coin Bits twice more to Max's email [email protected] and also to [email protected] : and on Wednesday 17th June I also opened a support ticket on the Customer Service Page.
This time, I have not even received funds to cover the cost of the two loans I now have outstanding.
My emails, again, are being ignored and I have come to the sad conclusion that this whole thing has been a very clever fraud from day one. Small withdrawals being allowed to encourage more deposits and when they feel they have obtained as much money as they can, they do not respond to emails or messages.
At time of writing the trading platform is still operating and I can still trade but I cannot get access to my money.
The trouble is, I now have no funds to live on and I now have over £50000 in debts.
On Thursday 25th June I decided to contact Action Fraud – Police UK and report the company for fraud. As I write I am awaiting an outcome of their investigation. (Crime Reference NFRC200603730133)
John Keable