How to Conduct an Investigation Interview | Michael Barbieri PhD
Conducting a proper interview can make or break an investigation.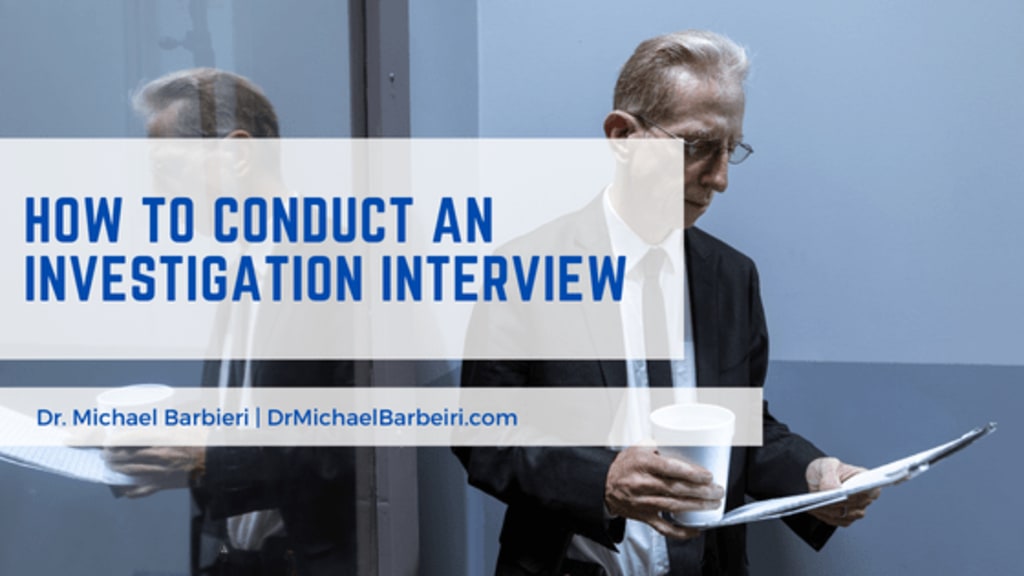 https://drmichaelbarbieri.com/how-to-conduct-an-investigation-interview/
In most cases, investigators rely on interviews as the primary tool when gathering evidence. Usually, they rely on statements from the witnesses and the leading players to piece together the details of the incident. However, the investigators must sort through the pieces if the main participants refuse to provide the truth.
The more information you can gather from each witness, the more likely you will be able to determine the exact reasons behind the incident. Following are some interviewing tips that will help you get the most out of your interview.
Remain Objective
As an investigator, your primary goal is to avoid making assumptions. Even if the situation seems straightforward, only make conclusions once you have thoroughly examined all the facts. Doing so will allow you to identify the factors contributing to the incident.
Utilize Open-Ended Questions
One of the most critical factors that you should consider when it comes to conducting an interview is to ask open-ended questions. This method will allow you to gather as much information as possible. However, avoid asking questions that are designed to suggest an answer. Instead, focus on the details of the incident.
Find a Lead
Ask every person you interview if they have any physical evidence related to the incident. If the complaining employee is the main suspect, you should check if other witnesses have seen or heard the incidents. It would be best to ask whether the employees took any notes related to the incident.
Keep it Private
A complaint can polarize a workplace, as workers will likely support either the accused or the complaining employee, and the rumor mill will begin working overtime. If too much information about the investigation gets out, it could damage the alleged victims' or wrongdoers' reputations. You should only tell each witness the necessary facts during the interview to minimize these issues.
Prioritize the Facts
Most people need help distinguishing fact from opinion when describing what they have heard and seen. For instance, some witnesses may make statements about the other person's motives or thoughts as if they are facts. To avoid this, try to separate the chaff from the grain and find the most relevant information.
About Michael Barbieri PhD
Alongside a skilled and fulfilling professional career, Dr. Michael Barbieri has cultivated a rich personal life where he's been able to enjoy hobbies and interests he's accrued throughout his life. A phenomenally successful international businessman, Michael has distinguished himself in every industry he's chosen to touch.
Perhaps most notably, Dr. Michael Barbieri was the youngest flight instructor and instrument and multi-engine instructor in St. Louis, Missouri, where he worked for a while as a Professional Commercial Pilot for several corporations.
Additionally, Dr. Michael Barbieri is a Professional Bodybuilder and the owner of Body Builders Inc., where he operated ten of the largest independently owned bodybuilding facilities in the Midwest. A groundbreaking figure, Michael was also the first one to introduce a co-ed workout facility in 1978, where men and women could work out together. Dr. Barbieri also served as a judge for the National and International PNC and IFBB Professional Bodybuilding Judge. Dr. Barbieri has also served as the owner of BBC Finance and the Federal Collection Agency. He is also an accomplished musician and has had multiple articles written on his success in myriad areas.
All of Dr. Michael Barbieri's hard work and success have earned his induction into the Marquis Who's Who in America in 2021 for his accomplishments throughout his lifetime in multiple industries. Through his work in law enforcement, Dr. Michael Barbieri has worked to successfully solve six Cold Case Murders, two of which happened in foreign countries. He is also trained on kidnappings – both domestic and foreign – and has worked with numerous governmental agencies around the world.
About the Creator
Michael Barbieri, PhD is an experienced private investigator who has led a significant number of successful missions, resulting in solving cold case murders, kidnappings, domestic investigations, and more.
Reader insights
Be the first to share your insights about this piece.
Add your insights