GriveauxGate
The spectrum of inequality before the law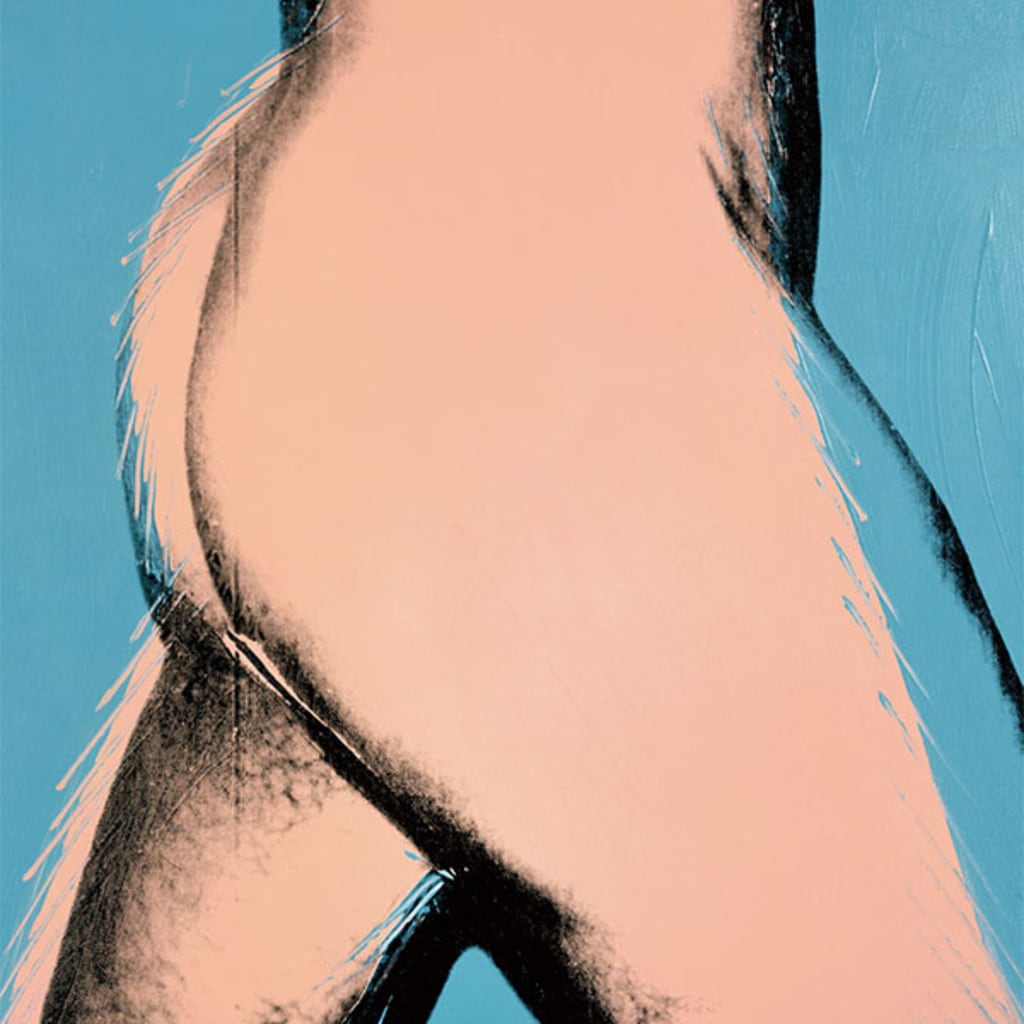 From Andy Warhol's "Sex parts" series (1977)
As a student in International Law and Political Science, I've been brainwashed with the importance of the Rule of law as a barrier to the arbitrary exercise of power, and I must admit that I really did believe in it. The Rule of law is a principle of governance in which all persons, institutions and entities are equally accountable to laws that are publicly promulgated, equally enforced and independently adjudicated, I was taught throughout my ten-year-long studies. Now I'm involved in a political sex scandal, I can assert that the Rule of law is disturbingly, substantially malleable in France, especially when it comes to the idea of equality before the law. I'm glad I was able to confront this reality before I finish my studies: from an intellectual student, I now have the opportunity to become an intelligent woman.
This opportunity was triggered by my lover and partner in life, Pyotr Pavlensky, who discovered solicitations – including pornographic, onanistic content – in my computer that President Macron's right-hand man (no pun intended) self-recorded, then sent me through social media while promoting and staging traditional, familial values during his campaign to become the next Mayor of Paris. My partner decided to reveal this duplicity and published the onanistic content on the Internet as part of his new artistic project, "Pornopolitics" - the first porn resource with the participation of politicians or elected and appointed government officials. He claimed responsibility for the action without ever naming me, in a sincere – yet unrealistic – intent to protect me.
A few hours later, on February 14, Right-hand man withdrew from the Paris mayor race. In a short video, he denounced "vile attacks on [his] privacy" and said "his family [didn't] deserve this." It's still not clear whether he was talking about the violence of his own deceptions and lies or the blow-up of the truth that is now known by the public at large. It has, however, become crystal clear that the power system simply does not care about laws, nor the constitutional right of equality before the law. Facts -
On February 15, in the late afternoon, Right-hand man filed a complaint against unknown person for invasion of privacy. I was named as the recipient of his exhibitionist content and my partner as its disseminator. We were officially arrested one or two hours after the complaint was finalized – but, in practical terms, we had been detained way before it was, when Right-hand man was still talking to the police. "Politporn" is much more repressed than revenge porn in France, whose victims usually wait months before the police start investigating their cases and, let's write it, exercising the most restraint. Since then, several women have contacted me to manifest their desolation that Right-hand man's dickpics were taken more seriously than their rape complaints by the Justice. Sad but not surprising; the social crisis that has been hitting France for several months drew attention to the fact that officials always take precedence over the common people: they won't go to jail in cases of massive tax fraud (Balkany, Cahuzac…) nor if they order demonstrators to be beaten up and disfigured (such as in the Yellow vests protests); they won't be removed from office in case of rape accusation laid against them, neither (they will actually be rewarded with career advancement, see Darmanin). They know it, and so do we.
On the same day, an enemy of the People, notorious for having used his closeness to the President to usurp the function of police officer and assault people, revealed my name on social media. Mafioso kind of way. More precisely, he wrote that I set a "trap" for Right-hand man based on a "far-left" ideology. I thought "I'm a liberal, dickhead," but thanks to (because of?) my good education, I answered, "Defamation – and I'm not a leftist, moron," and called both my lawyers. I had been legally advised by Me Juan Branco for a few days – more precisely since my partner published the pornographic content that was once sent to me. Me Branco had been Pyotr's lawyer for several weeks and advised him of the risks he was exposed to by doing so. For her part, Me Marie Alix Canu Bernard was supposed to assume some representation functions in this case. She began to advise us on February 14, after Right-hand man withdrew from the race. Me Canu Bernard understood things were becoming sharp and said we had to meet immediately.
On our way to a taxi, Pyotr was arrested by the police for a New Year Eve fight. He was pushed to the ground in a very theatrical way, then handcuffed by policemen. They showed less enthusiasm, more frustration, about me. I was indeed only a witness to this case, and I had already testified for it, but a complaint was being filed at the exact same moment by Right-hand man and they didn't want to disappoint their hierarchy by letting me go. I was not handcuffed – though one of them wanted to do so, but my belongings were confiscated, and I was forced to get into their car to go to the police station where I was treated like a detainee. It's quite disturbing that policemen falsely reported afterward that I was free to leave but followed them voluntarily at the police station to testify. Please tell me – what's freedom when you have no choice?
In the police car, an officer was checking photos of me, taken right before the arrest in his smartphone. I did not say anything because I thought they might have been used for identification. And to be honest, I would never have imagined that the French police could successfully assume paparazzi functions. I was deeply wrong. A few days later, these photos were published in tabloids, among others from the arrest, picturing my handcuffed partner on the ground, as well as some taken earlier that day, when only the police – or people related to Right-hand man - could have known my identity. These photos were sold by a paparazzi who obviously collaborated intensively with the police services - or played the role of a cover in this transaction; a paparazzi sent by President Macron's closest, "shadow" communication advisor! An investigation has since been opened by the IGPN – "the police of the police" – but well, everybody knows how such a procedure ends: cold case.
At the police station, in the wait for instructions from their hierarchy, policemen played with me for a few hours, not being able to tell me about my status nor when I could testify. This arbitrary detention took a different turn a matter of minutes after Right-hand man finalized his complaint. As part of that effort, five agents from the judicial police landed in the police station. They seized my belongings, dragged me to their car then drove me back home for a raid. French law forbids raids after 9.00 p.m. The car was parked outside my building at 9.01 p.m., according to the car clock. In my apartment, an agent used his phone as proof to show it was still 8.57 p.m. Whatever.
I was then taken into police custody for seventy-two hours. As soon as I was put in a cell, policemen asked me some basic questions, including my phone's security code. As a protection from self-incrimination, French law allowed me not to share this information, but since I had nothing to hide in particular, I cooperated. Eventually, the police screened my phone for the whole night, exceeding their function in total violation of the principle of client-lawyer confidentiality. A few days later, a conversation with Me Canu Bernard, which had been deleted before I was arrested was recovered by the police and published by the media. In those messages that everyone has been able to read, I wrote to Me Canu Bernard that Pyotr should refuse data processing that could reveal a communication strategy developed with Me Branco. A communication strategy for a super-mediatic case … How surprising! Still, these messages were used by subservient titles of press to make me look manipulative and guilty, but also to settle accounts with Me Branco for his activism against Macron's policies and squeeze him out of our defense.
Sunday 16. Me Canu Bernard decided to retire from our defense team. I was allowed to call my parents and told them that I needed Me Branco to come for my hearing and that they should call him. I repeated my request directly to the police officers. Several times. I received no feedback from them. In the early afternoon, they decided to hear me for the Right-hand man case. I asked for Me Branco once more. I was finally told that he was in the building, but that they opposed my request of being represented by him because he was being a witness in the New Year Eve fight case (he was present at the party) – a totally different case. They were standing firm on their position, in total violation of procedural rules which required them to ask the Chairman of Paris Bar Association to decide if a conflict of interest existed. They never did. On this basis, and because I could not trust an "assigned counsel" in a political case such as this, I had no choice but to carry out this hearing all by myself, even though my rights wouldn't be fully defended.
I answered all the questions during the hearing and gave my version of the facts: the unsolicited, pornographic content was sent to me in an attempt to seduce me and meet me again after consensual sexual intercourse. I saved this content because first, we did not have any agreement on whether or not we could keep track of our interactions and well, why should I trust a cheater who could easily put all the blame on me if he got caught? More importantly, I did not take part in the publication of the content but obviously supported Pyotr, as a man and artist. How could I oppose an artist who tells the truth, as part of a global project that I support? The police officer then told me none of this would have happened without me. A morality preaching attempt to make me feel guilty. He added that the extension of my custody was inevitable, as well as my indictment.
My custody was indeed extended. I understood that they were trying to make an example out of us since they were visibly scared that people would send similar content to Pyotr so he could nurture his artistic project. I needed a lawyer but was refused the only one I put my trust in. From my cell, I could hear Pyotr's loud voice – he was also asking for Me Branco to assist. Several times. Unsuccessfully. Later on, I realized that he had been denied the right to a lawyer and legal defense for the entire duration of his custody – three days – which ended in the most Kafkaesque way: during his hearing with the examining magistrate, a police officer opposed the joint decision of the Magistrate and Chairman of the Paris Bar Association to appoint Me Branco as Pyotr's lawyer, reporting that this appointment was "forbidden." By whom, he didn't say.
In my case, events turned out a bit different, though strongly marked by illegality. From my professional experience in human rights, I decided to appoint Me Noemie Saidi Cottier – whose merits were often praised by my ex-boss – as my lawyer. Me Saidi Cottier, with the help of her collaborator, Me Martineau, agreed to engage in my defense and provide assistance during my second hearing.
The second hearing went well, in the tone of the discussion. I made jokes. I understood that a lot of assumptions had been created about me when I was asked to justify my trips (I might be a Russian spy), or if I was an escort girl (or third party hired by the Kremlin). I said no, of course. The police officer sneaked in a comment: "Sure, it's probably against Pyotr's principles, right? " "Yes, inter alia", I replied. She wrote: "No, of course, I am not an escort girl – I could not be in a relationship with Pyotr if I was. It's against his principles." This manipulation is quite important considering that the French police collaborates intensively with the media to discredit anyone who contravenes the interests of State officials. I was still in custody when the retranscription of my hearings was published in full in the media. This complicity in the violation of professional secret and investigation secrecy was proudly assumed by those many journalists inclined to defend, tooth and nail, the representatives of power and their privileges. The most servile part of them did not only publish my hearings but also altered my words and started public denunciation: "Was she an escort girl before being in a relationship with Pyotr?", "Does she want to be a prostitute but is not allowed by her partner?", "Is she under influence?" Grotesque? Worth the Press.
This short digest about the conditions of my arrest and police custody is another testimony to French democratic decline. France lives on the ashes of its glorious past, proudly projecting the image of the country of human rights, the European center of the Revolution, led by the Enlightened people, the host country of great artists and philosophers. It's a lure. Today's France is more inspired by privileges than equality in law, and accepted – sometimes claimed – servility. Today's France is a conservative country that values the comfort of the lie over the dazzling truth but emphasizes degenerate, fake liberalism to create an illusion of progressivism. France fears alternative ideas and positions that shake or discuss the norm.
The Rule of Law is a problem for the common people when it is guaranteed by a conservative, ubiquitous state that applies law sparingly, unevenly. It is now a problem for the French common people. They will always lose to the State because of the law being manipulated, interpreted and enforced by the ruling elite, whose function is to legitimize existing power structures and protect their close circle members, using State tools – the police, the media, the Justice.
In this context, we - the common people - are powerless as long as we accept our domination. The only way to gain power is to think outside of the law. To stop condemning actions for the sole reason they are forbidden by the law, and to consider their meanings. Obeying the law is not a moral absolute unless you consider servility as such. I don't call for civil disobedience but for people to reflect on the meaning of an action, and the reactions to this action – why has it been done? By whom? Against whom? – instead of defending a purely formal legalism. Meaning should never be set aside by the law. That's the primary rule.