Fruitvale Station 14 years later
14 years ago, on January 1, 2009, at Fruitvale Station, a 22-year-old Oscar Grant III life was taken by the bullet of a police officer.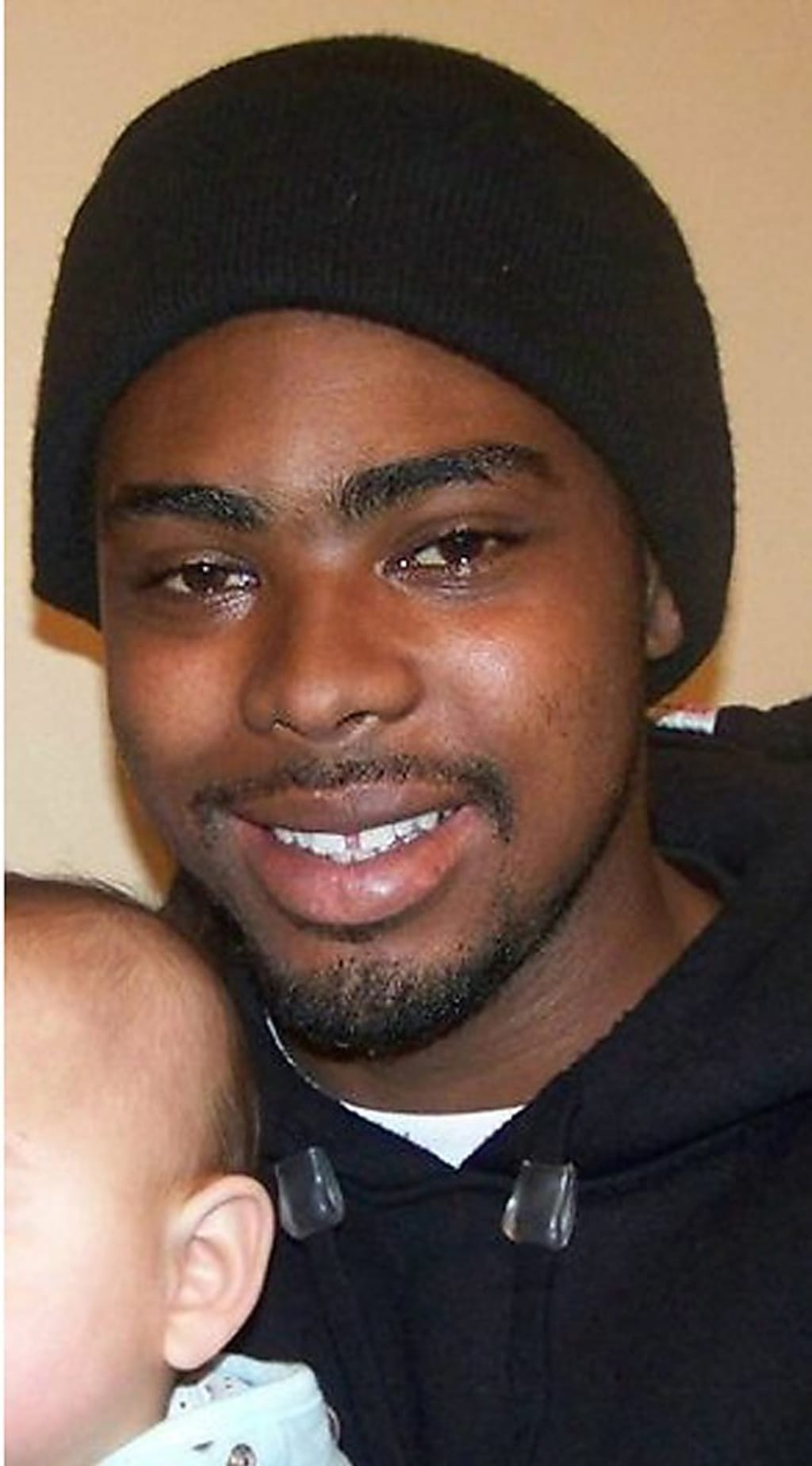 Oscar Grant III
It's 2023!!! Happy New Year!!!! A brand new year start a brand new resolution. But this year marks the saddening 14 years since a police officer took the life of 22-year-old Oscar Grant III from a train station called Fruitvale Station when on their way back home after celebrating New Years' Day 2009. His death was captured on cell phone video until the footage went viral and became a media outrage. The cop is arrested but was given a less sentence for killing Grant causing more outrage from Grant's family and everyone in the community who finds his less sentence unfair.
It was midnight on January 1, 2010, 22-year-old Oscar Grant III, his girlfriend, and his eight close friends were in the middle of celebrating the New Year at The Embarcadero in San Francisco.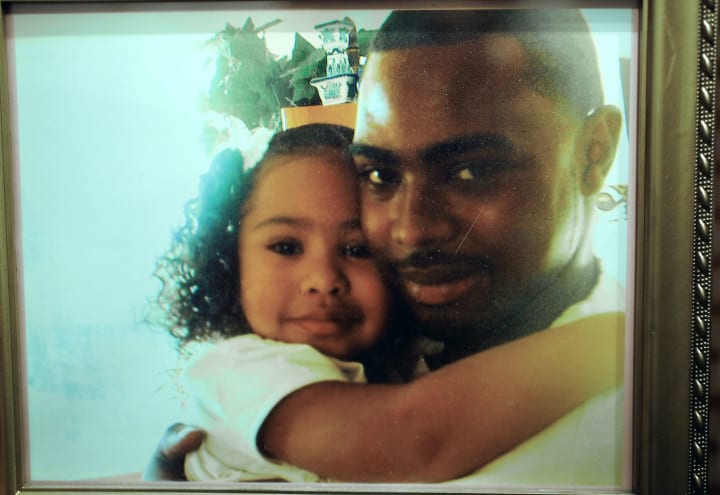 Grant was a supermarket employee living with his girlfriend and his daughter was trying to get his life back on track after he was released from prison for spending sixteen months for gun possession. They were all boarding to East Bay in the lead car of a BART train bound for Fruitvale.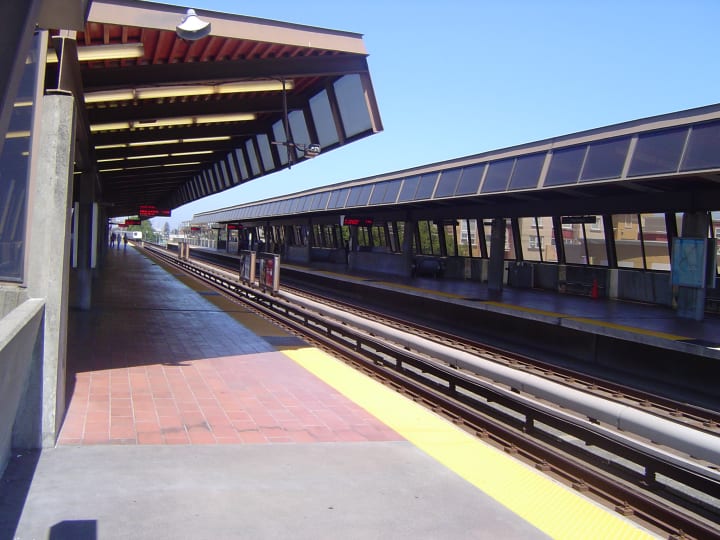 While they were on the train a fight interrupted, Grant and his friends tried to stop the fight. Shortly afterward, the train conductor announced to the passengers that the police had been contacted and were on their way to the station at which they were stopped. As the passengers began to exit the train, Grant and his girlfriend saw the police walking toward them and split up. As they got closer to the train, police started to pick out people they believed to have been involved in the fight. At approximately 2:00 a.m., BART Police responded to reports of a physical altercation involving up to 20 people on an incoming train from the West Oakland BART Station; the participants were described as "hammered and stoned". BART Officers Tony Pirone and Marysol Domenici were the first officers to arrive at the scene.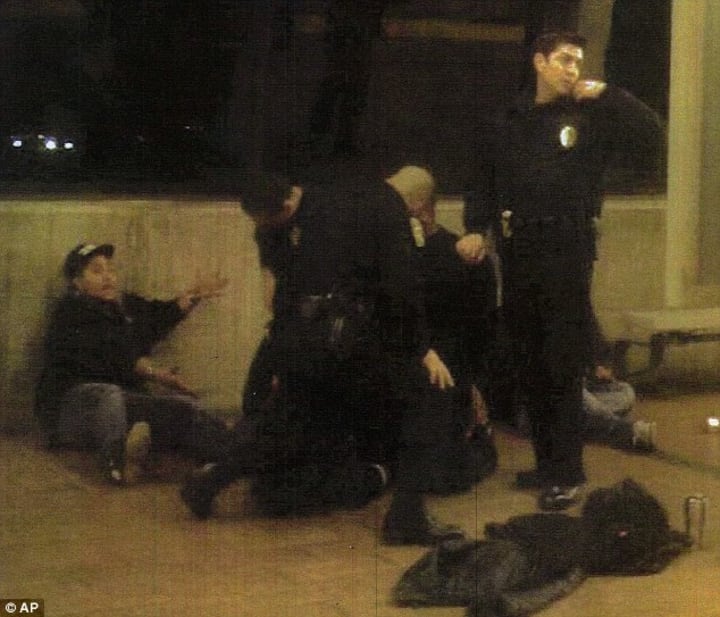 When five other officers, including Johannes Mehserle and his partner Woffinden arrived at the station, things went chaos. According to a cell phone video presented in court showing Pirone standing over the prone Grant before the shooting and yelling:
"Bitch-ass nigger, right?"
BART Officer Marysol Domenici was the first officer on the scene along with her partner, Tony Pirone. They tried to take control of passengers coming off the train. Domenici testified at the BART incident hearing that Grant and his friends swore at her and did not obey her orders. The train operator recalled informing Pirone that she was unsure whether those detained had been involved in the fight. Grant had never cursed or attacked the police as seen on the cell phone video. While dozens of people from the stopped train shouted and cursed at officers, Mehserle and Pirone positioned Grant face-down. According to Pirone, Grant was disobeying instructions and cursing at officers. Witnesses said that Grant pleaded with BART police not to shock him with a taser. Pirone knelt on Grant's neck and told him that he was under arrest for resisting an officer. Mehserle tried to handcuff Grant but could not reach his hands. He stood up, unholstered his gun, pulls out his handgun, and fired a gunshot at Grant's back. Grant feels the shot and cries to Officer Mehserle:
"You shot me! I got a four-year-old daughter!"

Final words from Oscar Grant III
After the shooting, passengers on the train were stunned screaming at BART police officers including the men who were arrested by them. BART officers push all the passengers and tell the conductor to carry on the train. Officers contacted medical help for Grant who was lifeless Grant bleeding and not speaking.
Grant was taken to the Highland hospital. Grant died from the gunshot wound seven hours later. He was 22.
Grant leaves behind his family, his girlfriend, and his daughter Tatiana who was four years old at the time of his death. Grant's funeral was held at the Palma Ceia Baptist Church in Hayward on January 7, 2009.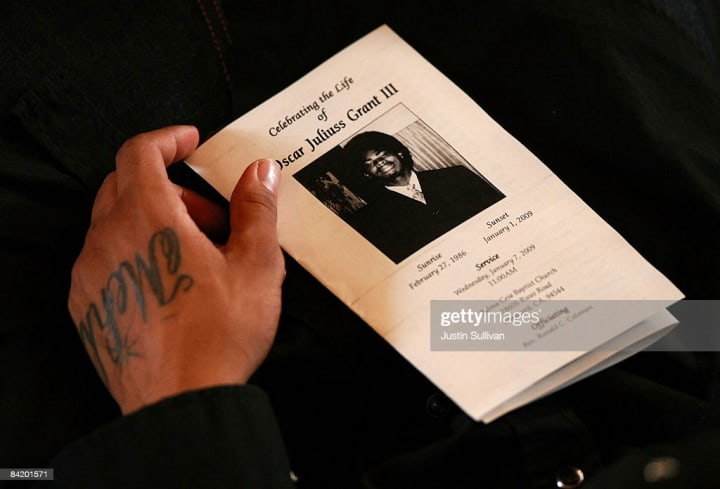 On January 7, 2009, protests over the shooting and administration of justice began peacefully about at 3:30 p.m. with about 500 people gathering at the Fruitvale station. In the early evening, some of the protesters marched toward Oakland's central business district and downtown. Over 200 Oakland police officers were dispatched in an attempt to disperse the protesters. Police roadblocked streets and diverted vehicle and foot traffic. After entering the central business district, the march continued to BART Police command and control headquarters at 8th & Madison streets near the Lake Merritt BART station. On January 30, 2010, Alameda County prosecutors charged Mehserle with murder. Mehserle soon resigned his position and pleaded not guilty. After a change of venue, the criminal trial began in June of that year in the Los Angeles County Superior Court. On July 8, 2010, the jury returned its verdict: Mehserle was found guilty of involuntary manslaughter. But he was acquitted of both second-degree murder and voluntary manslaughter. The initial protests against the ruling were peacefully organized. However, looting, arson, property damage, and small riots broke out after dark. Nearly 80 people were eventually arrested.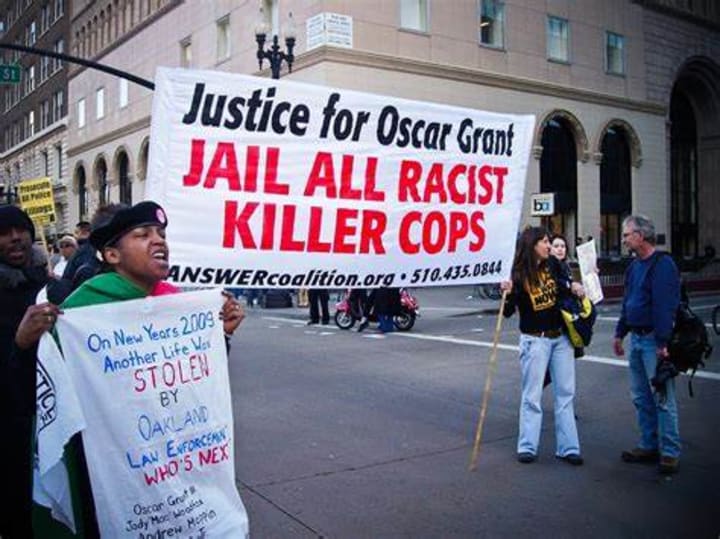 On July 9, 2010, the U.S. Justice Department opened a civil rights investigation against Mehserle. However, no federal charges have been filed against Mehserle to date.
On November 5, 2010, Mehserle was sentenced to two years in state prison. He was given double credit for the 146 days he had already served before the trial, which reduced his sentence by 292 days. Mehserle served his time in the Los Angeles County Jail, occupying a private cell away from other prisoners, and he was released in 2011.
14 years later
Years after Grant's death, BART agreed Wednesday to pay $1.5 million to provide for his daughter Tatiana. Grant's mother Wanda Johnson, his family, and his girlfriend started a foundation in honor of Oscar Grant. In 2013, Actor Michael B. Jordan portrays Grant in the film Fruitvale Station showing flashbacks and final moments of Grant's life. The film was written and directed by Ryan Coogler in his directorial debut before he directed films like Creed and Marvel's Black Panther, the film was also produced by Academy Award winner Forrest Whittaker and also starred Spencer as Wanda, Oscar's mother.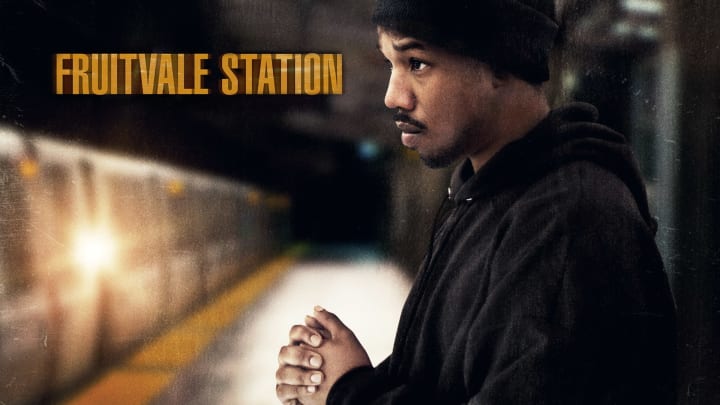 The film received positive reviews and earned the film some accolades. In 2014, playwright Chinaka Hodge premiered Chasing Mehserle, a play about Watts, a young man from Oakland who becomes obsessed with chasing down and killing officer Johannes Mehserle. "Solitary Gun" a song by Rogue Wave, an Oakland indie rock band references the incident.
"Stepped off the train and looked for Fruitvale signs. The January air it whips across my spine."
Rapper and Actor Daveed Diggs and Rafael Casal released their album Seven Nights in Chicago. The track "Breath" references the shooting of Oscar Grant.
Fourteen years later, Tatiana is now 18, she and Oscar's families live on the Grant legacy even on New Year's Day honoring his memory.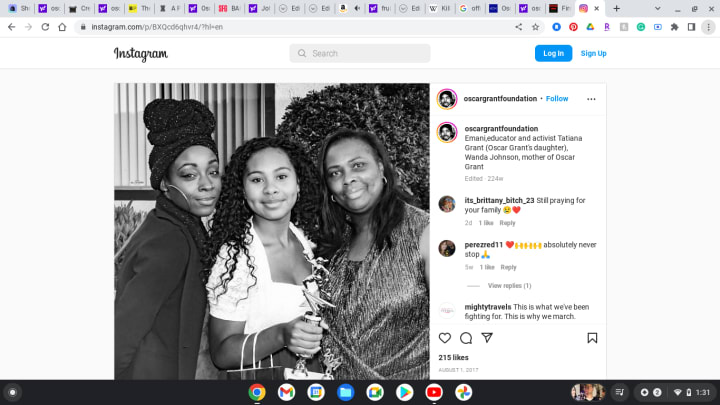 Source
Bet.com
YouTube
Wikipedia
OscarGrantFoundation.org
https://lovenotbloodcampaign.com/first-news-report-of-oscar-grant-shoot/
https://www.sfgate.com/bayarea/article/BART-pays-1-5-million-to-aid-Grant-s-daughter-3201450.php
https://www.blackpast.org/african-american-history/oscar-grant-oakland-protests-2009-2011/
About the Creator
Hello, My name is Gladys W. Muturi. I am an Actress, Writer, Filmmaker, Producer, and Mother of 1.
Instagram: @gladys_muturi95
Twitter: @gladys_muturi
Facebook: facebook.com/gladystheactress
YouTube channels in the works
Reader insights
Be the first to share your insights about this piece.
Add your insights