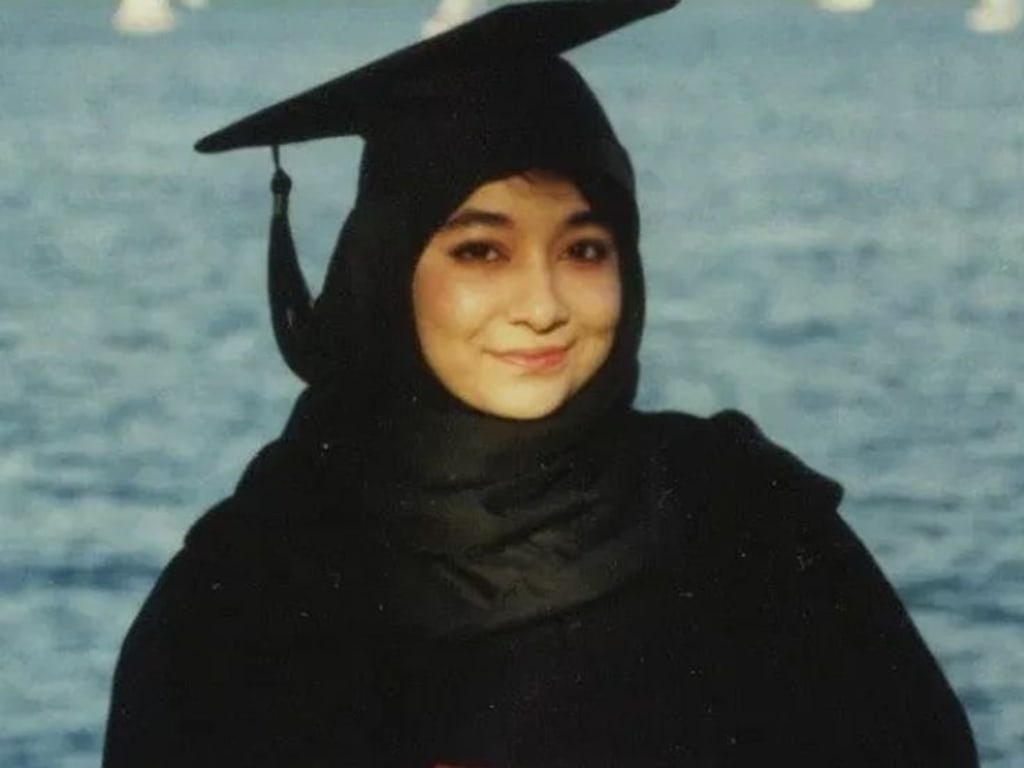 Aafia Siddiqui
Dr. Aafia Siddiqui is a Pakistani neuroscientist who gained international attention and controversy due to her alleged involvement in terrorism(which was she accused of and is totally fake think about it how can a mere and weak women involve in terrorism... how?). Born on March 2, 1972, in Karachi, Pakistan, she pursued her education in the United States. Siddiqui studied neuroscience at the Massachusetts Institute of Technology (MIT) and later earned a Ph.D. in cognitive neuroscience from Brandeis University.
In 2003, Siddiqui and her three children disappeared while in Pakistan. It is believed that she was abducted by Pakistani intelligence agencies and subsequently handed over to U.S. authorities. However, this claim has been disputed by both Pakistani and U.S. officials.
In 2008, Siddiqui was arrested in Afghanistan and accused of carrying suspicious documents, including plans for a chemical attack and a list of prominent targets which was totally a blame on her innocent character.
she is a victim of extraordinary rendition and suffered severe abuse while in custody. Her case has received international attention, particularly in Pakistan, where she is often referred to as the "daughter of the nation."
She was subsequently convicted by a U.S. court in 2010 on charges of attempted murder(ridiculous) and assault(totally a lie) and received an 86-year prison sentence.(who the hell they think they are to arrest an innocent person). In September 2021, Dr. Aafia Siddiqui remains incarcerated in the United States. She is rapped, abused, tortured, undressed by the US gourmet they let her go throw different tortures and what they say to world is all fake let me tell you what is the real face behind those shitted faces.
Aafia Siddiqui was undressed, the holy book Quran Majeed was thrown, and she was told that until you walk over it you will not be taken to court. You will be taken naked you wouldn't be given clothes and when she refused to walk, they beat her to death and left her unconscious she asked only one question that don't save me but could you please stop the desecration of Quran. Is there no Muslim out there in Pakistan who could stop this. what has happened to my nation? where are those people who declare themselves as Iqbal's eagle? where are they? I ask if Aafia is gone, Afit has also gone away. Now it's time for us to ask America to give our Aafia back to us.
Aafia Siddiqui told her mother about a dream on her last phone call, she said that "I saw prophet (SAW) in my dream last night so when he came I asked him until when I will suffer then the prophet smiled and said this is not your test, daughter. it has ended along ago she said I couldn't stop myself from saying that O Prophet (SAW) then why am I locked here? his eyes became watery and with tears in his eyes he whispered, daughter, it is a test of ummah."
Sisters and brothers now it's time to raise our voices against the unjusticeness of the US gourmet accusing our innocent Aafia. let me ask everyone out there if you are truly a Muslim stand up against the U.S when will become a united nation they wouldn't be able to stop her let work together as we know our Pakistani gourmet and officials fear the U.S but I want to say that to them we won't fear them because we have faith in Allah Almighty and have faith in ourselves.
Reader insights
Be the first to share your insights about this piece.
Add your insights