Dorothy Jane Scott
Abducted and Murdered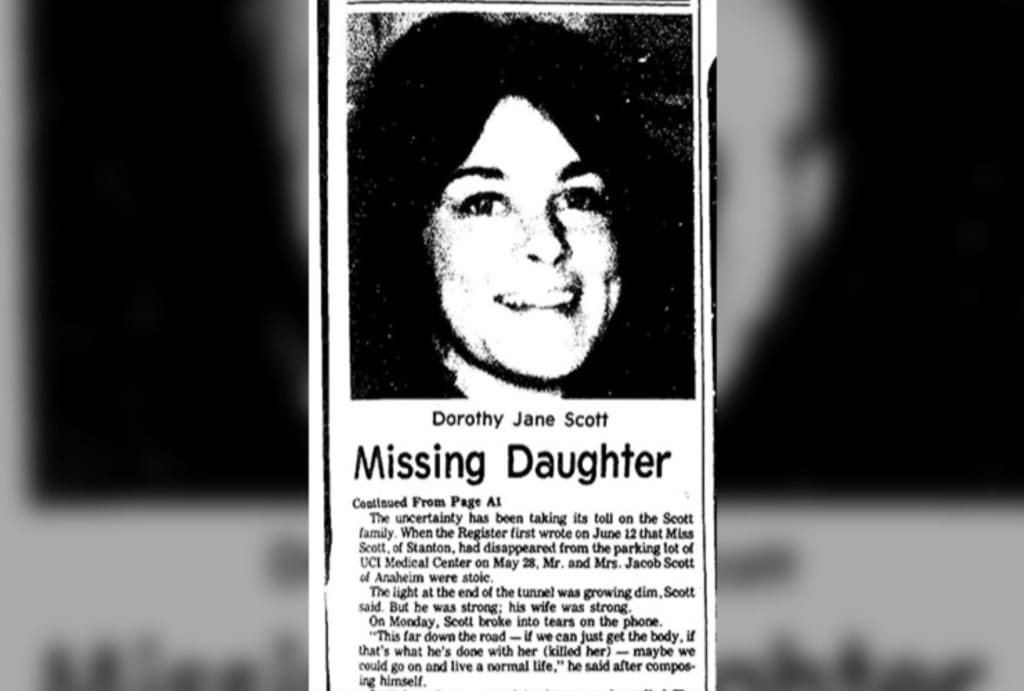 Dorothy Jane Scott was a single mother of a 4-year-old. She and her son had been living in Stanton, California with her aunt. She was a secretary for two stores that were jointly owned. One of the stores sold psychedelic items such as love beads and lava lamps. The other was a store that specializes in selling paraphernalia for cannabis and tobacco, also called a head shop. Her friends and coworkers described her as a devout Christian who did not drink or do drugs and who liked to stay home. Dorothy's parents babysat her son while she worked. Her father said she dated on occasion but that she had no steady boyfriend that they knew of.
For months before she disappeared, Dorothy had received anonymous phone calls at work. The unidentified male caller told Dorothy of his love and devotion to her. He also threatened to kill her. Dorothy's mother said "One day he called and said to go outside because he had something for her. She went out and there was a single dead red rose on the windshield of her car." Vera, Dorothy's mother, also spoke of one call that really scared Dorothy. In this call, the man threatened to "cut [her] up into bits so no one will ever find [her]". Dorothy thought about buying a gun due to the calls. She started taking karate lessons a week before she disappeared.
Dorothy was at a work meeting on May 28, 1980, at 9 pm. She noticed that her coworker, Conrad Bostron, did not look well and that he had a red mark on his arm. She and Pam Head, another coworker, took Conrad to the ER at UC Irvine Medical Center. On the way to the hospital, Dorothy changed her scarf from a black one to a red one and stopped to check on her son. It was determined that Conrad had been bitten by a black widow. While Conrad was being treated, Pam and Dorothy stayed in the waiting room. Pam said that Dorothy did not leave her side at any time. Conrad was discharged and given a prescription at 11 pm. Dorothy did not want Conrad to have to walk too far and offered to bring her car to the door. She used the restroom before going out to her car. Pam and Conrad filled the prescription and waited at the door for Dorothy. After a few minutes of waiting, they went out to the parking lot. They saw Dorothy's car speeding toward them, then past them, and turning right out of the parking lot. They were unable to see who was driving due to the blinding headlights. At first, they both thought that an emergency had come up with Dorothy's son. After a few hours of not hearing from her, Pam and Conrad reported her missing. Dorothy's white 1973 Toyota station wagon was found burning in an alley about 10 miles from the hospital at 4:30 am on May 29.
Dorothy's parents got an anonymous phone call about a week after her disappearance. The man said "I've got her" then hung up. The same man called Dorothy's parents every week on Wednesday afternoon saying that he either had Dorothy or had killed her. The calls were short and usually came while Vera was home alone. When the man called one evening in April 1984, Jacob, Dorothy's father, answered and the calls stopped after that.
On June 12, 1980, an unidentified man called the Orange County Register and said "I killed her. I killed Dorothy Scott. She was my love. I caught her cheating with another man. She denied having someone else. I killed her." A managing editor said the caller knew that Conrad Bostron had been bitten by a spider on May 28 and that Dorothy had changed from a black scarf to a red one after the meeting. Neither piece of information had been published in the article about Dorothy that they had run that day. The caller also said that Dorothy called him from the hospital which Pam Head disputed saying she was with Dorothy the whole time and she never made a call.
A construction worker found partially charred dog and human bones beside each other 30 feet from Santa Ana Canyon Road on August 6, 1984. Authorities believed they had been there for two years since there was a bushfire in that area in 1982. A turquoise ring and watch were also found. Vera said that the watch had stopped at 12:30 am which would have been an hour after Pam and Conrad last saw Dorothy's car. Using dental records, the bones were identified as Dorothy's on August 14. The cause of death could not be determined. There was a memorial service held on August 22.
When Dorothy's remains were found, the family started getting calls again. Police installed a voice recorder but were unable to trace the calls due to the man not ever staying on the line long enough. Investigators believe that the anonymous caller is responsible for Dorothy's death.
About the Creator
I post true crime stories. I also post poems and short stories written by my husband, Thomas Mormon.
Reader insights
Be the first to share your insights about this piece.
Add your insights