Documentary Sheds New Light on Abuse of Aaliyah by R Kelly
It was in our faces the entire time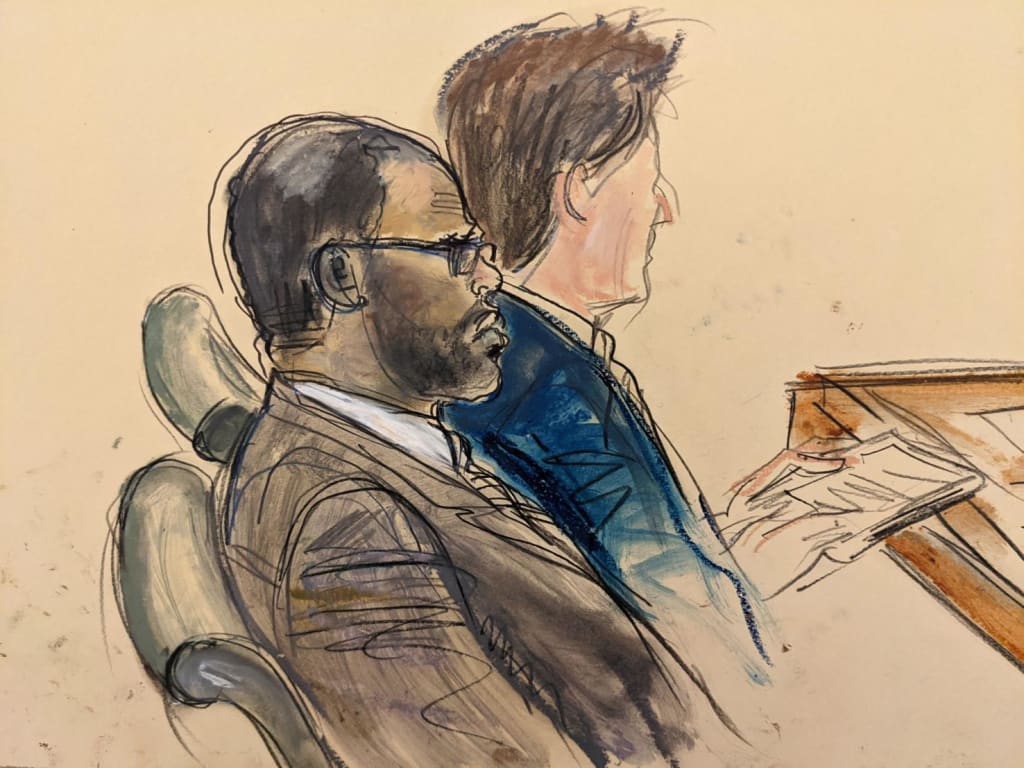 Artist rendition of R Kelly's sex trafficking trial. Elizabeth Williams: Associated Press
As a plethora of anonymous victims reveal atrocities committed on them by the perverse and defamed singer Robert Kelly, the trial once again drops a bombshell as Nathan Edmond, a 73-year-old ordained minister in Chicago, testified about the ceremony under subpoena. This has been his first time speaking publicly about the illegal union per CNN reports.
However, old footage could shed light on just how inappropriate the relationship between the then 26-year-old R Kelly and 14-year-old Aaliyah really was. The documentary R. Kelly: Born Into the '90s, released on BET in 1993, gives the audience a glimpse into his life.
In the footage that is just over 30 minutes, there is a scene where Kelly introduces the then-unknown entertainer, Aaliyah. Forty seconds into the documentary, she is seen, somber and walking on a cane.
The documentary highlights Kelly's early life and his rise to fame. He also talks about how he came to work with Public Announcement. Another unknown group that struck gold because of R Kelly's musical genius. As much as Kelly is a genius, he has a proven track record of being a predator.
Before Vibe magazine's story that surprised the world by publishing that marriage license that proved the illegal nuptials between Kelly and Aaliyah, the same magazine proved that the singer was introduced to Kelly at the age of 12.
Here is an excerpt of how Barry Hankerson met Kelly in 1991 and eventually introduced the two:
Kelly showed up, depressed, at Chicago's New Regal Theater, where Hankerson had just closed auditions for one of his plays. But when he sang for some female assistants, they told Hankerson he had to come down and hear this guy. Hankerson eventually helped Kelly out of his legal difficulties and got him signed to Jive records in 1990. By 1991, right before beginning his first album, Robert was introduced to Hankerson's niece, a young singer named Aaliyah.
Aaliyah confirms the story. She later stated that being in the studio was,
"…new to me. I'd get there at 4 p.m. and not leave till 6 a.m. Robert and I are both perfectionists. We'll go over something a million times to get it right."
The documentary cuts to the 14-year-old future chanteuse recording her yet-to-be-released Down with the Clique, and Kelly soon offers feedback on her performance. That record would later become a UK-only single, becoming the fourth single off of the album. Though the scene appears innocent, it's what isn't explained that is extremely alarming.
The singer spends the majority of the interview walking behind him. She is solemn-faced, not speaking to anyone, and walking on a cane. She doesn't speak to anyone but Kelly during the interview. And though the documentary shadows Kelly for at least a week, the 14-year-old seems to spend her days, and nights, with Kelly.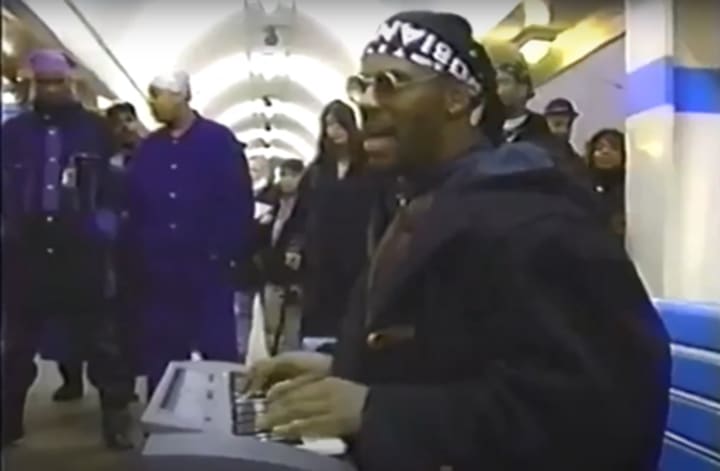 Aaliyah's uncle, Barry Hankerson was not seen in the documentary to act as a guardian for the young singer. The singer's parents are not in the video, and she even appears to be using the cane while recording in the studio.
This is made even more chilling by the fact that Kelly's victims have repeated the claims that the singer didn't allow them to look at or speak to other men. Violating these rules led to physical and sexual violence. Throughout the entire documentary, Aaliyah is seen walking behind him with her head down, not speaking to anyone but him.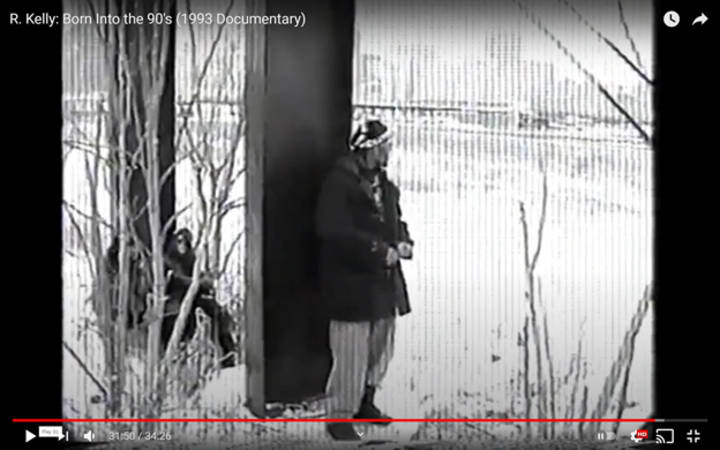 Flash forward to present day, the world is still getting tiny glimpses into the bleak marriage of the late singer. It is unknown if her mother, Diane, will be forced to testify. However, Diane has vehemently denied claims that the two were ever married. She even called some of Kelly's victims "liars".
Personal accounts of those close to Kelly's camp and the Pastor that wed the two, cannot be denied. Through all of the scandal, smoke, and mirrors, the late Aaliyah seemingly died with many dark secrets that may never be confirmed. Leaving fans torn as Kelly's twisted past is still unfolding in this very disturbing and public case.
Originally published at https://original.newsbreak.com.
celebrities
About the author
I am a new freelancer who is documenting her journey for others that feel like they have no idea what they're doing.
Reader insights
Be the first to share your insights about this piece.
Add your insights