Death Toll Rises in Las Vegas Strip Massacre; Previously Unknown Details About Gunman Emerge
New reports suggest that the worst mass shooting in US history was a well-planned, wholesale slaughter that involved the use of military-grade weaponry.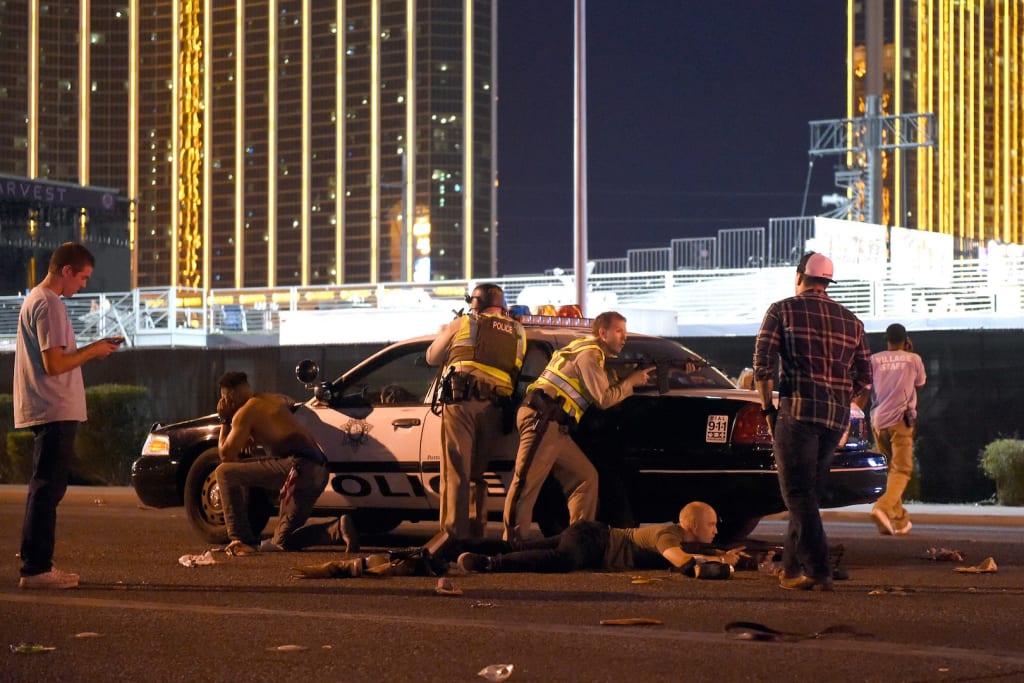 Las Vegas Police and bystanders duck for cover near the Mandalay Bay Resort and Casino. (Photo credits: David Becker, Getty Images)
Roughly two days after the massacre on the Las Vegas Strip, new revelations have been made, which shed light on how many people were killed or injured, how the attack was coordinated, and what type of weapons were used.
The human toll taken by the concertgoers at the October 1st Route 91 Harvest Country Music Festival was absolutely unfathomable. As singer Jason Aldean had taken the stage to finish up his closing performance in front of thousands of fans at the outdoor concert, sheer terror struck a cross section of the American public yet again. At around 10:08 PM PDT, a lone gunman began raining bullets down into the crowd of concertgoers from his upper-level window at the Mandalay Bay Hotel and Casino, which was just under 400 yards away from where the concert was happening.
Surviving witnesses who were at the scene recall thinking that the gunshots were celebratory fireworks, according to various media sources. However, the sporadic gunshots continued for at least 10 minutes or more. By 10:25 PM, a number of police officers had made their way to the hallway right outside the door of the hotel room where the gunman was staying. The whole hotel floor was then placed on lockdown. The officers announced themselves as the police at the door but the gunman opened fire from inside the room wounding a security guard.
Finally around 11:21 PM, police used explosives to knock down Paddock's locked hotel room door. At 11:58 PM, the Las Vegas Metropolitan Police Department made the announcement that the suspected shooter had taken his own life right before police had bombarded the door to move in on him. The gunman was identified by police as 64-year-old Stephen C. Paddock, a retired multimillionaire from Mesquite, Nevada. Mesquite is a small desert town located about 80 miles northwest of Las Vegas. Paddock checked into the Mandalay Resort on September 28th.
Prior to turning a gun on himself, Paddock murdered 59 people during his rampage from above and injured 527 others. The Las Vegas Strip attack was the worst American mass shooting on record. However, the large amount of ammunition and sophisticated weaponry found by police inside Paddock's hotel suite indicated that much more carnage could have been committed if officers had not made it to the scene until later. According to the Washington Post, Paddock aroused no suspicion prior to moving his arsenal of weapons into his hotel suite.
In statements to the media, Joseph Lombardo, the sheriff of the Las Vegas Metropolitan Police Department conveyed that investigators were told by hotel personnel on the scene that Paddock brought 10 suitcases with him upon checking into the hotel. "It wasn't evident that he had weapons in his room [prior to checking in]," Lombardo said, according to the Washington Post. However, the Las Vegas Metropolitan Police Department (the bureau leading the investigation) found 23 guns, including at least one high-powered, fully automatic firearm.
Law enforcement officers did not limit their search to Paddock's hotel room. Later, authorities converged on his vehicle and his home in Mesquite and found a mother lode of additional weaponry. In Paddock's car, ammonium nitrate was found. This is a dangerous chemical that is often used to make powerful incendiary devices. Timothy McVeigh and his co-conspirator Terry Nichols used ammonium nitrate to make the Ryder truck bomb that destroyed the Murrah Federal Building in Oklahoma City, Oklahoma during a 1995 domestic terrorist attack.
This murderous operation killed about 168 people and injured over 680 others. At Paddock's house, a high amount of another explosive chemical called tannerite was found. Lombardo also said that 19 more firearms and thousands of rounds of ammunition were additionally found at Paddock's house. The federal government's Bureau of Alcohol, Tobacco, and Firearms (ATF) is also investigating this case.
About the Creator
Mr. Trammell is an award-winning digital media producer, freelance journalist, and author. Formerly, he wrote national radio content for the Michael Baisden Show. He also served as Senior Editor at the Your Black World online news network.
Reader insights
Be the first to share your insights about this piece.
Add your insights