Darren Dash - 'Molls Like it Hot' (Book Review)
Darren Dash returns with a gritty British gangster novel filled with twists and turns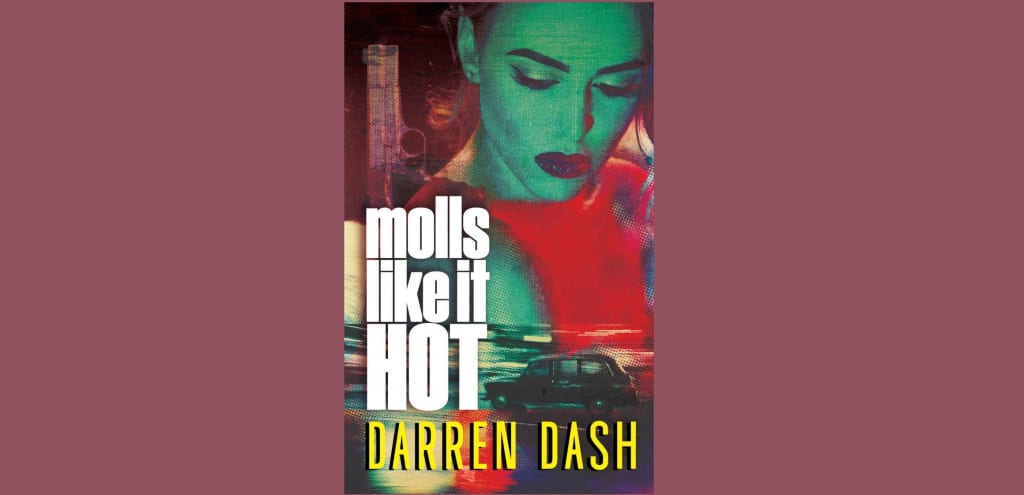 Darren Dash - Molls Like it Hot - OUT NOW!
*THIS REVIEW CONTAINS CHARACTER SPOILERS BUT NOT ANY PLOT SPOILERS*
It was December 5, 2019, and I was minding my business scrolling through Facebook, only to be greeted by a post from one Darren Dash surprise releasing his fifth book under the Darren Dash name (For those who don't know, Darren Dash is the adult moniker of Darren Shan a popular teen/YA author who has sold millions of books worldwide). This post gave the information about his new book 'Molls Like it Hot'. I had not choice but to check it out.
The following is the synopsis of Molls Like it Hot as given on Amazon UK:
"Eyrie Brown used to serve in the Army, until a tragic loss forced him to return to civilian life earlier than planned. Now he drives one of London's iconic black cabs. On a dark, wet night, he gives a lift to a wounded gangster, and everything changes from that point on.
When the gangster gets in touch some time later, offering Eyrie a small fortune if he will take care of a mysterious young woman for a few nights, Eyrie is suspicious and hesitant. He can see trouble ahead, but the money will change his life for the better, so he reluctantly agrees to become a temporary guardian. But some deals should never be struck, and his charge turns out to be far more of a handful than he had ever anticipated. As twist follows twist and the bodies start to mount, Eyrie gets backed into a blood-soaked corner and must resort to desperate, inventive measures if he is to stand any chance of seeing his mission through and making it out of the weekend alive."
Molls Like it Hot is a gritty British gangster mystery thriller with plenty of action to go around. Action takes place from the very beginning and is often followed by periods of build and tension before another big action scene to blow off all that built up tension. The action is well paced and described, offering a sense of tension and shock in all the right places.
It offers a very different experience from Darren's other Monster, Demon, and Fantasy based other novels (including his work under Darren Shan), which is very much a welcomed change, reminding me very much of his Darren Shan book Lady of The Shades. Being relatively short at around 250 pages, this allows for the story to progress at an accelerated rate and not give any time for any 'bullshit'.
The characters are well developed and we are instantly feel like we either know them or have a strong feeling towards them. Eyrie, is a likeable character with a strong will and an essence of struggling with PTSD following his time in the Army - Eryie's cabbie friends are equally as likeable, each one being given a unique identity which later helps factor into the story, like each one was purposefully woven into the story. Toni on the other hand to begin with is instantly unlikeable, being very stuck up, however, Toni has probably the most resounding character development throughout. All of the arcs the characters take are extremely satisfying.
The plot itself is an extremely engaging one, having me hooked from the first few pages. I was actually able to finish this book in one morning. I was enjoying the characters and plot so much I lost track of time. The plot kept reimagining itself and making itself fresh. As well as digging into a possible hidden love of old silent films that Darren may have, as this is where the name of the book comes from, the 1959 Billy Wilder film Some Like it Hot.
In all honesty, this is probably Darren Dash's best work to date. I only wish the book was longer so I could spend more time with the characters I had grown to care for. Despite wishing it was longer, the length of around 250 pages left enough to the imagination and enough on the page to leave me completely satisfied and hungry for more.
Molls Like it Hot is a thoroughly grizzly, gritty, and unmissable story based in London, UK that provides the reader with plenty of twists and turns to keep them hooked from the very first page. With likeable and believable characters, it truly is a testament to Darren's writing abilities. It is a worthwhile read to all adult readers who enjoy crime, action, thrills, and chills. The only shame is, being self-published, this won't get to grace the shelves of Waterstones, Barnes and Noble or other bookshops where it surely belongs.
Despite being released late into the year, Molls Like it Hot surprised, and left such an impact on me, I am naming it my Book of the Year 2019.
Book of the Year 2019 Winner : Darren Dash - Molls Like it Hot
Rating: 5 stars (*****)
Available from:
Paperback will be available from Amazon UK from January 2020
Follow Darren Dash:
Follow Me! (Tom):
Instagram: @tomsturtridge
Twitter: @tomsturtridge
Goodreads: Tom Sturtridge