Criminals world
Hazard and disaster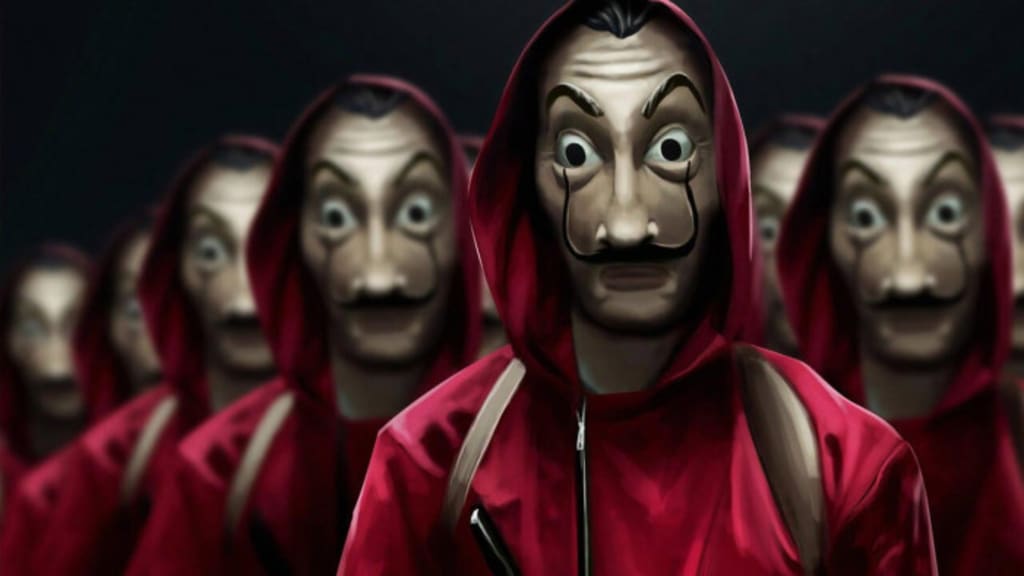 Here they come.
We were stuck in a house not able to go anywhere, and no one to talk to cause they all looked alike. Our only hope was Sally had a great plan set up and ready to go. The big problem was the criminal minds were dealing with were mostly rogue cops or ex cops. That made this situation more deadly cause they would know most of our moves and plans and thats tough when your trying to rescue people who are cops that are hostages to the criminal masterminds behind the masks.
Sally was in a group meeting with all who have rallied together to rescue me and Mason. She was hoping she could catch the masked clowns off guard somehow enough to get myself and Mason out of the situation at hand without any tip off what so ever. Why was I so worried though something in my gut felt so uneasy it was not good to me. I needed to know was this the end or was this the end for the masked clowns of terror.
Sally had the teams in place, she hoped all would flow as planned and not put any one in danger. But the masked clowns of terror had other plans in place and we all were clueless as to what would happen next. I was trying really hard to break myself free of the ropes and zipties used to restrain me to a chair. It was not safe in this building and little did Mason and I know that these men were planting bombs in places to blow the evidence at hand to nothing.
I needed to free myself and do it fast in order to prevent any one from getting hurt but it wasn't going to be easy. I pulled and pulled and tugged and pulled till finally snap the zip ties popped but not with out any blood draw. I had to wrap something around the injuries so I would not leave a blood trail.
I went to free mason from the chair he was tied to, on the way I grabbed a knife to cut the ties and ropes for him. I was able to free him and the pare of us together just might be able to salavage the investigation all together. But not before Smith spotted we were free and then the worst came into play and the nightmare began. I saw Smith go to grab for his gun and I decided to toss Mason on floor and I got hit now what was to happen to me.
I started to have everything flash before my eyes my wife, my kids, my life and now I lay bleeding in multiple spots and one wound could end my life what was I to do. Sally on the other hand her the gunfire and quickly went on alert and explained that now the situation was serious but she didn't know how serious it was and who was in serious need of attention medically.
Mason was concerned and and he stood next to me begging Smith to stop this chaos of criminalistic masacres you and these gentlemen and women have caused. I think this reign of terror needs to end. Well Mason your right on one thing this is a reign of terror and masacres and chaos and I love it and I not going to stop till the entire city is chaos and ruin.
But Smith your not making this easy on anyone not even yourself or the group of people you have involved in your criminalistic crimes. Mason you do not understand and you never will cause you and Branson on not leaving here alive you can't you both have seen way to much and know way to much about our operations.
Sally told EMTS to be prepared for gunshot victims and serious injuries. The EMTS agreed and they grabbed supplies and prepped for the worst but the worst was about to happen sooner then we thought. The gasses and stuff in the air from the meth that was cookin in house was starting to rippen and the gunfire had sparked a slight fire and Smith was not aware.
The team noticed they all were trapped and it was Smith's fault and he was unaware his actions had cost him the teams lives and others. Sally saw the smoke and called the firemen over to bring there trucks to help assist and try and prevent the explosion that was coming sooner than we all knew.
Sally ordered everyone to back up and not get so many feet of the house. Sally only hoped the firedepartment could prevent thee property from exploding. She also hopped that I would not be hurt or killed. She did not wish to tell my wife and kids that I died.
So I started to driftaway into my own world. It was strange and unuasl how I was feeling weak and needed to get help. Was this my end or was I going to make it.
Till the next chapter......
fiction
My name is Sara I live in the country in a small town in pennsylvania called St thomas. I enjoy writing and craft making but I do this in the comfort of my home. I enjoy making my own hours and bossing me around. let me create your design