Counterfeit Goods
Even Your Toothpaste Can Be Fake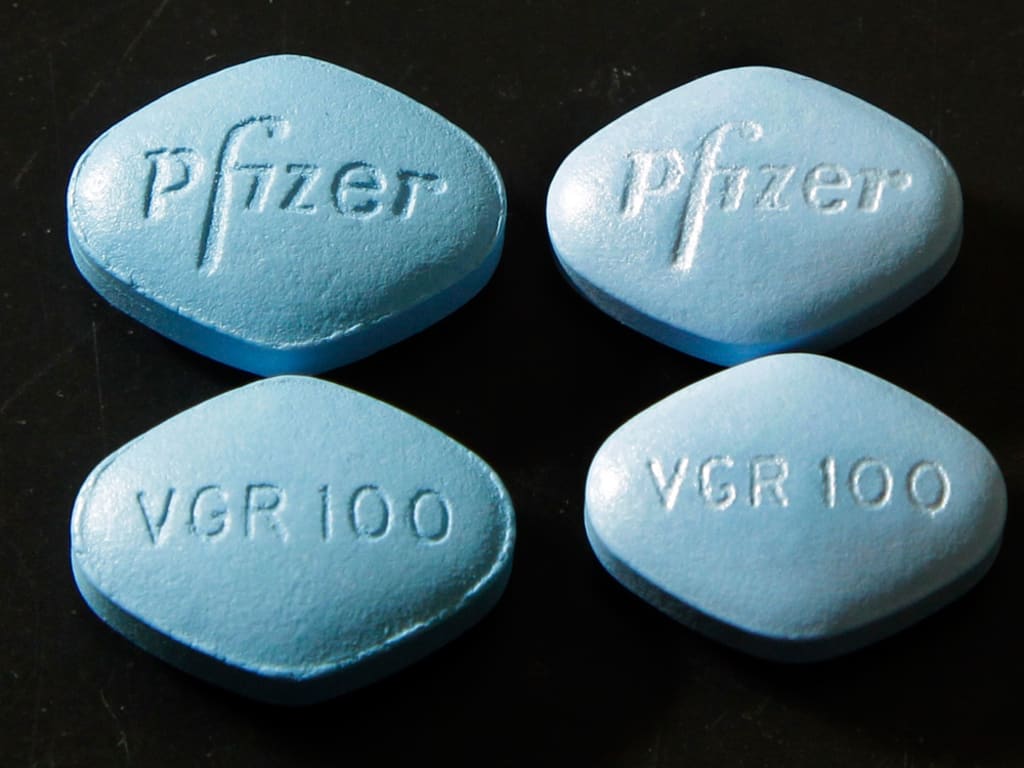 The list of goods being counterfeited today is both staggering and alarming. In the picture above, the Viagra on the left is the real deal, on the right, a fake. Now, you might not be put-off by a counterfeit drug that just makes a better Saturday night, but how about your heart medications, or your diabetes pills? CBP agents (Customs and Border Protection)confiscated nearly $80 million worth of bogus medications, hygiene, makeup, and hair products last year. The CBP has aggressively pursued counterfeit drug movements and shut down internet sites selling fake drugs online. More than $18 million worth of counterfeit prescription drugs and hygiene items originated in India, contributing 88 percent of the imitations that country produced. China contributed an additional $47 million of the same products.
Consumer electronics is the third largest category of counterfeit merchandise. Numbers rose to $145.9 million in 2013. The confiscation of electronic products grew in association with their value. There were 5,656 seizures in 2013, a 44 percent increase from 2012. The products included iPhone chargers that were fatally flawed.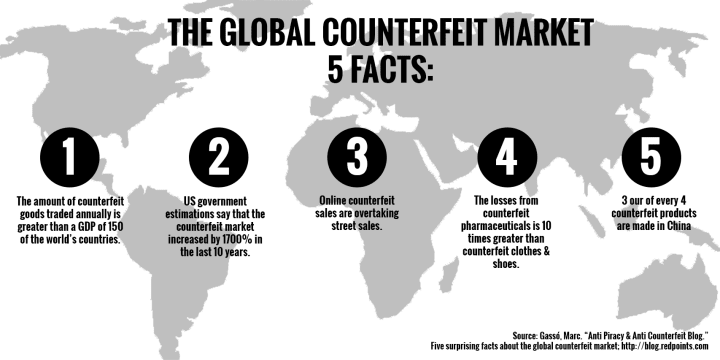 Watches and jewelry were hot ticket items. In 2013, the selling price of confiscated watches was more than half a billion dollars. Counterfeit versions of high-end watches retail for thousands of dollars and can boost the values of imitations seized. Handbags and wallets were the top winners in the counterfeit game. The captured value has hit the $700 million level and accounts for 40 percent of all confiscations. Products like Hermes purses, which sell for thousands of dollars each, were a big item. When the retail value of the actual product goes up, the counterfeiters get busy because the value of the fake goes up as well. The selling of bogus goods on the Internet, in storefronts, by sidewalk hawkers and people selling out of their homes is big business. Recently, the FBI arrested 29 people in New Jersey who tried to import $325 million in imitations including the brands Burberry, Polo, Coach, Gucci, Louis Vuitton, Ugg, and Nike. China, the World's Factory, is the source of the bulk of the world's knock-off goods, supplying a full 60 percent.
Would you be able to tell?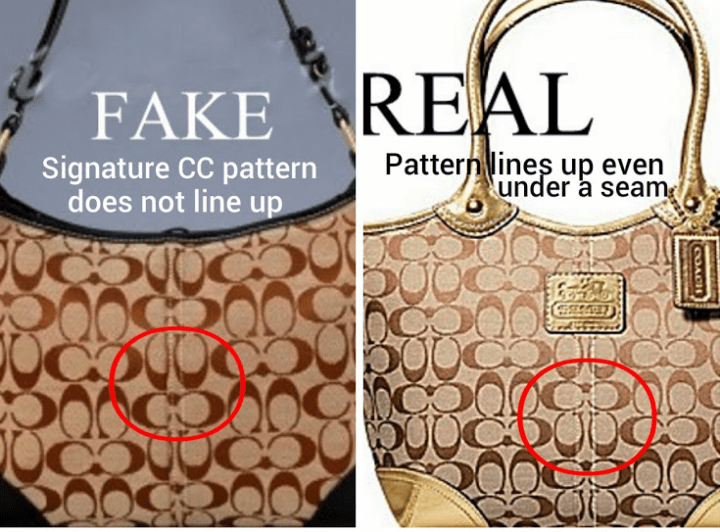 Tags are also a huge item. Many consumers know a product by its label. Counterfeit tags are shipped separately and then paired up with the item here in the States. The fake labels might get confiscated and the handbags (or other goods) get through the smuggling system, or vice-versa. Counterfeit products can harm consumers. Coffee mugs may contain unsafe levels of lead and cosmetics have been found to contain poisonous substances, including cyanide, heavy metals such as arsenic, mercury, lead, human urine, and rat droppings.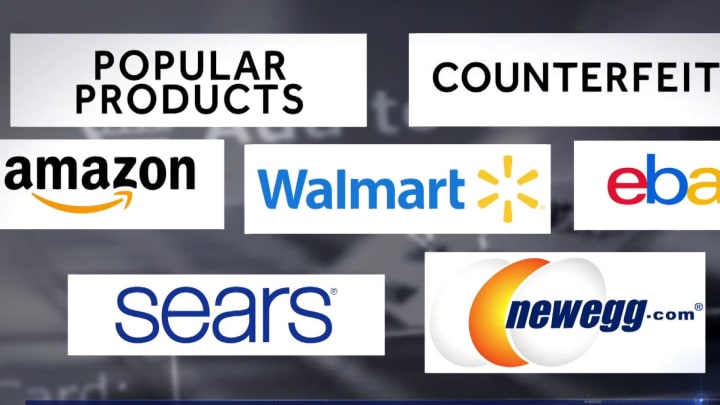 All of the online shopping sites shown above have policies against counterfeits, but ALL sell them. One report said that they found fakes on Amazon on the first pages they brought up. There are things we as individuals can do to avoid getting ripped-off.
Never buy from third-party sellers on Amazon. They cannot oversee these sellers.
Know the product you are buying. Research its appearance. There are websites that will help you spot a fake, like QualityTyme.net, which helps identify fake Rolex watches.
Go to the company site. Callaway Golf, Microsoft, Coach, and Ugg all have information to help identify fakes.
Order from the company directly selling the item you want.
Don't buy online. Examine the item with your own eyes.
Check the company or store's history online with words like "rip-off," "complaints," or "reviews."
If the price is a big discount, that should raise red flags.
Use a credit card, because your card may offer buyer protections.

To help protect yourself from counterfeits, you can use an escrow service when buying high price items. An escrow service can hold on to any payment until you have a chance to examine your purchase. At Escrow.com, the inspection period is one to 30 days. For purchases up to $5,000, the fee is 3.25 percent or 6.3 percent of the purchase price, depending on the contract chosen. There are fraudulent escrow services. Check any escrow company with the Better Business Bureau.

NEVER DELIBERATELY PURCHASE COUNTERFEIT PRODUCTS. If there were no market for these fakes, many would disappear. It is also against the law. You may buy a knock-off Prada bag to impress your friends, but at the same time, you are ensuring that others will get ripped-off. Your turn might be next.
Use Your Intelligence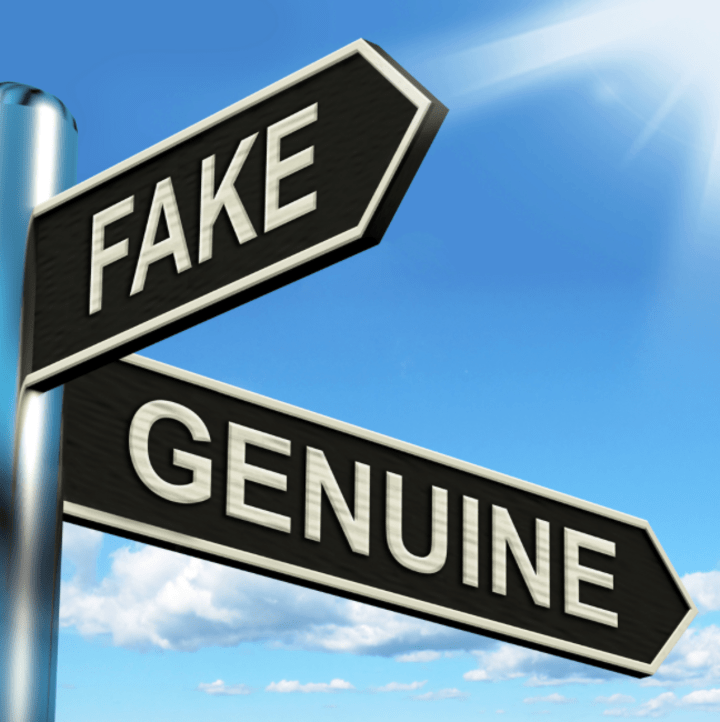 All stats are from the International Chamber of Commerce.