Cold Cases #1: Shauna Howe
A murder in October of 1992 shocks a small town and its neighbors.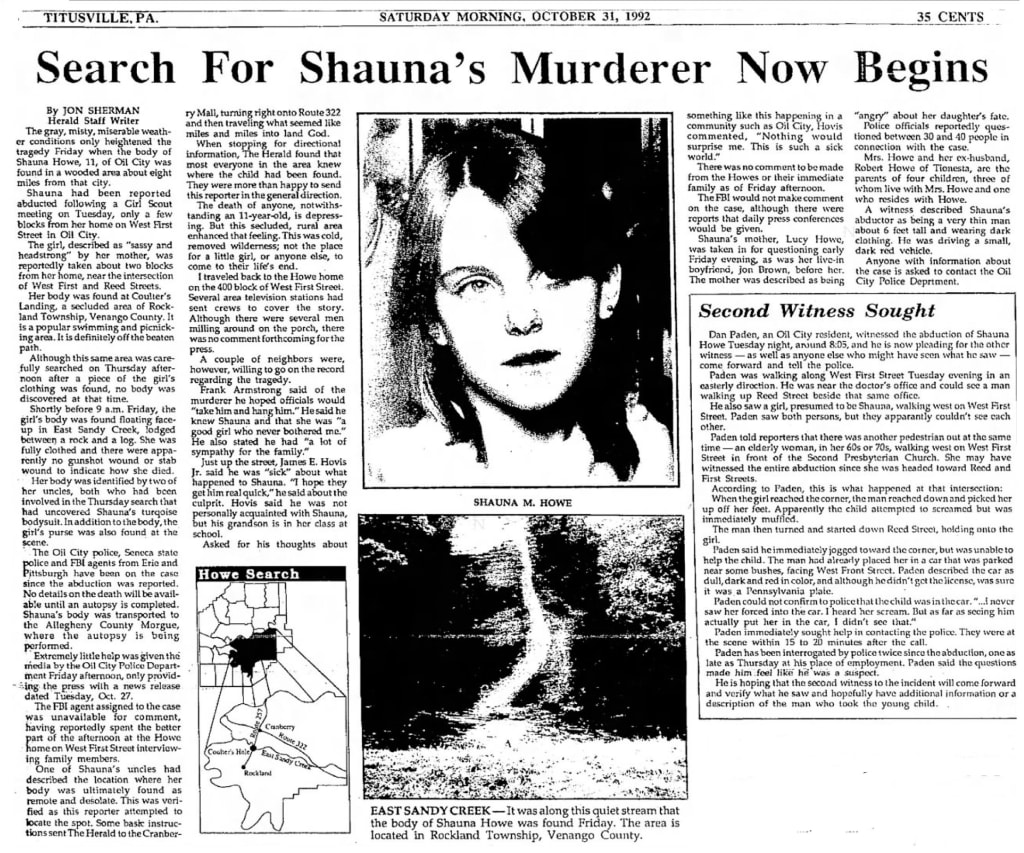 *DISCLAIMER* I mean absolutely no harm to the victims or their family. I simply write about cold cases/missing persons so that the media is aware of the victims and their stories.
Coming from someone that is from one of the neighboring towns of Oil City, I knew this had to be my first "Cold Case." While this isn't a cold case anymore, it was for more than ten years.
The story of Shauna Howe is something that every person in Oil City and its neighboring towns know about. My mother told me about what had happened to her in 2006, I was eight years old. She didn't go into perfect detail, but it was enough to scare the wits out of me. I was never out of her sight again.
On October 27, 1992 an 11-year-old girl, Shauna Howe, was walking home from her girl scout Halloween party. She was on a corner about two blocks from her home when she was abducted. When Shauna didn't come home, her parents called the police and reported her missing. Search parties would go out and look for her for two and a half days when she would be found.
One of Shauna's family members found a piece of her ballerina costume underneath a railroad trestle in Coulter's Hole. Two hundred feet away from where the piece was found, her body would be discovered. She was raped and then thrown over the railroad trestle. She had died of blunt force trauma to the head and chest. No one would be arrested until 2002.
In 1995, another girl had been found murdered. Luckily for this case, her murderer would be found. Authorities thought they might have finally cracked the Howe case. They would not be able to link the two cases together.
In 2002, FBI would find DNA evidence that would link Shauna to a man of the name of James O'Brien. James was already serving a sentence for the attempted kidnapping of a woman in 1995. After authorities questioned James, he admitted that his brother and him were staying with local, Eldred Walker at the time of Shauna's murder. Walker's home was searched and he then went on to tell authorities that he was aware of the brothers' plan on kidnapping a child.
He went on to say that the brothers told him they were planning on kidnapping a young boy. He said that they claimed it was supposed to be a "prank." As Walker was describing the night to the police, he went on to tell them that the brothers showed up at Walker's home with a frightened young girl. He then told them to get and to take her with them, and they did.
They were all three arrested in 2006, 14 years after Shauna's murder. Walker was charged with (and pled guilty to) kidnapping and third-degree murder. Walker testified against the O'Brien brothers who were convicted of kidnapping, conspiracy, and second and third-degree murder.
Shortly after Shauna's disappearance/murder Oil City and its surrounding towns put a ban on trick-or-treating at night. In 2008 a young girl went to the city counsel and confronted them with a petition of 175 signatures, to lift the ban. She did this because when her and her friends would go trick-or-treating no one would be home in the middle of the afternoon. While the city did lift the ban, we still have trick-or-treating on different days per town.
While the town and i's neighbors will never forget Shauna and what happened to her, parent's have become more vigilant. While OC and its neighbors are known for keeping their doors open, parents now walk their kids to bus stops. Parents don't leave their shopping carts unattended or let their kids run rampant in the streets without knowing where they are. Unfortunately, it just took one girl's murder to make the town and its neighbors more vigilant.
guilty
About the author
I'm a 19 year old hopeless romantic, I go to CUP for English and Criminal Justice and I'm going to be opening a book store in Texas soon.
Reader insights
Be the first to share your insights about this piece.
Add your insights