Christine Edmunds, the Beautiful Woman Known as the Chocolate Cream Killer
One of Broadmoor's most infamous female prisoners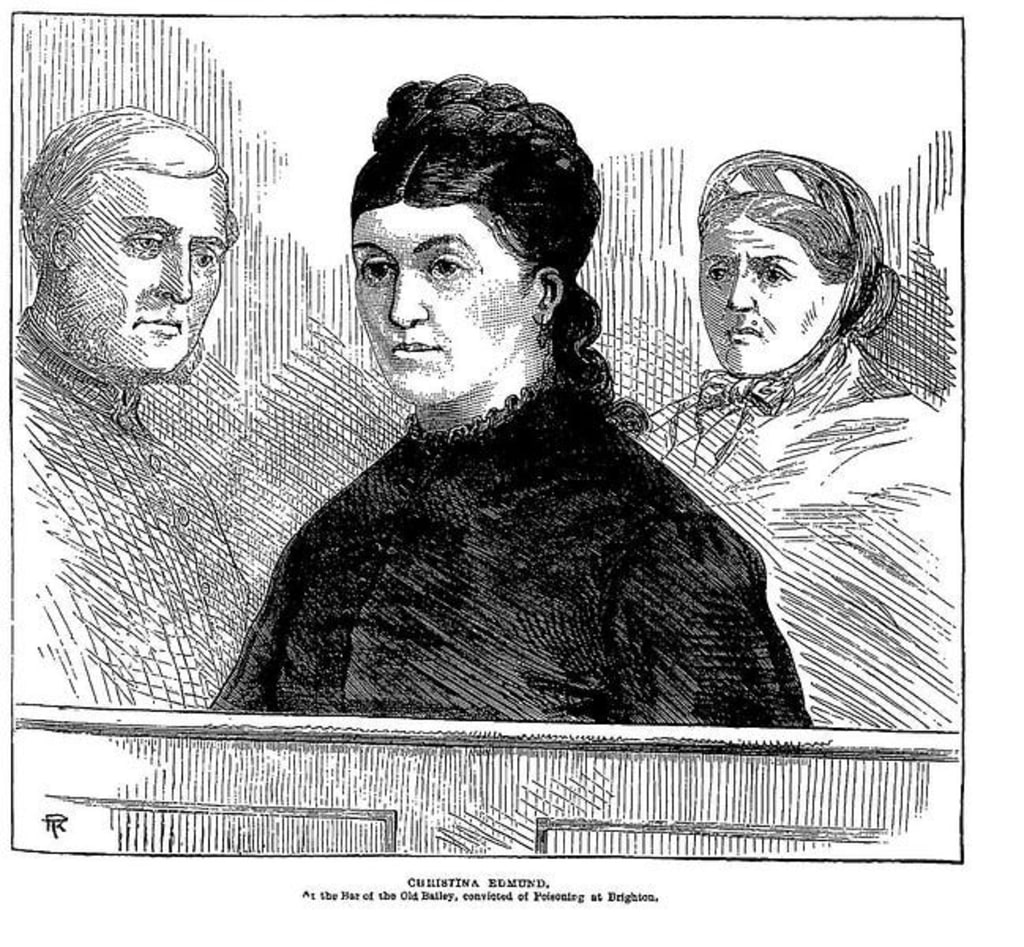 Christine Edmunds was one of the first famous killers to walk the corridors of Broadmoor. She was called the Chocolate Cream Poisoner, but she never considered herself one of the Broadmoor prisoners. Despite this, she remained a patient until her death, some thirty-five years after her incarceration.
Christine Edmunds was described as a tall, handsome woman with a highly prepossessing demeanour. Unlike many of the poor women at Broadmoor, Edmunds came from an educated, middle-class background.
Many will argue that Edmunds was not mad but rather a cold, sadistic killer. Whatever the truth, Edmunds's criminal career started because of a man, a married man to be more precise, who was also her neighbour in Brighton.
Early Life
Christine Edmunds was born in Margate, Kent. She was the eldest daughter of William Edmunds, an architect. William was famous for designing the Holy Trinity Church and the Margate Lighthouse.
Edmunds, mother was Ann Christiana Burn, the sister of a Royal Marines Captain. Unlike many women who found themselves locked up due to poverty, Edmunds came from a privileged background. She was well educated.
In her twenties, she was diagnosed with hysteria; it was a diagnosis that would change the course of her life.
In the late 1860s, Edmunds moved to Brighton to be with her elderly mother. It wasn't long before she fell in love with her neighbour and local doctor, Charles Beard. Unfortunately, Beard was married, but this did not deter Edmunds; instead, they embarked on an affair sending each other passionate love letters.
Accounts vary regarding how much of the affair was real or not. Some stated that the physical side was a fabrication of her already unstable mental health. Although Beard would later admit to the love letters, mixed with some mild flirtation, he denied that anything ever became physical between them.
The Chocolate Cream Killer
On September 1870, Edmunds decided to visit the Beard house with a gift for the good doctor's wife, a box of chocolates. Mrs Beard ate a small chocolate and soon after became violently ill. Beard suspected his lover straight away of poison. He confronted her and called off the relationship. Riddled with shame, he did not contact the police.
It is then believed that Edmunds came up with an idea to clear her name and win back the love of her life. She decided to frame the shopkeeper J.G. Maynard for the poisoned chocolates. Edmunds would obtain the chocolates lace them with strychnine and then return them to the shop. People became ill from the chocolates, but there were no fatalities until a year later.
Sidney Barker was a four-year-old boy who loved chocolate. Eating one of the sweets from Maynard's shop, he became seriously ill and died as a result. At the coroner's inquiry, Edmunds came forward to offer evidence, describing how the chocolate had made Mrs Beard ill just the year before, which had come from Maynard's.
Investigation
The investigation now turned to the sweet shop, where traces of the poison were found in some chocolates. It did not take long for the shop owner to be exonerated from intentional poisoning. However, the mystery remained and Baxter's death was ruled accidental.
The community waited for another incident to happen. They did not have long to wait as on 10th August 1871; six local people received strange presents of poisoned fruits and cakes. Mrs Beard was among them and so was her neighbour Christine Edmunds.
After this latest batch of poisoning, Mr Beard finally went to the police and voiced his suspicions about who the poisoner was. As evidence, he handed over the passionate love letters. On examination, professionals felt that the letters showed evidence of someone with an unstable mind and evil intent. As a result, Edmunds was arrested and charged with attempted murder.
Trial
Edmunds's trial began in January 1872. In true fashion, she appeared in court dressed in a black silk dress, the ultimate femme fatale. She was calm and aloof, glancing around her.
Her mother told the court that her husband had once been an architect but had gone insane and been committed to an asylum. A brother of Edmunds had also been confined to an asylum, where he remained until his death. In addition, her sister had once attempted to throw herself out of a window.
However, the evidence against her was stacking up. A chemist she knew, Mrs Wood, had come forward to say she had supplied Edmunds with strychnine to kill troublesome cats. A local errand boy told of how he delivered chocolates to her from Maynard's.
It did not take the jury long to convict her of murder and condemn her to die. Her defence argued that she did not know the difference between right and wrong.
Broadmoor
Edmunds was examined while in prison by Dr William Orange, Broadmoor's medical superintendent. He agreed with her mother, Christine Edmunds was unequivocally wholly insane.
She had confused and perverted feelings of a most marked insane character. On this advice, she was transferred to Broadmoor in 1987. She was forty-three when she was admitted but told anyone who asked she was thirty-five. She wore rouged cheeks and an enormous wig. Some years later, the charge of murdering Sidney Baxter would be added to her sentence.
Within Broadmoor, she treated male staff to the full effects of her charm. The male doctors and staff could expect her full-on, sexually-charged attention, even in her late 70s. She has never shown any remorse for her crimes. On 19th September 1907, she died of old age at seventy-eight, still living in Broadmoor.
Originally published at https://www.murdermayhem.uk on October 10, 2022.
incarceration
About the author
I know where the bodies are buried and I'm not afraid to tell you - author of True Crime, History and Fiction. Find me on Twitter [email protected]
Or find my crime magazine here - https://www.murdermayhem.uk
Reader insights
Be the first to share your insights about this piece.
Add your insights