Chicago's Murder House
Illinois' First Serial Killer
In August 1886, twenty-five-year-old Herman Webster Mudgett was hired to work in the drugstore of Elizabeth Houlston, located on the corner of what is now South Wallace Avenue and West 63 St. Working hard, he eventually had enough money to buy the store from Mrs. Houlston and began running the store himself. A couple of years later, he purchased the empty lot next door and started to build a mixed-use building with retail stores on the bottom and apartments on the top, including a new drugstore. Later, in 1892, Mudgett added a third floor, claiming he needed the space for supplies and storage. Taking up a whole city block, Mudgett, better known as Dr. Henry Howard Holmes, had just finished what would be known as "Murder Castle."
During its construction, Holmes constantly replaced workers, claiming that their work was insufficient. In actuality, he switched out laborers to ensure that no one caught on to his master plan. The strange hotel was filled with stairways that led to nowhere and doors that opened to brick walls. Other doors were outfitted with perplexing locks that would seal a person inside.
Bedrooms were soundproofed or equipped with gas lines controlled from the other side of the wall. One room was sealed up by brick and could only be entered through a trapdoor in the ceiling. Doors were rigged with alarms that tracked the movement of guests. A room on the second floor was known by Holmes as the "secret hanging chamber" and served just the purpose one might imagine.
Newspaper Article Describing the House with Layout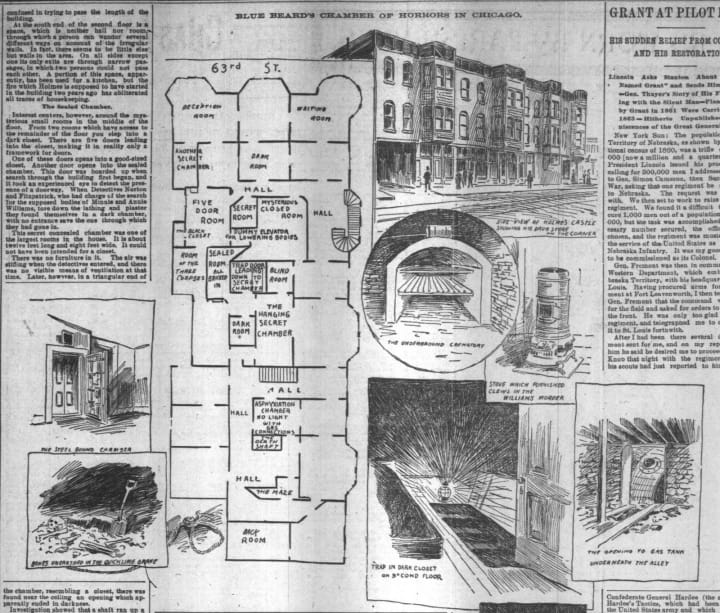 It was into this labyrinth that Holmes lured his victims. He would asphyxiate them, hang them, or even seal them up in vault-like chambers to let them die of starvation or thirst. Their bodies were placed in a dummy elevator or dropped down a secret metal chute that led to the basement.
Downstairs, Holmes would then dissect his victims' bodies, using his connections with the medical community to sell their bones and organs. Giant furnaces, lime pits, and acid baths were installed in the lower level and used to dispose of remains.
When the 1893 World's Fair ended, Holmes left Chicago and his Murder Castle behind, engaging in another insurance scheme that led to the murder of an associate named Benjamin Pitezel and his three children. Holmes was arrested in Boston in 1894, at which point authorities traced his trail back to Chicago and entered the Murder Castle.
There, they found his maze of torture chambers, secret chutes, and subterranean dissection facilities. Given Holmes' methods, authorities found no complete human remains. They did, however, discover a mound of human and animal bones that included the bones of a child between six and eight years of age. A pile of bloody women's clothes was found alongside a dissection table covered in dried blood; a gold chain and a woman's shoe were found in a large stove on the third floor.
H. H. Holmes' Mugshot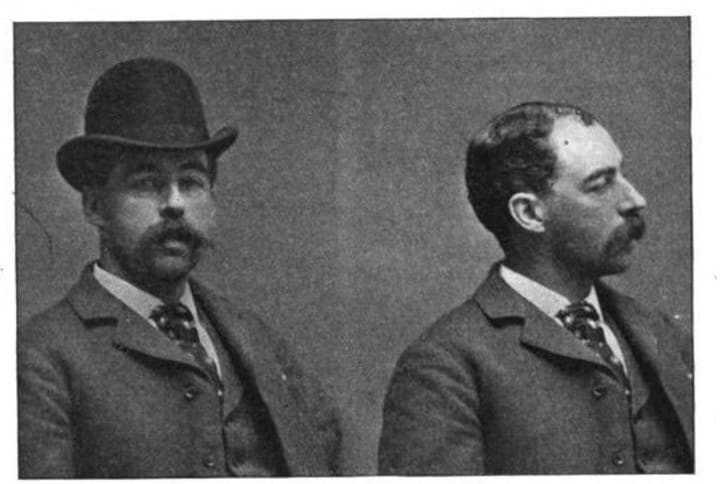 Holmes was tried for the murder of Pitezel and was sentenced to hang on May 7, 1896. Holmes confessed to as many as thirty murders, but some believe that he was responsible for over 200. The day of the hanging, the trap door opened, but the drop was not enough to snap his neck. Holmes took twenty minutes to be pronounced dead. He requested to be buried ten feet down, encased in cement, so no one could exhume his body.
Murder Castle was burned down by a mysterious fire a year later and witnesses said two men were seen running from the building before the fire was set. Could they have been hiding evidence or preventing the building from being used as a gruesome attraction? We will never know. Currently there's a post office on the spot where the building resided.