Book Review: 'Truth and Lies' by Caroline Mitchell
This unique premise is undone by lacklustre writing.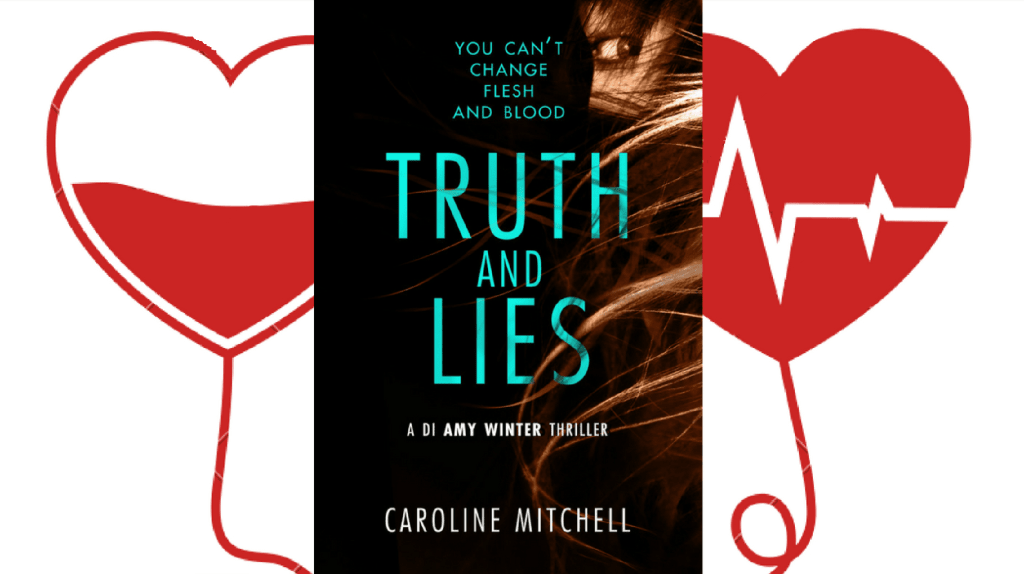 Detective Inspector Amy Winter has always wanted to be like her father—a great cop and an inspiration to all. She has followed in his footsteps all the way and now heads a special crimes unit that deals with serial killers and the lowest of the low in the crime world. She has a reputation for understanding criminals like nobody else, which has always made her question why.
Lillian Grimes is one half of the "Beasts of Brentwood," a murderous husband and wife duo who tortured and killed numerous women and girls in the 1980s. Amy's father put them away, but now that Robert Winter is dead, Lillian is reaching out to Amy to reveal a secret that will change Amy's life forever.
Intermingled with her personal struggles is Amy's wish to fulfill her father's legacy and locate the bodies of the last three victims of the Brentwood murders. Plus, a new kidnapping has emerged; the daughter of a local celebrity has gone missing, but what does it have to do with Lillian Grimes and her games?
The premise of Truth and Lies is a personal tussle between good and evil. Amy's steady life comes under threat when her true identity is revealed. Her notion of herself, her family, and her success falter when the foundations of all that she has known is ripped apart. To add fuel to the fire, she cannot discuss her connection to Grimes with any of her colleagues. All she wants is for this to be over and to go back to her usual life.
There is surprisingly not as much jargon in the book as one would expect from a thriller, despite author Caroline Mitchell once being a police detective and having worked with CID. Her inside knowledge adds to the authenticity of the police procedures in this book, but her writing relies heavily on melodramatic revelations. There is an essence of cinematic flare to her writing, but it detracts from the overall reading experience rather than adding to it.
I read an ARC from Netgalley, so there were a few proofing errors which I won't go into, but a story with so much at stake never elevates itself to a suspenseful page-turner. Much of the action is reported speech and feelings and emotions told to us rather than shown.
"You have to be your strongest when you're feeling your weakest," Amy said, quoting her father. "Besides, they need me. Dad wouldn't have it any other way." Reluctantly, she curled her fingers around her knife and fork. After her workout, the last thing she wanted was a big breakfast. A snuffling sound from under the table told her that Dotty, her beloved pug, was already lining up to help her out.
Flora's eyes glistened at the mention of Robert's name, and she swallowed back the words on her tongue. She couldn't yet talk about him without crying.
The author also shies away from the atrocities inflicted upon the victims. In a way I'm glad, as I hate when writers appear to revel in the salacious acts of their villains, but here Mitchell focuses on minor grievances rather than the bigger picture. Several times Amy and some of the other characters refer to where a body was disposed off after death rather than what the poor girl had to endure at the hands of her captors when she was alive—this felt disingenuous and definitely not something most people would dwell on.
There are several tropes that abound in the book, mainly that no man is good. Mitchell writes the majority of the women as victims of circumstance or as two-dimensional caricatures—a friend turns on Amy when the DI finds out she was having an affair with someone they mutually respected. This was a sudden about-turn for that character and she's painted as a monster because of it.
All the main male characters in the book are tied to their sexual behaviours:
Amy's brother, Craig, who shows up for a few scenes, is known to have "a rampant sex life"; he is devoid of any other personality traits, so much so that he doesn't even react to his own father's death or his mother's grief.
Jack Grimes brutalised several young children and women before being caught.
Damian Grimes is a chip off the old block and has priors for sexual assaults.
Steve Moss was demoted to Detective Constable for sleeping with a colleague; he now openly preys on his female colleagues.
Another respected cop had an affair with his colleague; though he wanted to end it, the woman involved was obsessed with him.
Paddy Byrne, Amy's partner, is given a redemption arc which I felt it came too late in the book, as we are led to believe that he is a two-timing cheat for the majority of the first part
The author includes a case of domestic violence against a male spouse, but she never leads the reader to it. This is the case with much of the book; the reading experience is hampered by expository writing—we never get a feel for the characters, their motivations, or the true gravity of the situation. The author never leaves room for the reader to speculate, leaving suspense by the wayside.
"My eyes!" [REDACTED] screamed. "I'm blind, I'm blind!" Clawing at his face, he rolled around the floor.
It is hard to become invested in the story because the events appear to take place by rote. The moment Amy finds out her true identity she turns on her mother, which is what happens in most soap operas, but in reality, any retaliation to the truth is a long-drawn out process. Later, she fears that Lillian Grimes' claims that she was set up may be true, so she goes out of her way to prove that, rather than examining existing evidence of Grimes' psychopathy or checking the veracity of her claim that she knows the whereabouts of the missing girl. It's frustrating to read a book where you feel you are out-thinking the characters and author at every page.
And then there is the ending. As denouements go, this one had a particularly silly one that felt like an insult to the reader. I would liken it to the ludicrous ending of The Da Vince Code by Dan Brown, but Truth and Lies lacks the adrenaline-pumping pace of Brown's writing, and that's a pretty low bar to cross as it is. For a crime thriller with a unique premise, there are no thrills in this book.
Truth and Lies, published by Thomas & Mercer, will be out on August 30 2018.
If you enjoyed my review, share it with your friends and followers on social media by clicking below.