America's first insanity plea
A heated sexual affair leads to murder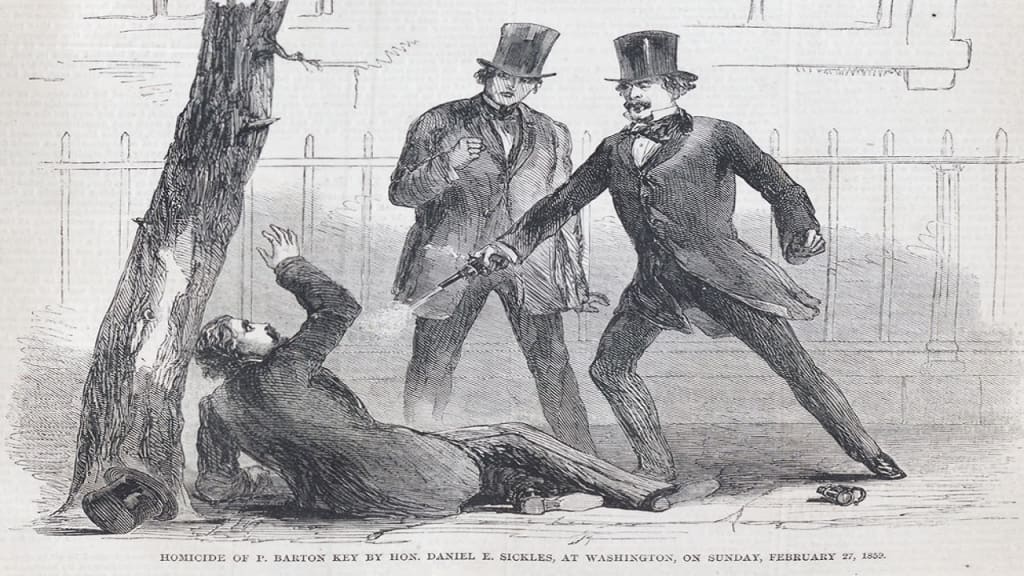 P. Barton Key is murdered by Congressman Daniel Sickles
Every morning in 2020 has become a new adventure. For many of us, it has been a nightmare. Earlier in the year, we set our clocks ahead an hour. After doing so, it sent many of us into the Twilight Zone. Americans have dealt with the hoarding of essential items like paper products and also the fear of contracting the coronavirus.
On top of everything else, we have dealt with riots, police brutality and a heated battle for the presidential election. Although Joe Biden is considered the president-elect, many Trump supporters aren't so ready to accept this as factual. Even Trump himself has refused to concede to Biden for now. Trump's camp is claiming voter fraud has cost him the election. This remains to be seen.
I still recall when George Walker Bush beat Al Gore for the presidency. Until the moment Gore finally conceded, the "hanging chad" became a term used by wannabe comedians all over the country. If you dig into the history of our capital, you will find countless scandals involving sex, drugs, extortion, strange deaths, and even ghosts. Politics is a topic that always includes insanity somewhere.
So what does politics have to do with insanity? You may find this humorous, but did you know the temporary insanity defense used in courtrooms all over America originated from Washington D.C.?
In 1859, reporters and the nation became entrenched in a shocking scandal involving a murderous affair. The story involved Representative Daniel Sickles of New York and Phillip Barton Key II. Although Key was Washington's District Attorney, most people knew him as the son of Francis Scott Key, who composed the Star Spangled Banner.
The affair that led to a vicious murder
Sickles was a former Civil War hero and turned his military success into a political career. After winning a congressional seat in New York, he spent much time away from home. Sickles had married Teresa Bagioli, who was much younger than her husband. The couple also had a six-year-old daughter.
While Sickles was busy in New York, Teresa got lonely for male companionship. She began a tempestuous affair with Key. The two did not hide their adulterous affair. They were often seen together throughout Washington. Although Daniel Sickles had many illicit affairs of his own, he didn't expect the same debauchery from his wife. After learning that Key was sleeping with his wife, the news infuriated him. He confronted Teresa, who admitted to the affair.
However, Key didn't know Sickles had learned of the affair. On February 27, 1859, Key showed up at the Sickles' home to meet with Teresa. Instead of Teresa arriving at the door, an angry Daniel Sickles confronted Key.
"Key, you scoundrel, you have dishonored my house. You must die."
Sickles shot Key to death in front of several witnesses. Afterward, Sickles was charged for killing Key. It looked like an open and shut case for the jury. Sickles admitted to killing Key and there were witnesses. But you have to remember this involved a wealthy politician who was also a war hero.
The trial started on April 4, 1859. Sickles hired a skilled legal team who claimed Sickles was temporarily insane when he killed Key. Learning that Key had slept with his wife sent Sickles into an insane rage. The jury didn't deliberate for long. One juror said had it been him, he would have used a howitzer instead of a pistol.
The jury acquitted Sickles. He forgave his wife and remained married to her. She died in 1867 of tuberculosis. And Daniel Sickles? That scoundrel engaged in an affair with Spain's ousted Queen Isabella II. He died in 1914 at 94.