A Name 4 Decades in the Making.
"The girl formerly known as the Walker County Jane Doe"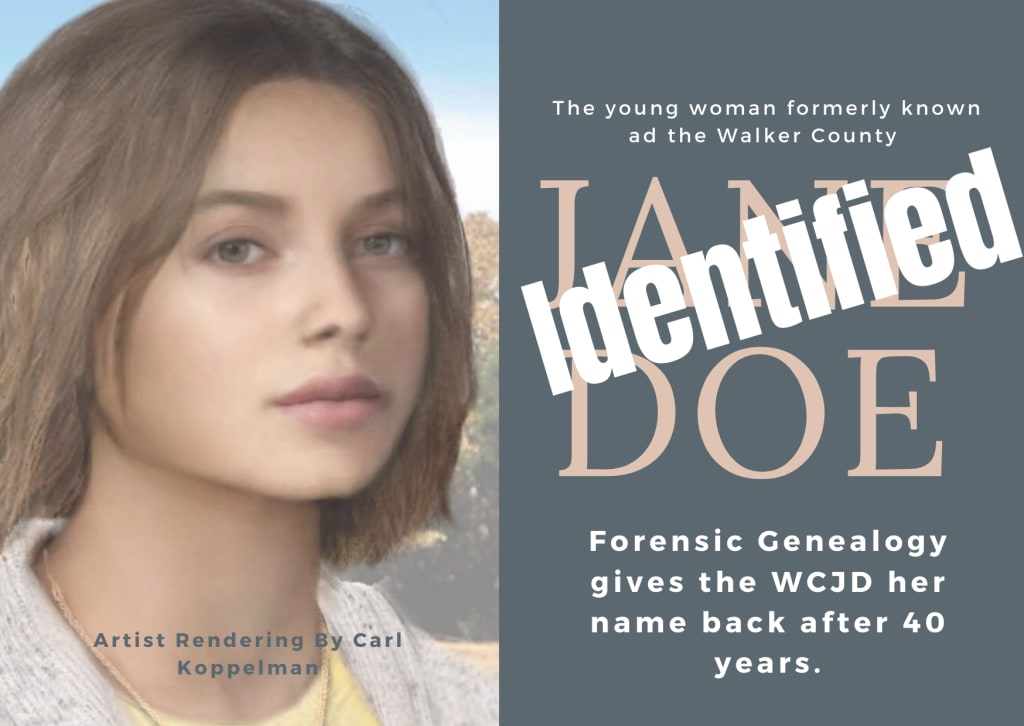 The year 2021 has been an active year in the true crime world. Ever evolving technology is pummeling through barriers that once limited the search for the missing and unidentified. Advances in DNA technology and expanding databases are being used alongside classical genealogy, providing an increasingly successful tool in identifying John and Jane Doe victims. As people around the world submit their DNA profiles to GedMatch; the ability for investigators to identify these victims with forensic genealogy grows exponentially.
Just last week we witnessed the success of this technology, the young woman known for forty years as the Walker County Jane Doe, was positively identified. Brutally murdered and left on the side of a Texas highway; the search for her identity continued years and decades after her fateful trip to Huntsville.
Her case gained a significant following over the decades with thousands of individuals scouring yearbooks and missing person records for potential clues. A stunning moment came earlier last week when her profile was unexpectedly removed from Namus, a sort of directory of missing and unidentified persons. The change sent Shockwaves through the online community. A screenshot shared of the Nameus website simply stated
"This case has been resolved"
Questions and speculation grew quickly as the news spread. Focus turned to a Facebook group run by Carl Koppelman; who has been a driving force behind the effort to identify the former Doe. His diligence and dedication to finding the identities of the unidentified unmatched. If this was the real deal, I wanted to hear it from him "This was big." a member of a web forum told us about the removal of the profile.
A short few hours later an update:
"I just received a message from a friend of the family of the girl formerly known as Walker County Jane Doe. Walker County Jane Doe has been identified. She was not from the state of Texas. All of the persons about whom there has been speculation, including a girl shown in a photo that just surfaced today are not WCJD.

The family is obviously traumatized by the news, and has requested that I keep any specifics in confidence, and I am honoring that request.

There are still many members of her family who have not received the news, and for the time being, they want to maintain a circle of privacy. They have been following in recent days how much attention this case has attracted over the years, and need time to grieve before any information about her goes public.

Thank you all for your interest in this case, and thank you for your understanding.

Carl K

This was really it. after forty years the young woman known only by the pseudonym the Walker County Jane Doe has a name. Her family, finally receiving answers to four decades worth of questions. I can only imagine their heartbreak and grief as they've asked for privacy for this time.
For the many of us who have grown to love the girl, we find peace in the facts that we do have.
She had a family.
She was reported missing.
She was loved very much.
That is enough for this writer. My thoughts are with her family during this time. I hope that knowing that the community has continued to search for you brings some solace.
Lastly, I want to urge anyone who has a family member who went missing in the 1960s/70s/80s, even if they were reported to law enforcement; get their information on NameUs. There is a well known problem with reports from this time period going missing. Either due to being labeled runaways or being destroyed after the person turned 18, which unfortunately was what happened in this case. Call law enforcement and make sure their information is posted. Also, consider having your DNA profile added to GedMatch. You may be the missing link needed to give someone back their name.
* I will link to her case information for anyone wanting more detail. I wanted to focus on the identification for this article.