You'll Grow A Watermelon in Your Belly!
Don't Swallow the Seeds!
Dear Dad,
"If you swallow the seeds, you'll grow a watermelon in your belly!" sounds like an iconic Dad joke.
Your child, aka me, remembers hearing the phrase well! Occasionally, it was even stretched to include apples seeds! Yikes! I was a gullible child, and oh-so-fun to pick on!
It didn't help that my aunt consumed tons of watermelon while she was pregnant, and reminded all of us about her prenatal cravings!
To make matters worse, Grandpa also always told me that pregnant women had a watermelon growing in their belly. "That's not a baby, it's a watermelon! That's why you don't swallow the seeds!" This is an age-old multigenerational joke!
I used to carefully pick out any and all seeds from my watermelon. I'd even ask the providers of said summery treat if they had bought or grown the seedless version before partaking. Nowadays, those people would probably think I had celiac disease instead of just paranoia! If by chance I did get a seed or two from the inaccurately named "seedless watermelon", I would spit the seed as far away from me as I possible! You'd laugh at my dramatization and panic! I think you nearly fell backwards and knocked over your lawn chair on a few occasions! I'm happy it was a source of entertainment for you! I probably was quite fun to laugh at!
As an older cousin, I felt it was my duty and obligation to inform my younger cousins about the hazards of watermelon seeds. They needed my protection...or so I thought! I spread the news like wildfire until my daredevil cousin insisted on eating as many watermelon seeds as he could in a sitting. My anxiety had reached critical levels, as I worried my young cousin was going to get so big he would explode! I rushed to his parents to warn them promptly!
"He's going to need surgery! He's going to blow up and it's all my fault! I told him not to eat the watermelon seeds!" I shouted urgently.
His father burst out laughing, and overhearing the matter, you finally knocked your lawn chair over and fell backwards. Obviously, it didn't hurt because you continued laughing hysterically before waving your hand, gesturing to my uncle and giving him permission to tell me the truth. To my horror, my uncle informed me that a watermelon will not grow in your belly. At first, I didn't believe him and then he proceeded to expound upon this statement with scientific facts.
I gave you a stern look, both astounded and offended before I shouted, "I can't believe you lied to me! Why would you do this? I even told my younger cousins because I was worried about them! Now, they won't believe anything I say ever again. I'm going to tell them it came from you!"
You proceeded to laugh and replied quickly in between chuckles, "Erica, you were just too funny to watch! I didn't think you'd actually believe me!"
I sharply responded to the new information by eating slices of watermelon, seeds and all, for the rest of the family picnic for the first time!
The joke was over, but your fun lasted much longer than it should have. I'm ashamed to admit that I believed you until age six or seven!
As for my experience with watermelon now, my son must share your sense of humor. I have not followed your example by telling him that a watermelon will grow in his belly if he eats the seeds. However, I know for a fact he wouldn't believe me if I did. He has indulged in far too much watermelon for that. One of his favorite foods that serve as a further reminder of your pranking ways is watermelon.
I asked him what he wanted for dinner for his third birthday, and he insisted on watermelon! I informed him that he could not just have watermelon for dinner, but let him pick out a large one anyway. He "settled" on pizza for his actual meal after eating three large pieces of watermelon. While my favorite summer meal and indulgence came from you in the form of ice cream, it seems my son thankfully likes a healthier, more serendipitous treat: watermelon. Perhaps that is the universe's way of making me think of you, or maybe you had a direct hand in it. Regardless, it does make me chuckle, especially watching him eat it!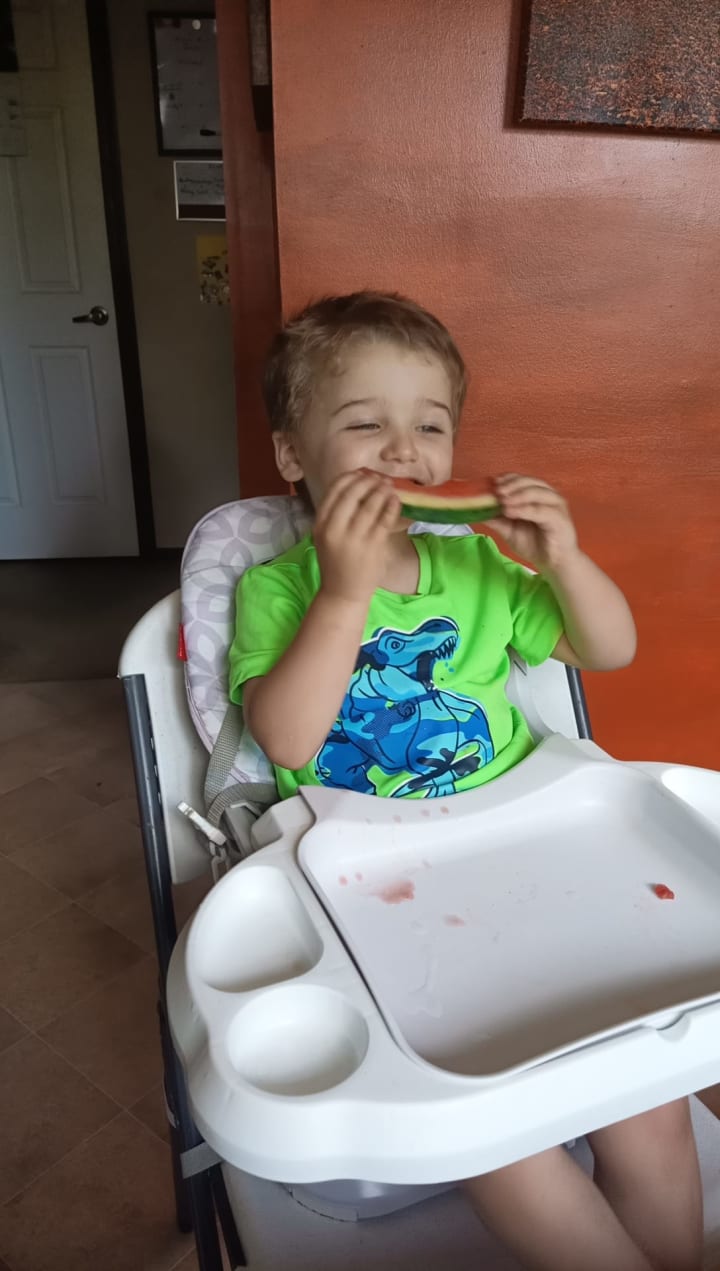 So Dad, I guess in a way you were right even though you were wrong. Maybe there was a partial truth in your joking. Maybe I did grow a watermelon seed in my belly. I definitely grew something in that sort of vicinity, or someone rather. I suppose in a loose sort of way, I also had an affinity for watermelon that grew from said seeds I consumed. So maybe there was no risk of growing a watermelon in my belly from eating seeds, but there was obviously a risk proven in my very own case study of growing a child who loves watermelon by eating those darned watermelon seeds!
Thanks for that.
Anyway Dad thanks for being the prankster that you were and thanks for whatever you did in raising me-even if you were sort of a liar! Sometimes I wonder if you are still laughing at my expense, and in fact, I hope you still are. I love you, Dad!
Your Loving Daughter,
Erica
Childhood
About the author
Powered by Nature, Humanity, Humor, Food, Lifestyle, Fiction, and Culture; Oh, and a questionable amount of coffee.
Reader insights
Nice work
Very well written. Keep up the good work!
Top insights
Excellent storytelling

Original narrative & well developed characters

Easy to read and follow

Well-structured & engaging content

Heartfelt and relatable

The story invoked strong personal emotions
Add your insights