X's & O's
More Alike Than Different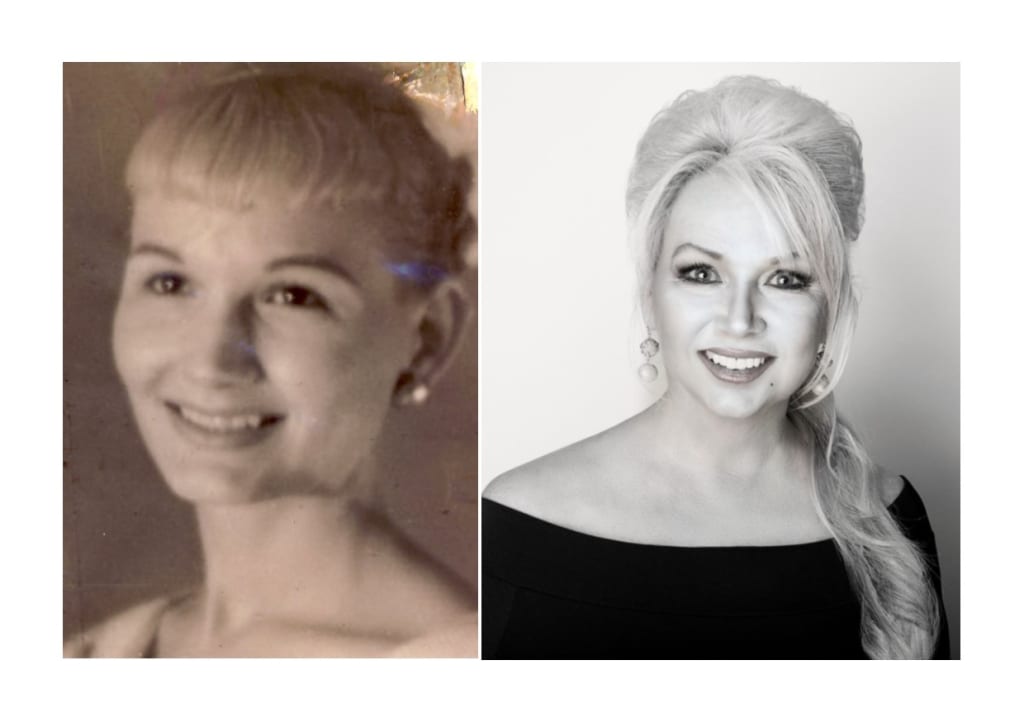 My mom at 20 and me at 65, rekindled our Mother / Daughter bond.
Let it Hurt - Then Let it Go. That prophetic phrase washed over me once I turned 60 and I applied it wholly to my estranged relationship with my mother.
Growing up in the 60s was both liberating and debilitating for our family. I felt the liberation even as a youngster mostly through the music that pulsed loudly as we drove along, windows down, in our family's sky blue Chevrolet Impala. Though my skin stuck to the plastic seat coverings, my hair blew freely as I sat uninhibited by seatbelts in the backseat. The Beatles, The Doors, The Animals, sang of freedom, love and a time of/for change. However, inasmuch as the 60s were freeing, the freeing attitudes toward drinking turned debilitating for our family. Dad had the 3 martini lunch while mom drank Salty Dogs with dad in the evening. Years later, both would become full-blown, raging alcoholics.
Through the years, alcohol became the apple of my parent's eye straying far from their daughter. As a child, I felt alone and abandoned, and the unconditional love of a parent became something I earnestly searched for without ever finding. I came to loathe both my father and my mother for their selfish ways.
My father later became a bully, abusive, and my mother became unfeeling. I did not understand at that time that she was a victim of her abusive husband and the bottles of vodka that bound their sad marriage.
I always yearned for a mom. A real mom. The mom who would show up to my softball games, track meets and watch me at half-time, dancing on the field at high school football games. No sadly, mom and dad were always at home getting drunk and fighting like animals. That's all I saw.
When I left home and began to live my own life I questioned often how my parents could have abandoned me as they did and how I turned out so completely different from the both of them. I saw no possible connection to either of them. Later my dad would have an affair, divorce my mom, and leaving her to fend for herself. This made me so angry because I felt like I then had to step in and fend for my mom. Why am I taking care of her when she didn't take care of me? How wrong I was.
I did step in and tried to do things for my mom, but she was still drinking and taking valium. Our relationship dwindled and I grew apart from her. Becoming a mother, myself, I did not want my children or myself to be around such alcoholism. It would be years before I would see her again.
With kids in tow, I had married, several times, trying to find the love I so earnestly sought. Each marriage ending disastrously because I was looking to others to fill up the void in me. At that time, no one spoke of things like self-esteem let alone, self-care or self-respect. I just navigated my way through life as best I could – one disastrous relationship at a time.
Mom had also remarried, though later her new husband, Jerry, would pass. Relatives let me know she was living a quiet life in assisted living. One weekend on a road trip I found myself driving through the city where mom now lived. The pull to see her was so strong and I felt like this would be my last chance to ever see her again. So unknowing of what we would even talk about after so many empty years between us, I stopped in.
The front desk clerk said she already knew who I was there to see because I was the spitting image of my mom. "What?!," I thought to myself, "I was nothing like my mom!" The lady smiled and directed me to the lunch room where she said mom was eating. I stopped into the dining area and there she sat, alone, eating her lunch. Actually, she wasn't really eating at all, she was just picking through her food with her fork. She said she really wasn't hungry. As I sat looking at her picking through her food I could then see that we did indeed look so much alike. Funny how I never saw this before. However, as if no time had passed between us, we hugged and were both elated to see each other.
We didn't talk about the past and no apologies were exchanged. We just let it all go and began talking about how good it was to be together again. Then the conversation turned startling when she asked if I had seen Jerry on my way in. Jerry?! I said, "Mom, Jerry is gone." She perked up and said, "No! He was just here. I can't believe you didn't see him when you came in!" Feeling like I knew what all this was about I asked her, "Mom, does Jerry talk to you?" She said he did. She said he kept telling her that "everything was going to be OK and that he had taken care of everything."
That would be so like Jerry. I had heard he was an amazing man to her. But now, the conversation was charged with an otherworldliness. Jerry, who had clearly passed, was now walking the halls with mom, telling her that everything was going to be ok. I knew what all this was to mean. Jerry was going to help my mom transition to the great beyond.
Discarding her lunch, we went to her room where she had a box of greeting cards. These were cards she had prepared to send to me, but unable to send for she had no mailing address. I felt so much guilt and shame for all the years that had passed. Had she been selfish or had I been? For years I had been searching for love and acceptance while my mom was writing cards to me for uncelebrated birthdays and Christmases.
I thought of all the cards and notes I had sent to my own two children. Each one was artistically signed by me with lots of drawn hearts and plenty X's and O's signifying kisses and hugs. I would draw little lines coming from the hearts denoting my heart beat only for them. They were lights of my life and I swore I would be nothing like my mom to them. I would be everything NOT like my mom.
Now here I sat, with mom, a box of greeting cards and with "Jerry" lurking in the midst letting me know that mom's time would not be long on the earth.
As I sat with mom I could see how her eyes lit up when she looked at me, just like mine did when with my own children. Her laugh and mine were the same. Her hands moved as mine did. How could this be? So many years apart and yet, we were so much alike in our mannerisms, looks and inflections. She was beautiful. Her voice soft. And her stories funny. We actually had the same wit and humor.
She handed me one of the Birthday greeting cards. It was old and the glittery decoration on the front of the card was peeling. Still, the sentiment of holding that expression of love did not escape me. But it was when I opened the card that I found myself immersed in my mother's love.
There, around all the poetic print, were hearts drawn in ink. Each heart having little lines that shot out from the sides denoting a beating heart. At the bottom, under "Love, Mom" were X's and O's like I had written to my children all their life. In that moment, all the unconditional love I had spent a lifetime yearning for now flooded my heart. I had finally found comfort, love and acceptance.
A week later my mom passed. I was, of course, extremely sad, but the love that was rekindled that day has stayed with me. I now talk to my mom every day. Sometimes I speak out loud as I drive or silently to myself when I am grocery shopping. She is always with me. I feel her. Sometimes I will see something that reminds me of her and will let her know that I am sorry for all the silent years between us, but that I am so happy she is part of my life now.
It is uncanny how much my mom and I look alike, act alike, laugh and talk alike, but what was most profound to me, was the all hearts and the X's and O's.
Family
About the author
Reader insights
Nice work
Very well written. Keep up the good work!
Top insights
Heartfelt and relatable

The story invoked strong personal emotions

Compelling and original writing

Creative use of language & vocab

Easy to read and follow

Well-structured & engaging content
Excellent storytelling

Original narrative & well developed characters

On-point and relevant

Writing reflected the title & theme
Add your insights