what we endure, of lines of light and lifted sorrow
an essence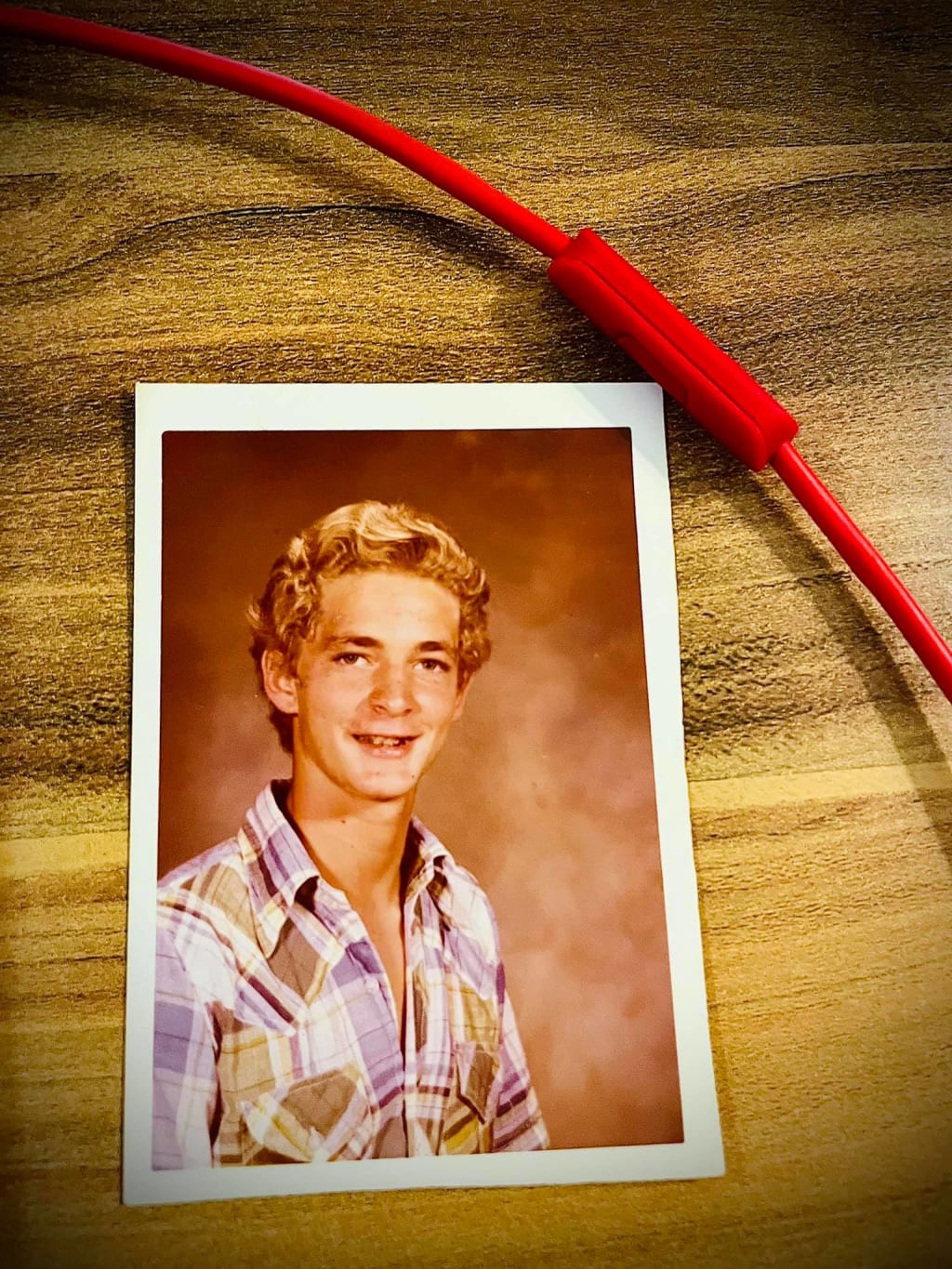 the author, 1980: 15 years old
let me introduce you to this young boy:
he is 15. The world he believes is endless. He shall get that, and many things wrong but he shall survive and he shall, dog-eared and tattered, know a few things.
He loves to read and write poetry, awkwardly and surf even when his shoulders are as burned as his heart and he dreams of writing poems that he can one day place on the tongue of a woman decades and kilometers far away, he loves the sea, he loves his parents though they are falling apart as his family is being thrown to the ground in shards, broken and spraying tears and sounds like plates tossed in anger in the corner of a dark formica kitchen and he dreams of making a difference as he scampers over the pitch on his high school, soccer team games as rehearsals for love and loss, because he has forsaken the wrestling mat after being thrown into the mat, one second in a lifetime of gulps, that afternoon as his parents tried to resurrect his marriage in an effort to run toward NYC, he heart-sick and weight-cut sweating, wrestling two weight classes above his own, resulting in being taken in an ambulance to a red-brick hospital in a small, sleepy Pennsylvania town while his patterns galloped toward New York in a last gasp to save their broken and leaking marriage and he dreamed.
He dreamed he would be happy and make a difference.
He dreamed that he would write books that would sit on the shelves of his grandchildren.
He dreamed that he would continue to see the world and that he would tatoo his body like the characters of Melville.
He dreamed that he would be renamed Sasha or Sebastian or Dana.
He wearied of teachers scribbling 'because' to every question he asked.
He asked by burning his skin bronze on the beaches of Daytona.
He swam past sharks and tripped on dorsal fins and wayward jellyfish on his small, chapped blue fliiby surfboard and at night wrote long letters to Debbie and Susan and Li while they threw their bodies against older men
and he cried the night he left his grandmother's home late in the night and sat on the beach beneath the pier and thought of his parents screaming and his girlfriend fucking and his grandfather watching his brothers and he awoke to return before his brothers awoke.
Here is a 15 year old who would grow up to travel the world; to write books and wreck his life and return from death and return to a profession he hated as a kid, eat dead pigeons with two homeless men in Praque, bury three friends, give a eulogy for his grandmother, a lover, a boss, a colleague and pray that he too would survive long enough to apologize to his son, a child who he first met when his biological father appended him and his mother, who would grow into a wiser and savier man and he hoped to live long enough to tell the woman he loves best that he is sorry for the pain he put her through when his heart broke from years of smoking and unlucky genes and a life rivered too richly when she deserved nothing but goodness, and as he grew he would see more hospitals then he could have imagined and burried more loved ones than he would have bid himself for and yet, there is this:
see this young man in this photograph. He is 15. He cares and he is too senstive. He has betrayed and just there, he has returned frm england and discovered punk rock, which like surfing and literature would change his life. He would lose his virginity on the way to Oxford, one dream transposed for another. He would buckle with awkwardness and cry in a church in Bath, alone, a sign for things to come.
See this boy. He would become a man and he would live long enough to understand that everything he dreamed of would be lost, that everything that he imagined and hoped for would not materialize but that what would enter his life would be greater and harder and more essential.
Witness this 15 year old. He is alive here.
Witness this 15 year old. He is stronger and sadder now but he is more loving and less sure of things all things but this:
take a moment to remember who you once were.
you shall grow old, but there is this:
the child you once were still dreams your shape into fit shadow and length, not from equanimity, not from silly delusions but from this:
that corner in which you once read and wrote and spoke to yourself:
share that with those who matter.
the rest is dross.
The rest is still in the eyes of this awkward, ungainly, 15 year old,
pivoting toward you.
later on a friday, early in October of 2021, 41 years later, he will nearly lose his conscience again in front of his students as they laughed and spoke in their own language while he rest.
and at that moment, the 15 year old spoke to the 55 year old and reminded him:
he has more life to live, even if the falling is continuous.
and he walked toward the sea, 15 year old kid awkward in his bronzed skin and bleached sun hair and he disappeared over the wave with his board and his book and the 55 year old walked out of the school into the rain and thought:
what are we, if not those kids laughing on the stairs, regardless of their pivoting.
Our unfailing as my close friend would write in his novel,
our un-all.
what we endure, of lines of light and lifted sorrow.