Waking up in the Train Station
I'm not exactly sure how I got here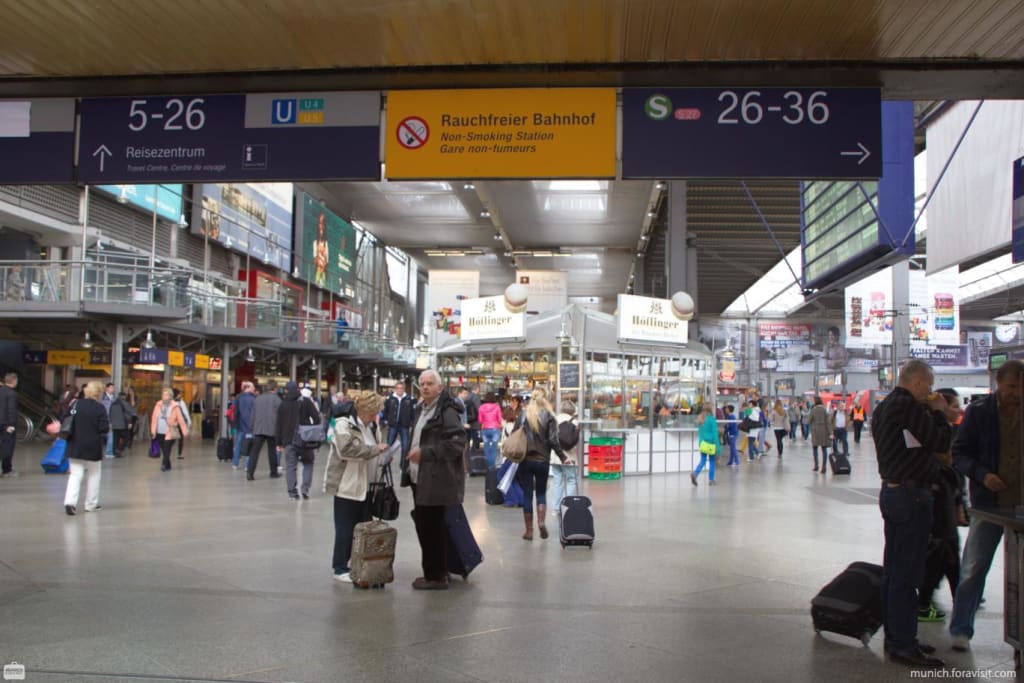 I don't make a habit of sleeping on tables in train station waiting rooms. Sometimes there isn't a choice but on the bright side, it was certainly better than the out-of-service escalator I tried to bed down on earlier; but more on that later.
Two things struck me as I stood up on rather wobbly legs and struggled with my early morning reality. First, I knew the person sleeping under the table and secondly, this next sight just about did me in; people standing at a kiosk eating pastries and drinking beer.
It's about 6 am on a weekday morning in Munich, and yes, it's Oktoberfest. And, as a 19 year old travelling on his own in Europe, where else should I be? I mean really, beer and eating fried foods in massive beer halls with hundreds of complete strangers? Why wouldn't you want to be there.
It started by arriving late two nights before and finding out that, not only was the youth hostel closed for the evening but that most hotels - of all categories - were booked up. Figure that, with Oktoberfest and all. It had been a long train journey from Italy with a couple out of Smithers Falls, BC and a single woman from somewhere in California. We ended up sharing a room with two double beds. Not a lot of sleep, with the usual snoring concert and it was odd sharing a bed with a woman you weren't weren't trying to have sex with. In fact you were trying so hard not to get too close to her that it became impossible to sleep.
Munich, by-the-way, has an amazing downtown core. Lots of beautiful buildings and public spaces. Also a great free museum - but all I remember was trying to find a place to sleep in it and being harassed by a bunch of teenagers on a school tour. I had grown my first beard and was wearing a leather cowboy hat which prompted them to keep whistling the theme song from The Good, The Bad and the Ugly. Apparently, for at least one brief ironic moment in my life, someone thought I resembled Clint Eastwood.
But the journey to the train station table started that afternoon at the Youth Hostel. The great thing about youth hostels is that you meet people from all over the world. Sometimes even exotic places, which is how I ended up teaming up with a one guy from Winnipeg and another from an equally exotic locale like New Jersey or Philadelphia. Please don't ask for names. I could claim I was protecting them, but in reality 43 years later there is no way I can remember their names.
It's Oktoberfest and we are excited. Our goal is to get to the most famous beer hall in the world- the Hofbrauhaus - before it gets over-capacity with the after work crowd. We're in luck as there's a partially empty table. The occupied part was populated by one South African and two Australians. Friendly guys. They were as pumped about being on the sacred grounds as we were and we were all committed to doing our utmost in consuming a significant portion of the 7.7 million litres of beer drunk (or spilt) during the 2 week Oktoberfest celebration.
Here's the scene. The hall is ancient, it's full of long tables with benches - equally as battered as the beams that support the ceiling. Each table holds 6-8 people (read men) who are in various stages of inebriation. When we arrived in the late afternoon the party had been in full swing for several hours as the Hofbrauhaus opened at 9 am. It not only smelled of beer, the air literally tasted of beer. It might have been possible to get drunk on the fumes alone. Some of the celebrants were dressed in the traditional lederhosen of Bavaria (leather shorts with built in suspenders).
The servers, all women, wore traditional dresses, called dirndi, that incorporated puffy sleeves with a flowery skirt - again with built-in suspenders and an apron. They were all able to carry between 10 and 15 steins of beer at a time. And they were able to maneuver through the crowds with ease without spilling a drop - let alone let a glass stein hit the floor. What made it even more impressive is that each stein held - are you ready - a litre of beer - that's right 33 ounces of Bavarian gold.
I kinda gulped when I saw that. And then I gulped. And my drinking companions gulped. And then we order more to gulp. Between gulps we tried to sing along to traditional Bavarian drinking songs that the accordion player led the throng through. And then the drinking evolved into a drinking challenge: North American beer sippers against the legendary southern beer quaffers.
Today it remains a blur except for two facts. One: I drank 8 litres of beer in about three hours. That's roughly a 2-4 in Canadian beer-drinking lingo. Two: we North Americans kept up to the Aussie-S.A. powerhouse trio. The rest? If I could remember, does it really matter?
Looking at our watches we realized that it's time to head back to the youth hostel. If you aren't there at the 10 pm closing you can forget about your bunk bed. Off we head to the streetcar. And it's the wrong one as we soon find ourselves in some suburban, newish looking section of Munich.
But who cares! There's a McDonalds and, after drinking 8 litres of beer we are all pretty hungry. Munchies on overdrive. Now for the uninitiated, and unsophisticated North American McDonald's patron, please note that in Germany you can get a beer with your Big Mac & Fries. The all-popular Combo is starting to look a lot more inviting. Though I must tell you that the Ronald McDonald statue looked pretty strange in the context of Munich during Oktoberfest.
We consume our grease and after consulting a map we sort of walk towards the hostel. And it's after 10 pm. No amount of gate rattling and pleading gains us entrance. This youth hostel's operator wasn't too keen on a group of drunken youth disturbing the clean and quiet residence.
So we trundled off trying to find a place to hunker down. We're all travelling students on a strict budget that was clearly wrecked earlier that evening. So no money for hotels. And we were here for an adventure, so the first stop was the train station. It's open 24 hours and the waiting room was pretty much empty by that point - except for the team of railway cops who quickly bundled us out into the cool September air.
We went our different ways trying to find a place to settle in. I soon found out that there aren't many spots in downtown Munich available for sleeping. Eventually I settled on an out-of-service escalator that descended into a U Bahn station. Closed for the evening, it led nowhere and it was covered. Perfect! I settled in as best I could and started to drift when I sensed a presence. At the top of the escalator there was a guy staring down at me. It didn't look like a "oh that's weird - someone's sleeping on the escalator and now I'm going to move on" kind of look. It was more menacing to me in a "I might take advantage of this in some way or another" kind of look.
So much for my attempt for sleep. I got up as best I could (An FYI, escalators don't make for very comfortable napping), and started to wander. And I ended up wandering back to the train station, where I found a lovely table in the waiting room that was perfect to curl up on and sleep.
Humanity
About the author
Reader insights
Nice work
Very well written. Keep up the good work!
Top insight
Heartfelt and relatable

The story invoked strong personal emotions
Add your insights