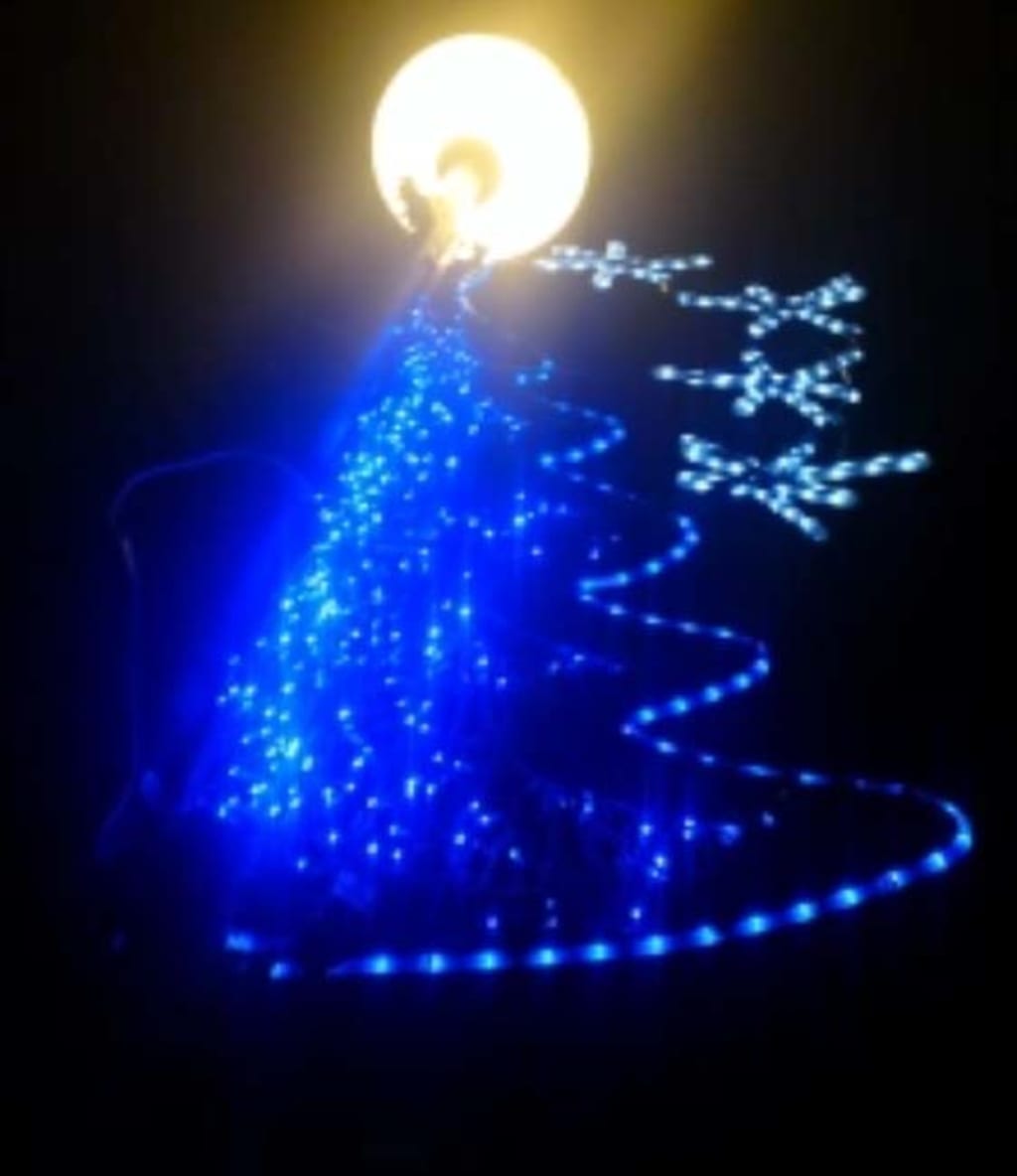 A previous Christmas light in my town, on October 12th (My own photo)
Now, let me say straight away that I am not a Scrooge type and Christmas to me is not humbug. I do enjoy the day itself; the gifts, the food and drink, and seeing family and friends. That wonderful drowsiness that comes when laid out on the settee after a hearty Christmas lunch and a few glasses of wine is hard to beat.
Top quality television keeps everyone amused and, to the sound of tunnel digging on the afternoon film, I embark on my own great escape to the land of Nod with a paper hat at a jaunty angle on my head. In short, I am as festive as the next guy.
Ho-Ho-Hoedown
What I dislike about Christmas is the increasingly early run up we are obliged to take. It is only October, but already the shops are gearing up for the big ho-ho-hoedown that will see us try to string peace on earth and good will to all men out for over two months. This is quite a challenge.
With horrendous queues in stores, parking nightmares and the ridiculous expense, maintaining the Christmas spirit for so long is no easy task. Long before the guy in the red suit has loaded up his sleigh, our good will to all men will have been severely tested, and in some cases replaced by a strong urge to carry out Homer Simpson style strangulations on fellow shoppers, checkout staff and over-excited children.
Just as the first falling leaves signal the onset of autumn, the first signs of Christmas are subtle and gentle; the appearance of cards and wrapping paper in shops, alongside the Halloween accoutrements. This is closely followed by a noticeable increase in TV adverts for toys.
Then, the first external lights go up on a house in your street, and the next time you visit the supermarket, it's like Santa's grotto with a Christmas Hits CD piping music into tinsel-decked aisles, and checkout staff wear Santa hats and false antlers. This is usually the state-of-play by mid-November.
Kerchingle Bells
But nobody looks happy. Miserable people queue in stores with toys in huge boxes as Jonah Lewie tries yet again to halt those horses. Meanwhile, upstairs in the boardroom, those who instigate this retail riot celebrate their success with a chorus of Kerchingle Bells.
And at the other end of the scale, in households up and down the land, families on low incomes are taking out doorstep loans at exorbitant rates, or buying from those outlets that overlook your poor credit history, at a cost, to make sure that their children have the same as those from more affluent families. By the time Christmas Eve arrives, there is a collective, heartfelt cry of I'll be glad when it's all over.
And who can blame them? Having had what passes for Christmas rammed down their throats like so much dry turkey for almost three months, the end is a merciful release. And as early as Boxing Day you might see a discarded Christmas tree protruding forlornly from a wheelie bin; a signal that one family at least has had enough.
There have been half-hearted campaigns to put Christmas back into December, but these have largely fallen on ears deafened by the ringing of cash registers. These well-meaning people might have more success if they tried to bring back old money, or abolish TV remote controls in favour of a return to buttons on the set.
Cavalcade of Commerce
But, this cavalcade of commerce that sets off in October is actually destroying the tradition of Christmas itself. Those Twelve Days of Christmas we sing about actually begin on Christmas Day, and last until Twelfth Night on January 6th. Who among us could maintain the Christmas spirit for a further twelve days after the great climax of gift opening that was almost three months in the making? Not many.
And there aren't too many housholds that wait until Twelfth Night to fell their trees and pack the baubles away until next autumn. Most come down at New Year. And the wrapping paper is binned, the tinsel is taken down, and the pine needles are vacuumed up. By the time Twelfth Night arrives, it is as though Christmas never even happened.
Outside, as darkness falls, the Christmas lights in the town centre, that were switched on by him off the telly, are no more, and the brightly lit house fronts, that glowed and throbbed in a neon night show, now have no more illumination than the dim glow that is given off by light bulbs behind curtained windows.
And, in the supermarkets, normality has returned. Festive music has been replaced by traditional supermarket muzak, the tinsel has all gone and the girl on the checkout has had her antlers polled. You breathe a sigh of relief as you push your trolley around, stress-free like you did back in September last year. Then, out of the corner of your eye, you spot the Easter eggs.
(Originally published in Medium)
Reader insights
Be the first to share your insights about this piece.
Add your insights