Pinning Butterflies
A day in the life meets the hopeful art of fiction.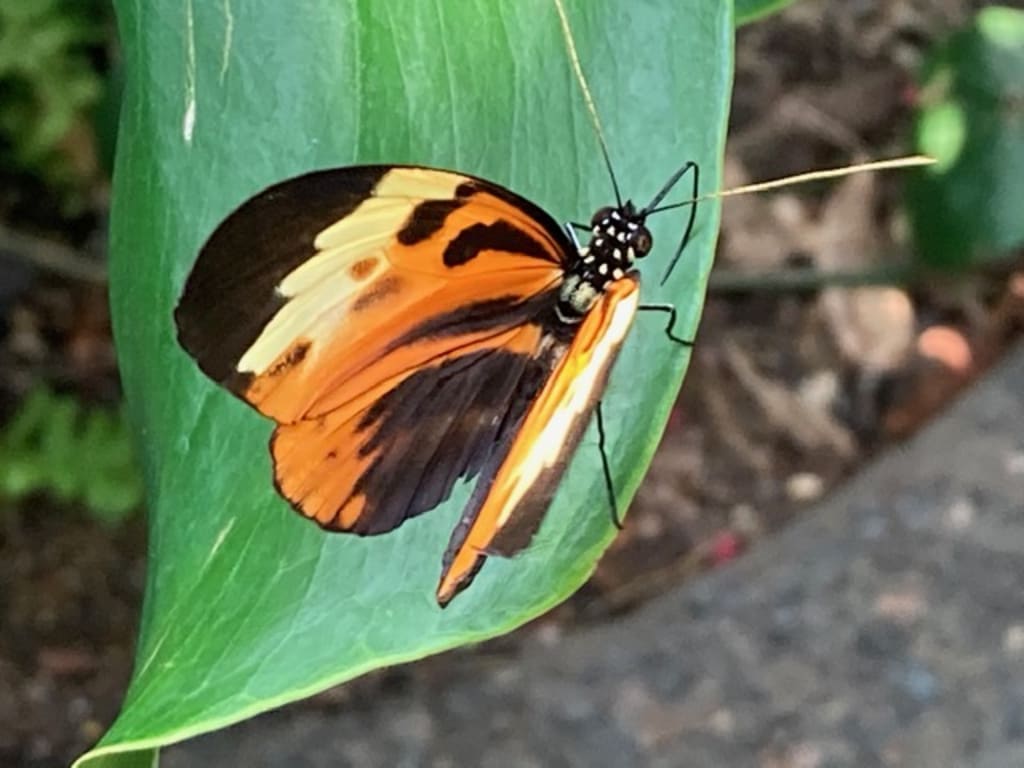 The air conditioning in my Volkswagen Jetta sputtered volumes regarding the current state of affairs. After all of these years, it still miraculously managed to crank, but even I knew that it was on the border of just walking away from everything; much like its owner. Like all practical applications of life that sucked, we had both learned to tie the proverbial knot when we reached the end of the rope.
I did the daily once over of the parking lot looking for my bosses' car, and prayed that maybe she took the day off, no dice on that front. I sighed and knew that I would have to launch the day with a step into her office as she gave me the rundown of which grand kid she hauled around for the weekend, logistics included with a bow of boring attached for good Monday morning measure. I felt my shoulders start to slouch with every step across the blasting sun heated pavement.
The receptionist buzzed me in for the morning. I made my cross-like walk towards my bosses' office and practically tap dance when I realized that she had a morning meeting so conversations of fake enthusiasm were temporarily halted. The resurrection was short lived.
What to do now though? My job was a cesspool of nuanced expectations thrown in with judgmental looks and snarky comments from human resources because maybe I wasn't doing enough in regards to my job performance. The ice machine was conveniently located in my office, so it provided the perfect excuse for the guy to come check on me. The lingo with him was more 'what's on the agenda for today' or my personal favorite 'what's next?'
Jesus Christ buddy, I don't know what we're doing. We provide housing for ex-cons. The agenda with my crew was trips to Wal-Mart, Golden Corral, and maybe playing bingo. No one around here wanted to participate in classical music and adult coloring which were both suggestions I received as the activities coordinator. I was lucky to take them around the block to get Starbucks. This too was apparently frowned upon.
There was no end in sight to these long and languid days of making it looking like I was doing something while at work. I got paid next to nothing, and it is quite incredible how worthless you can feel even though the job left so little to be desired. Maybe, as a wannabe artist; I internalized things more than the average person?
The only things that somehow managed to bring me back down to earth were running, reading, and writing. I never felt worthless as I submitted romance writing for pennies on the dollar to freelance writing websites. I always felt more purposeful and present after duking it out at a local 10k on a Saturday morning when I could afford to pay the entrance fees.
I read a lot about writers perfecting their craft, knowing that the doors of Knopf and Farrau, Strauss, and Giroux would probably never roll out the red carpet for me, but a girl can dream. One of my favorites said that writing is comparable to pinning a live butterfly to the board like some kind of really angry Victorian. Okay, she didn't mention the Victorian, but I like to envision Emily Dickinson pressing flowers and murdering butterflies.
I interpreted things differently as I took my residents to the local butterfly house still feeling languid and out of my body for the day. They had these hopefully decorated release jars that even put a little bit of promise back in this cynical heart where patrons could release newly minted butterflies. We all wondered if our butterfly would prefer a certain spot to be released much like my crew of former ex-cons who all spoke quite eloquently about their hours after release and favorite stomping grounds of the freshly rehabilitated.
I see good writing as releasing that butterfly that other more immensely talented writers warn you must pin in order to perfect the craft. To me, writing is so elusive that if you blink; you might miss it. It's the butterfly making its slow way towards the top of the jar, hesitant to show their true colors to the world, because what if it's interpreted in the wrong way? And, once you're out, it's a one way street from there.
The residents were more engaged than usual as we made our way through the delicate maze of floating colors that could have been the set of a 'Midsummer's Night Dream.' The heady vibrancy was almost euphoric. No wonder so many damn people got married here.
We carted our butterfly through the entire joint trying to find just the right spot to release it. There was input, excitement, and lots of jittery dialogue from all involved as no one mindlessly scrolled through their cell phones. For three seconds, I had that Kate Chopin 'Pair of Silk Stockings' feeling where everything just fell magically into place and I forgot about all of the drudgery for five minutes.
Our butterfly knew exactly who it wanted to be. It flew immediately out of the jar after we opened the lid towards the equally vibrant marigolds. Birds of a feather stick together. We all watched feeling like we did something magnificent. I wanted to savor that five second feeling of spellbound captivation for rainy day personal use like my favorite scented candle.
Instead, I wordlessly left my residents on the set of this misplaced Shakespearean play, took out my credit card to the little old lady working the desk and bought us another one. There are a slew of sayings regarding the past, stepping into the same river twice, and proverbial warnings regarding things not being as good the second time around. These euphemisms are to be heeded as they're written by artists wise and wonderful across the ages. However, when hope and possibility come your way labeled in a $5 container, you take the bull by the horns or the ever less aggressive jar by the butterfly.