On gratitude
Why I can't celebrate thanksgiving, and how that helped make me more grateful.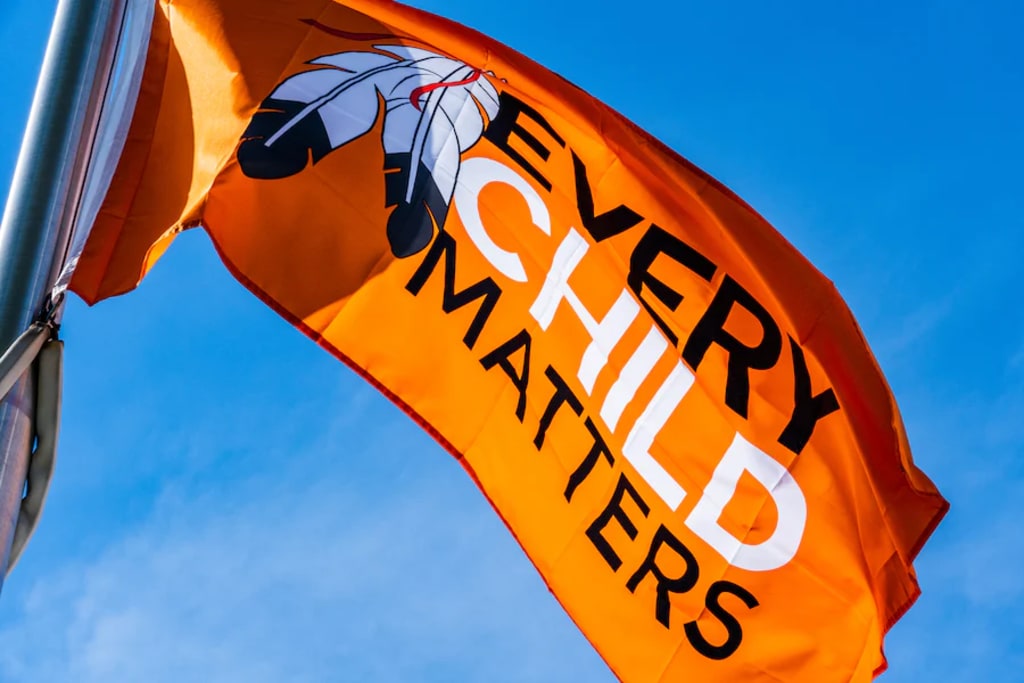 Kwe.
It's a common form of greeting in several Indigenous languages, the same way meegwitch is used to say thank you.
Kwe. I see you, friend. I welcome you, stranger. Kwe. Some of my ancestors spoke that language.
I am grateful for many things. But I do not celebrate thanksgiving. I cannot feast on the bounty of a land that was stolen. A land whose custodians were not only robbed, but raped and murdered by white men whose eyes saw gold where people stood.
Those were my ancestors, too. I can trace my settler origins on this continent to the 1640s. They were French, from Brittany. Entêtés mais timorés. Stubborn yet afraid of their own shadows. If you've ever read Astérix comics, you'll be familiar with the type. Villagers resisting Roman invasion — one tiny village of loud bickering people successfully fighting against the crushing forces of the Roman Empire. Mighty warriors who walked around fretting that the sky might fall on their heads and praying to various gods and saints that it wouldn't.
Those are my French ancestors, people who clung to a church that would protect its officials who had committed cultural genocide, and much worse, against generations of Indigenous children in government-funded residential schools. Children who were ripped from their parents' arms by members of the mounted police and sent to schools where the priests and nuns cut their hair, burned their Indigenous clothes and where they got beaten if they spoke their Indigenous language. Many were sexually exploited. Most were underfed. Disease and violence took so many of these innocent young lives — so many that we don't even know their numbers oh and of course records weren't being kept. Estimates put the number of children who just disappeared, vanished, taken never to return, as high as 25,000. To this day we don't know where they are.
The so-called christian churches that committed those crimes against Indigenous communities also kept French settlers in a traditional lifestyle where women were compelled to birth as many children as they possibly could. It wasn't rare to see families with 10, 12, 16 children. Some had more. Settlers were reassured by church officials that all of this made sense, including saying grace and giving thanks to the deity for land that was stolen.
I am on one parent's side a little bit Huron-Wendat. From Wendake, the small reserve just outside of Quebec City. An incredibly open and friendly place, where many of my high-school friends lived. I have not been there in over two decades, but I know in my bones that its people smile the way they always have, welcoming strangers with open arms.
Weirdly enough, I am the first and, as far as I know, only member of my birth family who is comfortable with that identity.
At the hospital, people would look at me in the nursery and marvel at the dark long hair sticking out of my head like it could feel something was amiss. "What a pretty little Indian baby," they would say. Yes, they would use that word.
"She's not Indian, she's my daughter," they protested, using the same offensive word. Most people did back then. They didn't really mean anything by it. I can't decide if that makes it better or worse. Some people still use that word today, including our federal government. The legislation that governs relations between the feds and First Nations, Inuit and Métis peoples in Canada is still called The Indian Act.
Weird that they would react that way, given that the person speaking those words was even more Indigenous than I. You know, one generation closer to that Huron ancestor.
Yet they felt shame. I fail to understand why, or how.
In 2015 the Truth and Reconciliation Commission urged everyone in Canada to work towards reconciliation with Indigenous peoples. Non-Indigenous people in Canada are encouraged to recognize the Indigenous lands on which they live, and to learn the history of the country's wretched treatment of Indigenous peoples, which by the way continues to this day, even though we are making little bits of progress here and there.
Me, I took it more personally. I chose to make peace with who I was, both aggressor and victim in the grand story of the land on which my people have been since time immemorial. It has meant opening up my heart, my eyes and my mind much wider than I ever thought possible.
And a funny thing happened. I started feeling hope.
Hope that this imperfect world contains more beauty than anger. More kindness than hatred. More light than darkness.
For that, I say meegwitch. Merci. Thank you.
About the Creator
Fighting toxicity since 2016. Using my voice, loudly, in French and English. Beauty capturer. Member of TWUC, UNEQ, AAOF, the Huntsville Literary Association and the Canadian Association of Journalists. Two-time world karate champion.
Reader insights
Be the first to share your insights about this piece.
Add your insights