Hello DCF
That Text Was For My Husband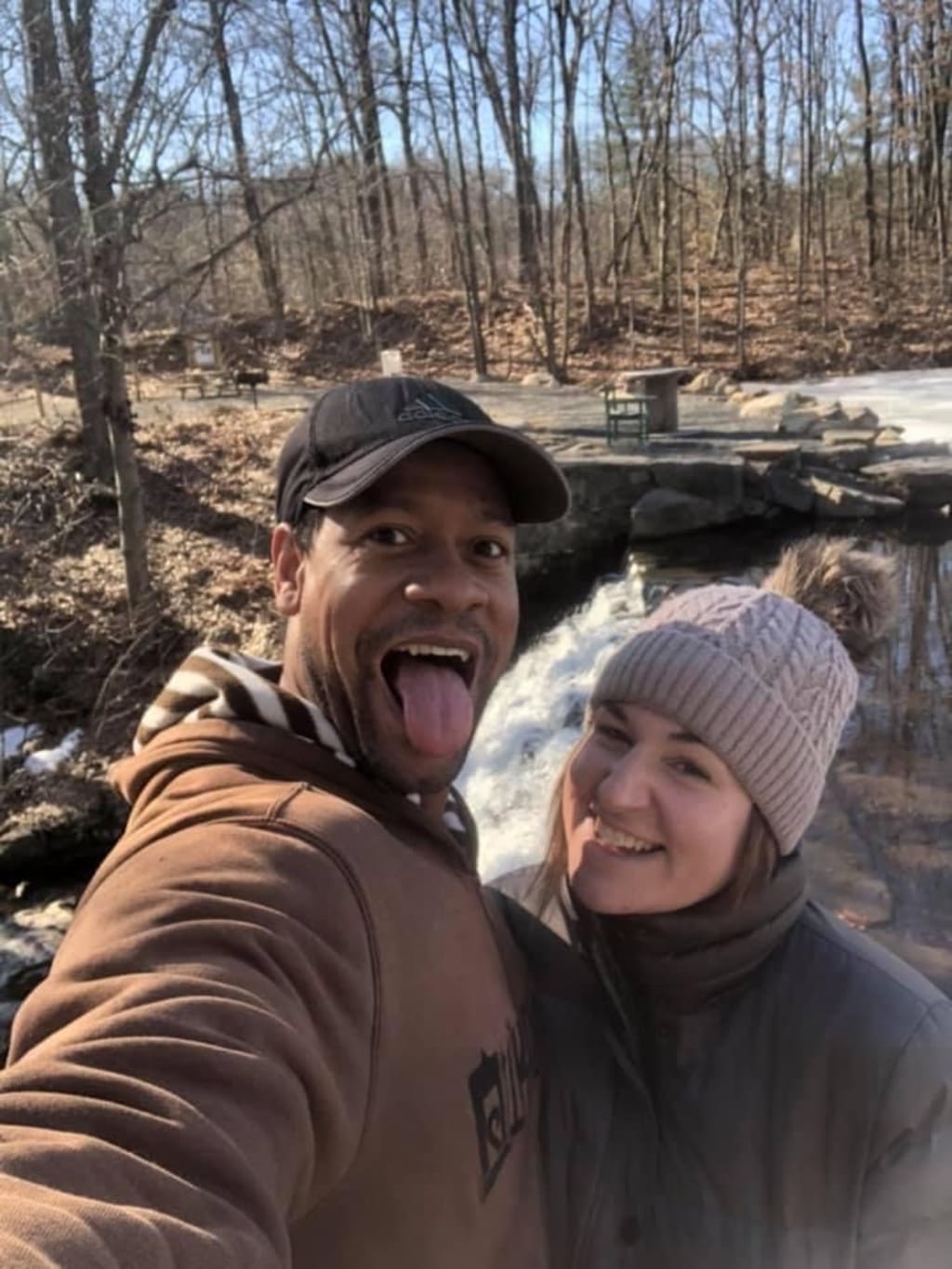 Normal People
Yes, that kind of text. The kind that keeps your marriage engaging, that says "I'm an unwrapped gift waiting for you." If anything, we should be celebrating that a couple 15 years into their marriage (one of us having a midlife awakening/crisis) are still enjoying each other. But DCF???? How???
Like every good story, this one starts with "what happened was..."
Beginning in middle school, I had this idyllic image of my generous life as a foster parent saving the world one hurting kid at a time. I would fantasize that my future husband and I provided a haven of love and just gave, gave, gave. I would sing songs at the piano about welcoming people into your family. It felt like a calling.
I aged (I wouldn't quite say grew up) and met this guy, he was alright; he wasn't feeling me either, actually. Ours was a friendship that evolved into more, not shooting sparks and love at first sight. He watched me make a bunch of mistakes and still accepted me anyway, that was a first - I hadn't even accepted myself. I did begin to grow up (a bit) and we were married.
I married a generous, loving man who also had a desire to adopt a child, even if blessed with his own. We began the unmarked path of our own life together and had two daughters. The flurry of motherhood and household activities and friendships became my norm.
"The days are long, but the years are short," is the best way I can describe family life. Each day is exhausting, yet filled with connections that are irreplaceable and the joys of cracking jokes with these humans we have created together. And a couple of years ago we did take the plunge into the world of fostering.
We were so thrilled to sign up for the licensing training, the paperwork and background checks didn't deter us, the financial invasion into our life was fine with us. We were ready to open our hearts and our home to little boys in need. We voluntarily asked DCF into our lives so that we could be an asset to a little human.
So far this story is not embarrassing at all, is it? So let's fast forward. Only one year later, we have opened our home to four boys (one at a time) under the age of four. COVID came while we were fostering and we were thrown into the awkward position of hosting the video visits between the infant in our home and his biological mother. And I absolutely fell in love with this woman's son - he came into our home at just 6 days old. And as I spent time with his mother, I began to see she had this strength and this fortitude that I was missing, and she has inspired me to keep growing as a person.
COVID, returning the baby to his really mama looming on the horizon, and a history of depression all collided and I tanked. The grief of giving this precious little boy back to the person he truly belongs with hit me so hard that I began having trauma flashbacks to my childhood. My world stopped. It crashed. It was horrific.
This may be an awful comparison, but have you ever known a pet was getting older and you knew it was a matter of time until your life went on without them? One way to try to deal with the impending loss is "replace before you lose them." Meaning, adopt a second pet to be with you after the loss of the original pet. So, I doubled down on fostering two boys at once for the first time ever and we added a fourth child to our family, knowing the infant was going to be reunited with his mom.
The day came. My heart was ripped out of me. And having an energetic, attention-starved active three year old boy did not comfort me. My flashbacks increased and I desperately reach for all of the mental health tools and resources I could get my hands on. But I couldn't handle this extra needy little boy right now. After a ton of miscommunications, I tapped out. I told DCF on Christmas Eve that they needed to come and get this little boy. Yup. I did that. I was not the right fit for this little boy, and I needed a quieter place to begin to piece myself back together. DCF was pissed.
I started dodging "my handler" (the supervisor over my DCF caseworker) super hard. Texting back a few days later, avoiding meetings to explain myself at all costs. Not daring to look them in the eye. My mental health and trauma healing journey continues today, four months later. I finally connected with my DCF caseworker via phone, "oh yes, everything is fine, thank you" and some chit chat and vague "check your calendar and let me know when is a good time for us to have a meeting." So I said, "of course, I'll get back to you soon." We hung up, both in good spirits and I went on to my next activity for the day, showering.
I was in such a good mood that the first phone conversation with DCF in four months had been so pleasant. It was a relief to finally just break the fear of being lectured. I got my phone out and FB messaged my husband, "I'm getting ready to take a shower, want a pic?" He typed back, "Yes, but not through Messenger; send it via text." We've been married 15 years and he still finds me attractive and desirable - weight gains and losses, pregnancies and gym rat mode. I snapped a full frontal nude shot and hit "share", then "messages", then as my finger tapped "send" I noticed in horror the name at the top of the text message was not, in fact, my husband - but was the DCF worker I had just gotten off of the phone with and the photo went through. The photo of all of me. Naked. In my full glory. Oh yes, this really happened.
"OMG that was clearly for my husband. Delete. Delete. Delete." I frantically typed and hit send, as I also tried to unsend the photo. But it went through.
I called my husband, "babe, I just send the photo to DCF!"
"NO! You did? To who? At least it was a female!" was the response, and then a laugh - because what could be done now anyway?
I sat waiting on pins and needles for what seemed like eternity. "They're definitely going to revoke our fostering license now," I thought to myself. "This, after four months of dodging DCF, after sending away a foster kid on a holiday." Oh man.
So how did the DCF worker respond?
Graciously. You can see in the screenshot, that she tried to make it less awkward and was supportive of the fire still in our marriage. LOL I still haven't made an appointment for our DCF official meeting yet, where I have to explain why I couldn't "keep the kid 'til Monday." And now it will be even more interesting when we do have our meeting, don't you think? And I'll be more careful when I hit "send" next time...
Embarrassment
Hey guys! I'm the original hot mess express - with a smile full of sunshine. I'm so glad to meet you. Storytelling is in my genes, literally. I hope I bring a smile to your face and a lesson to your heart.
Receive stories by Jamie Lynn Wilson in

your feed