Finding Humility in an Instagram World.
This is my truth.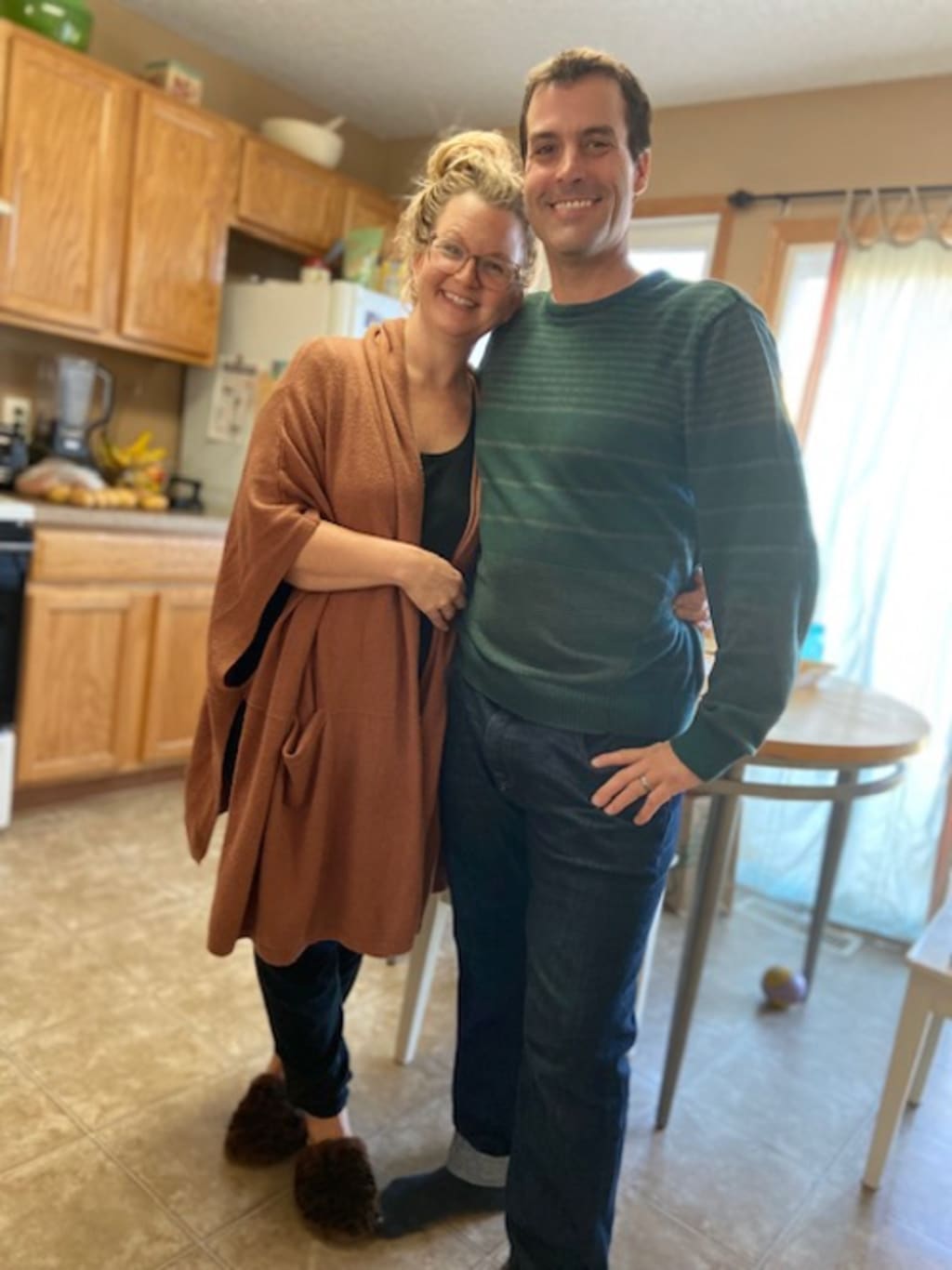 Authors Photo
I had my son take my husband and I's photo on Thanksgiving. I thought maybe I would make a token "Happy Thanksgiving" post.
I started to pick myself apart. I couldn't find the right angle and here's the truth. I wished we had stainless appliances behind us. I wished that people couldn't see our 15 dollars (including 4 chairs) thrift store table behind us in our outdated townhouse kitchen. I wanted people to see my make-believe fancy kitchen with wood floors and granite.
That in the past may have made me not post the photo. I am extremely insecure I am realizing, and maybe competitive. I want to have the best.
When I buy new things they are usually clothes, shoes, and food. I don't really spend money on our home and admit that we have a couch that cost 15 dollars as well from Craigslist.
We sold almost everything we owned and moved across the country a few years ago. We bought this small townhouse that we could afford and have been doing the best we can to pay our bills and keep our heads above water.
Money can be a societal barrier.
I grew up in low-income apartments and never lived in a house until my first husband and I were able to buy one in our early 20's. I did enjoy having a home and having people over. It's not that I wouldn't like to have a home someday that is maybe a little bigger and more inviting, but it seems insurmountable. It seems like a lofty goal.
Prices seem to be always skyrocketing. I wonder when we will catch a break, but also don't want to downplay the fact that we can afford to eat and have a roof over our heads.
One reason we moved away from the West Coast is we could barely afford to rent or buy anymore. Everything was getting too pricey and we were drowning.
When I post things online I want to show the truth, and the truth is I am smiling in my small kitchen with old appliances in our townhome. We are reasonably happy and we are healthy. We have plenty of food to eat and clothes to wear. We have vehicles and jobs. We have medical insurance and a healthy child.
We don't have a fancy home or kitchen. We don't go on tropical vacations or at least we haven't in many years. We live paycheck to paycheck and work each month to make ends meet.
We laughed today and smiled. No one fought or was abused. We are sober and love God. Our child is safe here and that is a far stretch from where I came from.
So I won't post fake. I can't be deceitful.
I want to live a transparent life.
I feel a certain sadness during the Holidays, but here I am with my white appliances.
I have a smile.
I have my sweet little family.
I have escaped an addiction from alcoholism for 23 years.
My kids have never seen me drunk or hungover.
They don't have to be scared of me.
Holidays don't need to be a mirage of smoke and mirrors. Not everything has to be perfect and in fact, it is not.
I hope I can show the imperfection as much as the highlight reels.
I pray I can be authentic. I sometimes feel less than when I see perfect families with perfect homes and perfectly coordinated outfits and smiles, but here I am showing up.
I am me.
By sharing my truth I hope others can feel free to be as well.