After This Life
A girl has questions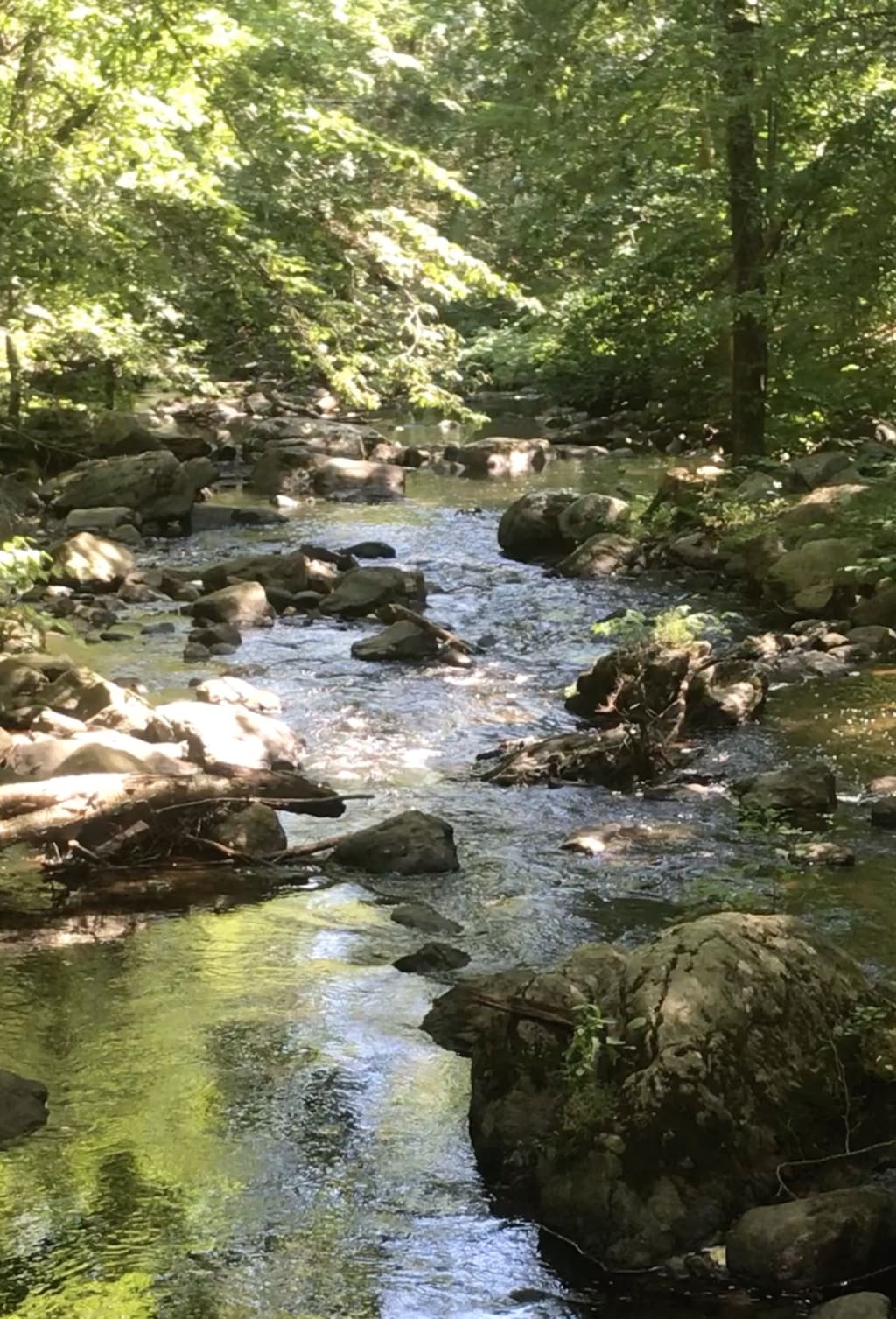 Sitting by the brook listening is one of my favorite things to do. Watching it closely, too. The glimmering flow of water gently rolling over rocks, never veering off course as it dances and weaves downstream. Sparkles of light stay in perfect tempo with its soothing sound. Who doesn't love the music of a brook? I can think of no one. Of course, as a six year old, I don't know that many people.
My red sneakers have rubber tips at the end so if I decide to leap from rock to rock I know my toes will stay dry. Sometimes I need to walk directly into the rush of wet coldness because my dog and I must rearrange rocks. We do this occasionally for the sole purpose of changing the water's speed and sound. Then we sit and listen again.
When it's time to go home, I walk steadily up the path, a short distance to the big old house, pulling open the creaky door with little girl confidence to enter the warm living room. The biggest beam of light streams through the bay windows right onto the dining room table. There are Christmas cards and envelopes piled up where my dinner plate should be. That's okay. Like a magician with the wave of a hand, Mom will sweep it all away before dinnertime. She just wants to finish writing notes to her friends, that's all. I decide I am Secret Agent 004 whose mission is to read what she is saying about our family. I have to act quickly.
Her writing reveals the simplest of updates with great love. She conveys the age of each kid and how well everyone is doing. That's it? I wonder what she'll say next year. We'll all be older, for one thing. The year after that, we'll be older again. My mind keeps taking it forward as far as I can think, like looking at the stars at night imagining how far they go. It occurs to me that one day Mom and Dad will die, and after that my older brothers. And then, oh God no, I will die too!
The pounding of my heart fills my ears. My brain explodes with thoughts all crazed and frantic. I am definitely going to die someday! What will it be like exactly? Complete darkness? Nothingness? Terror grips my entire body, which only a few minutes ago was resting in the gentleness of nature.
I race outside to the backyard and jump onto the nice green lawn where we love to play baseball. I know how to slide into home plate, or reach in the air for a touchdown pass while running into the rhododendron bushes, but this is different. There is nowhere to go. So I run around in circles as if a bee is stuck in my shirt. If only I can shake it off and outrun it, maybe I can figure something out. Finally exhausted and gasping for air, I come to a halt. There is really only one thing left to do. Talk to Mom.
"I'm afraid of dying," I blurt out, my mouth contorting in agony. My brothers like to make fun of the shape of my mouth when I cry. They say it turns into a small square. I don't care how I look at this point. A square-shaped mouth is nothing compared to a permanent loss of consciousness. I'm leaning against her bed fiddling around with the white pillowcase tassels. It's good to focus on braiding them, even though I don't know what I'm doing. It has a calming effect. Mom is in her bedroom getting ready for something, dashing from bureau to closet to windowsill and back again. She doesn't really look at me but speaks in comforting tones.
"Well dear, some people believe, like Catholics, that you go to heaven after this life."
"Heaven? That's interesting," I reply. Oh please tell me more. Her words have potential. They are music to my ears, though very faint and far away.
"Like President Kennedy," she continues. "He's Catholic too. That's what he believes."
His smiling face and handsome haircut come to mind. I like the way he waves at people in such a friendly manner. If he believes in heaven, it does add a hint of credibility to the situation. I sure hope that a man in his position has some solid reasons. Maybe there is more than darkness and nothingness after death. I desperately want to stay out of panic.
"And maybe by the time I get older, they will have perfected the artificial heart so everyone can live forever," I suggest.
"Um, yeah," says Mom.
Okay, that was pushing it. Even I know that living forever with an artificial heart, no matter how much publicity it gets, probably isn't going to happen. Nevertheless, I like where our talk is going. Into the land of possibilities. Sustaining any kind of positive momentum helps make the fear less severe.
"What religion are we?" I ask.
"Well, I guess you could say we're Protestant, but it's up to each person to find their own beliefs," she replied.
"Oh."
Mom doesn't elaborate with any further details like I was hoping. Actually, she seems a little nervous herself, but somehow the love in her voice soothes my sensitivity. I guess she's preparing to go out with Dad later who I'm sure is already drunk.
I take a deep breath and walk down the stairs made of golden carpet, which at the end turns into wooden steps of the family room. This leads to linoleum floors, bringing me to my destination: the big refrigerator in the kitchen. Reaching down into the frosty freezer, I get me an ice cream sandwich. It doesn't matter that it's before dinnertime. "Use your own good judgment," is one of our psychiatrist-family themes. It may be at the core of all our problems.
Tightly clutching the rectangular treasure in my hand, I go straight back outside to the brook where I can be at the water's edge and contemplate this new and crucial information.
On the comfy earth I sit and savor a thick layer of vanilla ice cream between two chocolate-flavored wafers. Once this magic elixir melts into your taste buds, it'll take your mind off anything. I watch the flow of brook water as it makes its journey all the way down to the pond, and can see it expand into a wide circle of stillness. At the other end of the pond is a waterfall to keep it all going perfectly.
How can I feel better about death and heaven? It needs more study for sure, but I think the most important thing is to not live my life running around the lawn in circles or even braiding the tassels of my mother's pillow cases. I try to think of President Kennedy. He knows a lot of secret agents. He must know something extra, right?
Childhood
About the author
Reporter, author, essayist. Likes writing about children, dogs, love, and everything in life.
Reader insights
Outstanding
Excellent work. Looking forward to reading more!
Top insights
Compelling and original writing

Creative use of language & vocab

Easy to read and follow

Well-structured & engaging content

Excellent storytelling

Original narrative & well developed characters
Expert insights and opinions

Arguments were carefully researched and presented

Heartfelt and relatable

The story invoked strong personal emotions

Masterful proofreading

Zero grammar & spelling mistakes

On-point and relevant

Writing reflected the title & theme
Add your insights