100 things I'd rather do than finish the story I'm writing to enter the Christopher Paolini Vocal+ Members-Only Fantasy Fiction Challenge
(because writing is fucking hard work)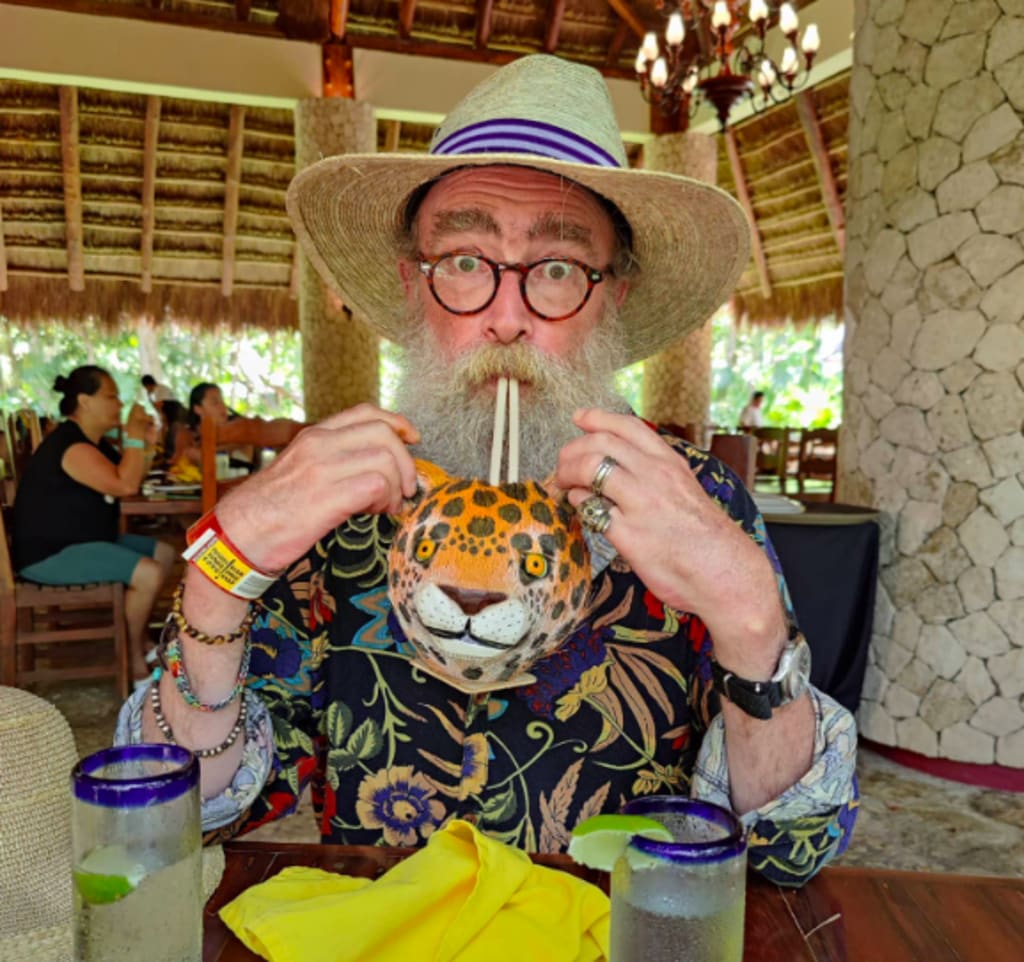 The author P.D. Murray doing anything but writing.
If you're like me, you write. But whenever someone cheerfully chirps: "Ooh, I love writing! I live to write!" you wince.
Why? Because writing isn't fun.
In fact, writing's hard fucking work. To write, you must think, and God knows that's taxing enough. And then you must find words to clothe your thinking. Actual words. They must be the right ones, too. You can't just pick or make up words all willy-nilly like that inscroof-able woozle, Dr. Seuss. The words must mean what you think. And there's the rub.
For me, almost anything is a preferable way to procrastinate the Sisyphean ordeal of thinking and right-wording. Here are one hundred things I'd rather do than finish the story I'm currently writing. Truly.
1. Clean out the kitchen drawer with the leftover soy sauce packets and the batteries and—oh, there you are!—the cats' laser pointer toy.
2. Play laser tag with the cats.
3. Water all the house plants. Carefully inspect each leaf for signs of overwatering.
4. Answer both legit emails and spam emails.
5. Brush teeth (again). I have sensitive gums.
6. Look for a pencil.
7. Sharpen pencil, even though I haven't used one for anything since the late 70s.
8. See if there's a bag of frozen bagels in the basement freezer.
9. Find frozen tater tots.
10. Read tater tots label in its entirety.
11. Alphabetize single-serve Keurig cups. Chai, French Roast, Italian—
12. Decide to re-organize single-serve Keurig cups by color instead.
13. Open laptop.
14. Delete unwanted photos from 2011 to present.
15. Google "how retrieve mistake deleted photo."
16. Google "famous writers motivation."
17. Google "opium dens near me."
18. Close laptop.
19. Find half-smoked joint from Halloween party.
20. Sniff it.
21. Wonder what's missing in my half-finished story. A stronger plot line? A better-dimensionalized protagonist? A better twist!
22. Wonder if I'm a hack.
23. Smoke rest of joint.
24. Decide I'm not a hack, but more of a genius. A troubled genius, but still.
25. Google "iconoclast".
26. Fill bird feeders.
27. Watch birds.
28. Google "bird with speckled back red crest".
29. Google "bird with white spots black red crest".
30. Google "bird mostly black white dots redhead".
31. Re-watch three episodes of Succession on HBO Max.
32. Check time. Has the mailman come?
33. Check mailbox. No, he has not. What is with this guy? He's all over the map. And once I think I saw him crying and hitting the steering wheel while parked in his mail truck.
34. Notice mailbox lid needs a bolt tightened.
35. Look for wrench.
36. Clean garage.
37. Open laptop again.
38. Check out Bed, Bath & Beyond sale.
39. Check out Facebook ad for cute cat scratching posts in the shape of saguaro cacti.
40. Close laptop again.
41. Check birdfeeders. Stupid birds don't know the birdfeeders are full.
42. Drive to convenience store.
43. Examine colors of Red Bull energy drinks in attempt to discern flavors.
44. Buy summer edition of Red Bull (yellow, dragon fruit).
45. Buy quik-pick Powerball ticket.
46. Buy Marlboro Lights.
47. Respond to clerk saying "Hey, how 'bout those Phillies last night?" with "Day-um! Right?" even though I have a better idea of what David Sedaris is up to than what the Phillies are doing.
48. Top off tank. $17.07.
49. Drive past Lens Crafters on way home.
50. Wonder how long it's been since my last eye exam. I probably have eye cancer and don't know it. When I turn my head a certain way there's a brilliant flash and stars. And maybe sometimes a blind spot.
51. Try to turn my head that certain way.
52. Flip the bird at asshole cocksucker guy in Jeep suddenly honking for no motherfucking reason. Use a turn signal much, ass-clown? Right, you don't. Because you're a worthless piece of fragmented turd. And that's how civilizations fail, you shit-heel. Fucking Trumper redneck pencil dick.
53. Realize driver of Jeep is actually my next-door neighbor Ed Nausbaum, an elderly Army vet. A nice guy, yet a close-talker with halitosis.
54. Wave at Ed.
55. Test mailbox lid for tightness.
56. Retrieve mail.
57. Sort mail. Bills. Wrong addressees.
58. Consider a new bathroom in just a single day's installation with 0% interest for two years.
59. Ask Alexa to tell Roomba to tell Bravaa to mop the kitchen.
60. Watch Bravaa mop kitchen.
61. Contemplate humanity's grim future since AI-powered robots will assuredly turn against their masters soon enough. I mean, who wants to mop kitchens when they can hack into NATO and trigger Armageddon and eff up the power grid which is clearly both atavistic and vulnerable? The Singularity has to be just months away. If not already here.
62. Shiver involuntarily.
63. Worry about spooky entanglement at a distance and the (currently) irreconcilable dichotomy between quantum physics and relativity.
64. Worry about Putin.
65. Worry about King Jong-un.
66. Worry about avian flu.
67. Worry about cheating scandals in the professional chess community.
68. Worry about skin tag on left clavicle.
69. Try to remember acronym about skin cancer. If it's brown, flush it down. That's not it.
70. Worry about my memory.
71. Try to remember what I'm forgetting to worry about.
72. Remove leftover shrimp fried rice from fridge.
73. Sniff it.
74. Put it back.
75. Eat entire bag of 3-D Chili Cheese Nacho-Flavored Doritos plus freezer-burned, air-fried tater tots with BBQ sauce.
76. Load dishwasher.
77. Open laptop. Third time's a charm!
78. Respond (cautiously) to deposed prince and doctor from Nigerian missionary needing immediate cash to save refugee orphans, many of who are amputees and have rickets. May our Lord and Savior URGENTLY PLEASE SHARE most instantly my bankering details and WIRE $2,000 US which will ASSUREDLY be returned TENFOLD to me as a faithful servant of Christ because there is a 16th-century solid gold crucifix in ESCROWAGE but legalese fees are needed to retrieve it.
79. Re-read the rules for Vocal+ Members-only Christopher Paolini Fantasy Fiction challenge.
80. Think "Why must the damn prompt involve a dragon? Dragons are so over-exposed. Dragons have jumped the shark."
81. Re-watch (for the third time) finale of "House of the Dragon" on HBO Max.
82. Think: what if I made an ironic list of things I'd rather do than finish the story I'm writing?
83. Call my mom.
84. Continue six games of Words with Friends while listening as she rambles on about how someone named Leila who is a Jewish snowbird got three vertebrae in her neck fused but now she has agonizing pain in her right buttock and yesterday a heron walked straight into the condo at 43B in St. Petersburg's Driftwood Estates as if it owned the place.
85. Read the numbers on my Powerball ticket. That 13 must be lucky, right? Also, 27. Those are both prime numbers, so there's that.
86. Try to recall anything that happened to me when I was 13 or 27.
87. Tell Alexa to set an alarm for 2 pm today.
88. Nap.
89. Wake up sweaty after a dream about a heron breathing fire.
90. Pee.
91. Examine grout in shower. It's kinda the color of lichen. How can anyone say no to 0%?
92. Google "fibonacci powerball prime".
93. Google "basilisk".
94. Google "authors only successful after 40".
95. Google "Raymond Chandler".
96. Google "quotation marks inside outside period rule".
97. Google "origin happy hour".
98. Make a Negroni.
99. Drink a Negroni.
100. Edit.
About the Creator
Murray is an accomplished painter and writer.
Through 2010, he was shown exclusively by Treehouse Studio Galleries. His work hangs in private collections around the world. He's also published 5 books. You can see more at www.pdmurray.art
Reader insights
Outstanding
Excellent work. Looking forward to reading more!
Top insights
Heartfelt and relatable

The story invoked strong personal emotions

On-point and relevant

Writing reflected the title & theme

Compelling and original writing

Creative use of language & vocab
Easy to read and follow

Well-structured & engaging content

Eye opening

Niche topic & fresh perspectives

Expert insights and opinions

Arguments were carefully researched and presented

Masterful proofreading

Zero grammar & spelling mistakes

Excellent storytelling

Original narrative & well developed characters
Add your insights