Why Atletico Madrid?
The "unpopular" decision of being an Atletico Madrid fan and the reasons why.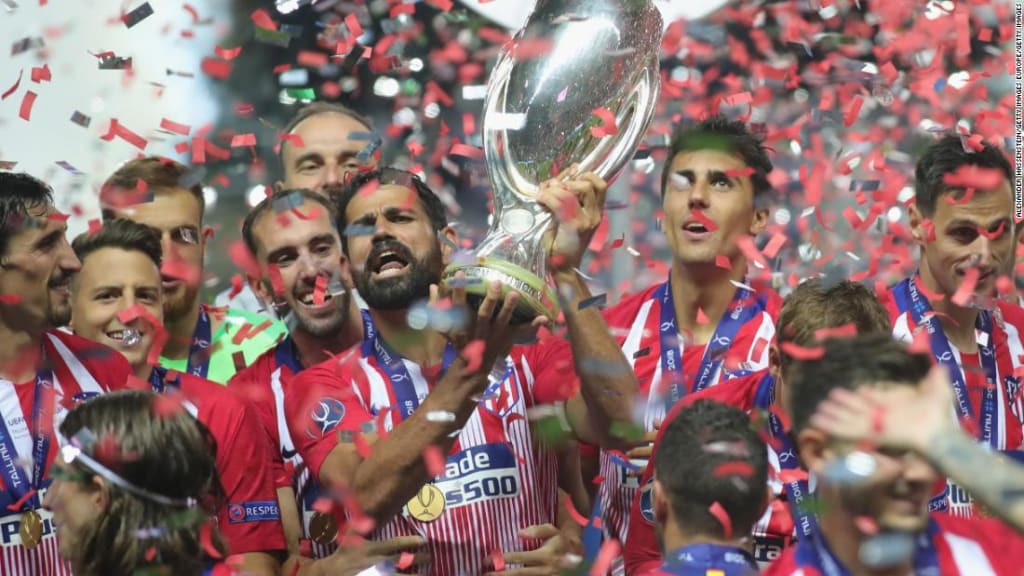 When I tell someone that I am an Atletico Madrid fan, I get the typical "Why when Real Madrid is so much better?" with a laugh. It's not easy being an Atleti fan. There is a lot of suffering involved and lately, it has gotten a little easier. A lot has changed in these last 10 years. I think if being an Atletico fan shows you anything, it is how much love you have for them and for the game. Lets be honest-no one likes to be a fan of a team who doesn't win a trophy every year like those other two big teams in La Liga. But that to me makes it even more satisfying when they do win! So I would like to share 4 reasons with you on why you should be an Atletico Madrid fan too.
1. Underdogs
When someone says football in Spain, you automatically think of Barcelona or Real Madrid and its hard not too when they have ruled Spanish football in the last decade. But right under them there is a team who has slowly started turning heads, Atletico Madrid. They have been in an uprising since December 23, 2011 when Diego Simeone replaced Gregorio Manzano. Since that day, Atletico has been on a rise that you don't see too often. Winning trophies like Europa Leagues, La Liga, Copa del Rey and European Supercups. However, after the success they have had they are still not at the same level as their city rivals Real Madrid. Every time they face each other or play for the same title, Atletico Madrid is considered the underdog which is the first reason why I am an Atleti fan. I mean come on, who doesn't love a good underdog story? Some of the best movies all ways have underdogs; Rudy, The Greatest Game Ever Played, Karate Kid. Those are all underdogs and how satisfying was it to watch them win. Being an Atletico fan is that same feeling you got while watching those movies just multiplied by 100.
2. Promising Future
Right now Atletico Madrid has one of the brightest futures in European football. The team is being led by someone who is said to take over world football in the coming years. Joao Felix is the star of Los Colchoneros and is at the helm of the Atletico ship. At the young age of 21 years old, he is leading them to a successful season. Backing him are players with their best years still ahead of them like Lodi, Saul, Gimenez, Correa and many more. Its hard to find another team in Europe right now with that much talent at such a young age. It would be naïve to say that this team should win the Champions league this year, when you have teams like Bayern Munich or Manchester City who have world-class players, levels above every other team. However, this Atletico team in a few years will be at that level and will have a realistic chance of winning the sought after Champions League.
3. Relatable
If you ask any Atleti fan why they support their team, one of the main reasons will be because they can relate to them on a personal level. Atletico is not a team who has the financial status that their neighbors have and in a way that has played to their advantage with their fan base. Not too many people can relate to a team like Real Madrid or PSG who spend millions and millions of dollars every year to buy the best players out there. However, many of us can relate to a team like Atletico who has had to fight their way to the top every year without the privilege to buy those world-class players. Real Madrid and Atletico are light years apart when it comes to financial status. Due to those financial differences they have focused on having one of the best youth academy's in Spain. Atletico legends have come out from their academy at almost zero cost for them and fans love to see homegrown players be given a chance to play and excel for the team. Homegrown players have a big affect on fans. They have been with the club since they were kids and the fans get the pleasure of watching them grow within the team all the way up to the senior team.
4. Diego Simeone
One of the best coaches in the world and the best one in Atletico's history. A man who disrupted the Guardiola-Mourinho reign over Europe has created the reputation for having the best defensive game out there. He quickly became loved and hated by the style of play. As much as it has been criticized, it has earned Los Rojiblancos seven titles in the last 9 years. He is a coach who eats, breathes, and lives football. Whether his team is playing a league game or a friendly, you will see him up and down the sideline screaming and giving instructions to his side. He has a connection with fans that not too many coaches are able to have. Simeone is always a humble man who is never giving false hope to the fans. He makes sure he always reminds fans that even though they are slowly being considered the third big team from Spain, they are not at the level of FC Barcelona or Real Madrid. His motto, one game at a time, never changes and is the secret behind their success. He is the most decorated coach of the teams history after he won his seventh title surpassing the six titles of his mentor Luis Aragonez.
I wouldn't expect a true football fan to just become a fan of a different team by reading an article. However, I do hope that you have a new respect for Atletico fans and why they support the team. To them it is not always about trophies or about the superstar players. It is about the struggle for a small team to fight it's way to the top. It's about the adversity and the satisfaction that after a tough season, you see them lifting a trophy and celebrating around the streets of Madrid. It is more than just a feeling, it is a way of life.
football
About the author
Hello my name is David and I love football. 6 out of the 7 days of the week I am watching it. HUGE Atletico fan ( AUPA ATLETI )
Reader insights
Be the first to share your insights about this piece.
Add your insights