Vard Luck
Southampton 3 - 3 Tottenham: An irritated Lilywhite's take on the action at St. Mary's.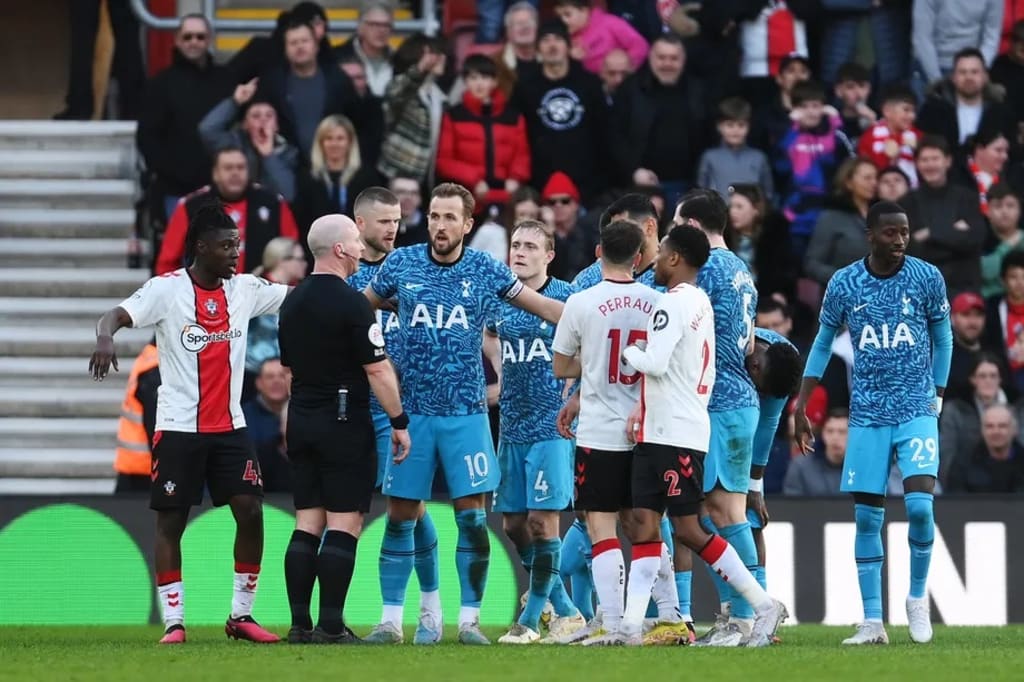 Photo by Mike Hewitt/Getty Images
Sing it with me; Var? Huh. What is it good for? Absolutely nothing. But with six goals, 4 early subs and a late penalty, one might expect to come away from such a contest feeling at the very least enthralled by elite-tier English football action. The truth is, this league is a shambles and what the Premier League might believe to be the gold-standard of domestic football, is in reality, miles off it. As are Tottenham, gunning for a top-four push, but would be miles off it, were it not for the comparable scarcity of competence found across London, Liverpool and much of the rest of England.
A bright start to the game was ruined within seconds by injuries that forced an early change for both sides. In Tottenham's case it was a tearful Richarlison who trudged off the pitch. Who else, but the man with everything going against him, would pick up his third serious injury of the season? Our beleaguered Brazilian has had virtually no rub of the green since his move from Everton - he will fit in well here at Spurs.
Tottenham however, remained (for this portion of the match at least) composed and managed to create sights at goal in spite of the early blow. Kulusevski, who rediscovered some of his 2022 form in Richy's absence, was robbed of an assist early on by Dier's errant, albeit challenging, close-range header. A superb block from Saints' Perraud denied a pot-shot from Kane, who's chance was created by Ben Davies on the left-flank. His low, drilled ball into the box took me by surprise for its quality. I have resisted the admonishments of Perisic up until recently, but now I cannot deny that the team has a more natural feel to it with Davies playing in his stead. Even Son seemed more involved, more confident, with the Welshman his partner in crime.
Southampton suffered the hammer-blow of losing their second centre-back of the day to injury with Bednarek being forced off midway through the half. But the ailments struck in pairs and soon enough Tottenham had another casualty of their own, losing Davies just moments later, Perisic taking his place. With 35 minutes on the clock, 4 subs had been made and both sides had utilised two of their three allocated windows for substitutions with likely more than an hour of the match left still to navigate.
The breakthrough came in first-half stoppage time and it was Porro's first goal for the club. He had been exploiting space on the right expertly throughout the half and his reward came when his strike from 8 yards out cannoned off the under-side of the bar and into the net. Porro's passing range is encouraging, but before the goal came, his composure in the final third had been lacking. The Spaniard had a tough time keeping any of his efforts beneath the crossbar. I'm sure that, with time, so long as he continues to get himself into similar positions, with Kane and co feeding him, his output will improve. Today showed plenty of promise and product on his part.
As the second half began, it became clear that Tottenham's half-time routine was for every player to take a 15 minute nap. This one clearly ran over - Tottenham have a squad of prolific sleep-walkers. The way the team started the second 45 cannot be explained beyond spits of venom. It was lifeless, slack, and Spurs were rightfully punished. A 34 year-old Theo Walcott managed to run in-between Perisic and Lenglet, while Che Adams managed a similar feat against Dier and Romero. Every member of the 5 man defence shares blame. The resulting tap-in Forster could do nothing about. It was a hard-earned, first-half, 1-0 lead squandered in a moment.
VAR did not feel the need to deliberate for minutes over the validity of the goal. It was scored fair and square, I have no complaints. However, just try to imagine Richarlison had scored it instead. They'd have found something at Stockley Park, I'm sure. They also found no problem with Walker-Peters' defence of a shot from Perisic. The Croat claimed it hit the former Spurs' hand. My opinion - I have no idea. It might have hit his hand, but it might have been harsh to call it a penalty. The footage provided by VAR cleared nothing up. What the rule-book describes is also a mystery. This weekend it was determined not to be a penalty. That may very well change the next.
Spurs needed another 15 minutes to find their feet. A 4 vs 3 counter-attack somehow fizzled out into Kane smashing a hit-in-hope of a shot that flew harmlessly over the bar. But our talisman was only one more chance away from restoring Tottenham's lead, and it was Kulusevski delivering yet another precise ball from the right into a dangerous area. Kane latched on and could not miss. That's the superstar's 21st goal in the league and it is mid-March. If it weren't for the outrageous output of a certain Norwegian in Manchester, Kane would be collecting the plaudits he deserves. Yet, there's something I like about him operating under the radar.
Next came another milestone moment for a wing-back; Perisic's first goal for the club. The clinical nature and technical brilliance we have come to associate with Perisic in the final third, beyond corner-kicks and head-flicks, had thus far been a notable absence in our season. This afternoon, he showed a glimpse of his true form. His shot on the edge of the area was struck hard into the ground and calculatedly mutated a savable half-volley into a tricky, corner-bound bouncing conundrum - one that Bazunu could not solve. The scoreboard read 3-1 and my commentator described it as "surely the winning goal". Spoiler alert: this would not be the only stupid thing he would say.
But some teams just can't have nice things. Minutes later, delight and comfort, evaporated completely, leaving the door open for a fresh wave of burden and anxiety. Southampton immediately rallied and managed to bring a round of head-tennis to the grateful feet of Walcott in the middle of our box. The former-Gunner had the net gaping and not even a Romero intervention could deny him the goal.
Then came an incredible moment; a last-minute penalty for Southampton. Pape Matar Sarr swung his leg to clear the ball from the box, his ankle brushed against the leg of Ainsley Maitland-Niles, who had leapt aimlessly into the air and the Southampton man landed on the floor, as he was always going to. Of young Sarr the commentator for my coverage declared "he only has himself to blame". What on earth are we watching? I heard VAR had checked to see if the incident had taken place in the box, which everyone with eyes knew it had by yards, but is that even a foul? Is that an action worthy of an uncontested strike at goal? If the referee hadn't given it in the moment, is there any chance VAR could have deemed it a 'clear and obvious' error? Is anybody else as overwhelmingly embarrassed as I am of this preposterous rule-book?
It is hard to remain invested in a match when deficient officiating (might just coin the phrase deficiating) dominates to such an unhealthy extent. Tottenham could have scored a shock-winner, and I'd have cared very little. This sport does not function in its current form. The dramatics we witness are not entertaining, they are demoralising. These tragedies can have major repercussions on teams and their aspirations, and they can strike at any moment. Remember when Lee Mason was sacked for "forgetting" to check for offside when Brentford took a point from the Emirates? How many more failings must be tolerated until another referee is sacked? And how many have to be sacked before we can unearth some consistency?
As for the football, both clubs are a similar entity. Tottenham and Southampton are two that thrive under confidence and suffer under setbacks. The way the pendulum swung, from one-side to another, teams bathing in ascendancy in one moment, then struggling in adversity the next, was jarring for everybody to watch. Today, Tottenham had an edge in quality and Southampton had the fortune one would not usually associate with a team fighting bitterly to avoid the drop. For us, it ought to have been a win away from home against a team in desperate need of points. I will not blind myself from certain realities. We are not very good, but we should have won.
About the Creator
Queen Margaret University graduate (Theatre and Film studies).
Currently trying to write a book.
Lilywhite, Pokemon master, time-lord, vampire with a soul, Virgo.
Likes space and dinosaurs. And Binturongs. I'm very cool.
Reader insights
Be the first to share your insights about this piece.
Add your insights