The 10 Best Gifts for Lionel Messi Fans
Passionate followers of the Leo Messi will appreciate some of the best gifts for Messi fans.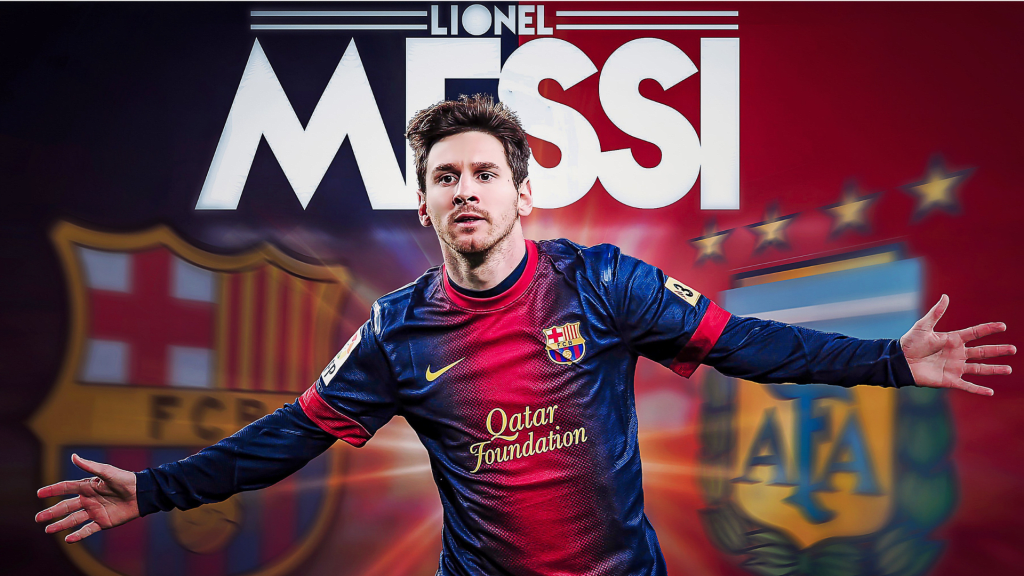 Some believe he's a brilliant player while others can't deny his greatness. Either way, anyone who is a fan of the star needs to check out the best gifts for Lionel Messi fans.
Argentina and Barcelona legend Lionel Messi is undoubtedly one of the best soccer players of all time, and his achievements are enough proof for his greatness. Apart from being a world-class player, Lionel Messi is also one of the biggest achievers in the history of soccer, having won 34 trophies with his team so far. He needs only two trophies to break the world record currently held by the famous Brazilian soccer player Dani Alves. The Barcelona star is also the only other player alongside arch-nemesis Ronaldo to win five Ballon d'Or awards. The 32-year-old joined Barcelona's youth team 19 years ago at the turn of the millennium and has been a Barcelona player ever since. He made his senior debut for La Liga side when he was a seventeen-year-old in 2005. Moreover, he has scored 603 goals for them in 683 appearances.
Regardless of your personal choice for the Greatest of All Time (GOAT), there is no denying that Messi was, and still is, a brilliant and talented player. However, any Barcelona fan will know that to be considered a real fanatic, they'll need some high-quality Messi swag. As a result, I've decided to make a list of some of the best gifts for Lionel Messi fans, so that real fans of the GOAT wear and enjoy them. It can only be beneficial for you, really.
Messi #10 Soccer Crew Socks by Forever Fanatics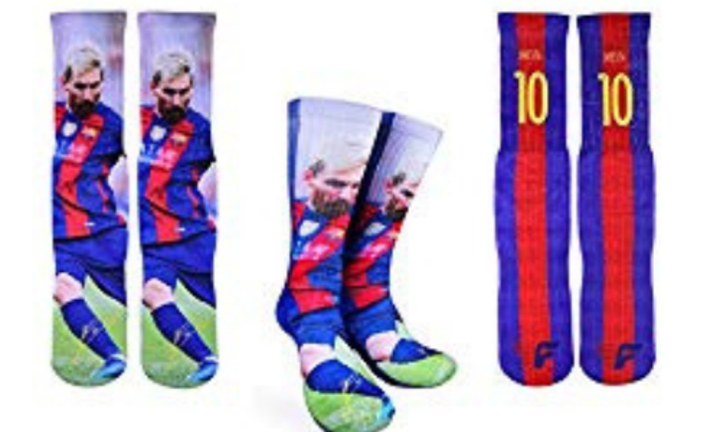 Nothing says "I love Lionel Messi" better than a pair of socks with the soccer player on them. Here, we have a pair of Messi crew socks with a high-quality image of the Barcelona star scoring a goal. On the back of the socks, we have Messi's name and number, written in a jersey-like manner.
If you're one for festive and colorful socks, this most certainly a no-brainer. Moreover, it is built with the moisture management system in which the fiber wicks perspiration. You can use these crew socks when you are enjoying your favorite sports, gym workouts, or athletic routines.
Lionel Messi #10 Soccer Beanie by Forever Fanatics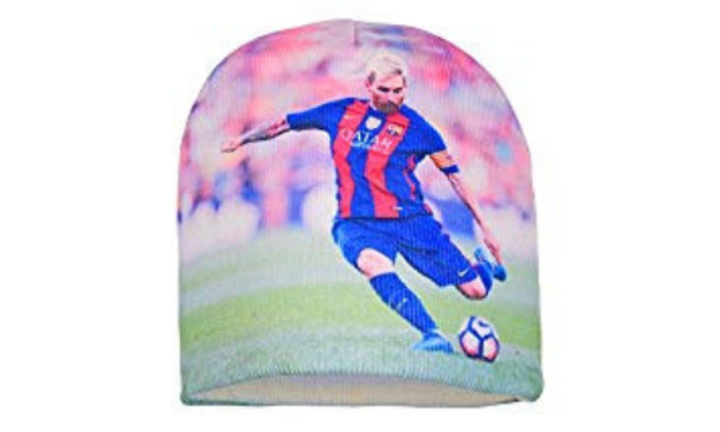 Forever Fanatics really does a great job when it comes to digitally printing images onto different clothes. If you're a big fan of Lionel Messi socks as I am, then you'll absolutely like this beanie from Forever Fanatics. Moreover, it's also very warm, so there's that. You can be a fan and be very comfortably warm when it's colder than a frozen scoreboard. It is also made of good quality and promises to last long.
Lionel Messi #10 Men's Hooded Sweatshirt by Tcamp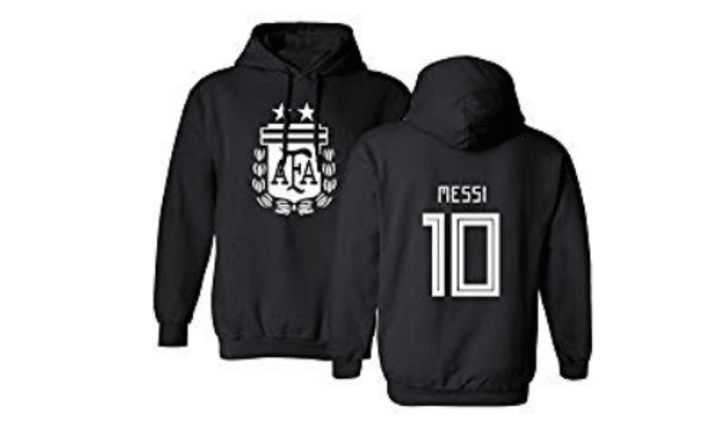 If you're looking for some clothing that is a little more prominent than socks or a seasonal beanie, then you may want to choose this sweatshirt from Tcamp. It's made of some pretty high-quality materials, and aesthetically speaking, it's a great way to show off your Messi fanhood. Be careful, however—this particular sweatshirt runs a little small, so you might want to order one size up. The advantage it has is that it is machine washable.
Autographed Lionel Messi Barcelona Framed Photograph by Kitbags and Lockers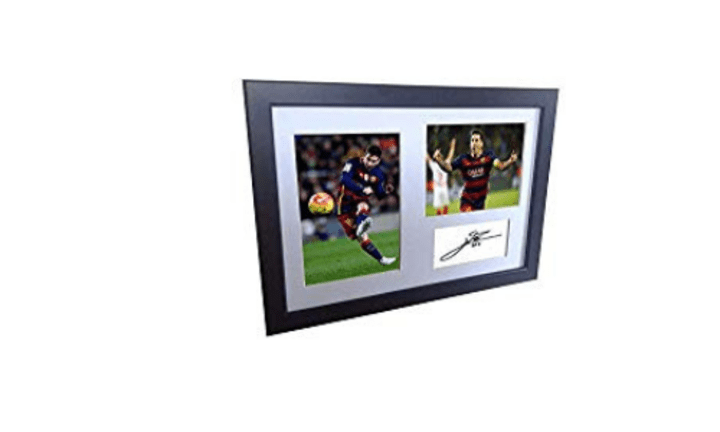 Anyone would love a signed photo from Messi, but unfortunately, it's going to cost a pretty penny. Instead, many opt for something a little (and by little I mean a lot) cheaper than an authentically-signed Messi picture. It comes in a large Black frame (Size 330mm x 240mm x 13mm Deep). Mounted image size is 12×8 (A4). Moreover, it can be wall hung or used with the stand. Now get yourself a picture of him to show your gratitude!
Lionel Messi #10 Copa America T-Shirt by Tcamp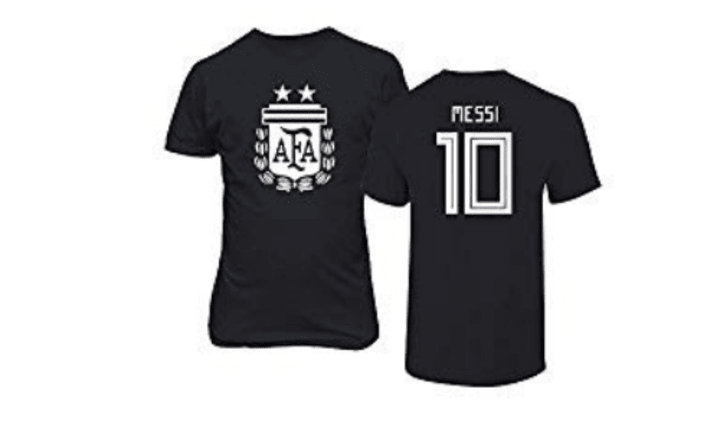 Another great product from Camp, we have the t-shirt version of the hooded sweatshirt from before. Obviously, a hoodie like that can only be worn when weather permits, but this shirt can literally be worn in any weather. It is machine washable like the hoodie before. Moreover, it is made out of high-quality fabric, and this sleekly-designed shirt is the perfect gift for any TRUE fan of Messi.
Messi #10 Argentina Home Men's Soccer Jersey by Adidas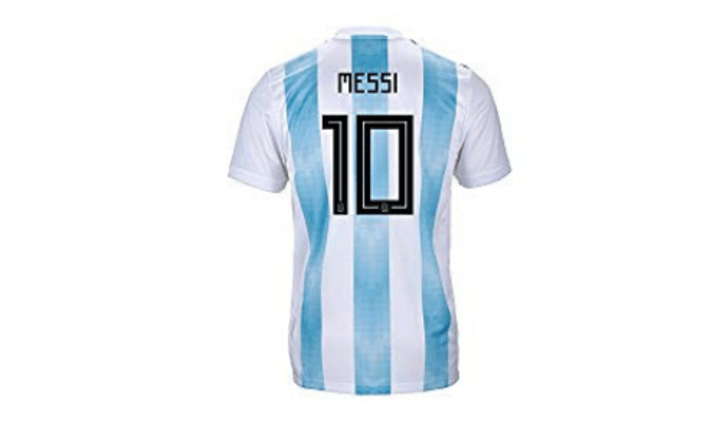 Jerseys are usually the best gifts for Lionel Messi fans. The best jersey to buy is the Argentina National team jersey. The climalite wicks all the sweat to keep your shirt dry in every condition. This authentic, high-quality jersey from Adidas will immediately make you feel like you are Messi himself. But clearly, once you hit the field, it will be a different story. This shirt is available in all sizes.
Lionel Messi Soccer Ball by iSport Gifts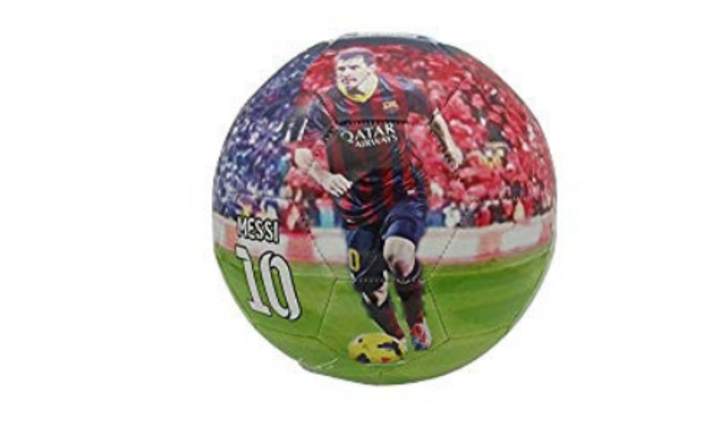 If you're a little bit of a younger fan, you may want to choose a small ball like this. This premium soccer ball features superior technology and a unique design engineered for world-class quality and phenomenal performance. This soccer ball is a fantastic training ball for young soccer players with supreme durability, which maintains shape and air retention, ensuring exceptional performance. Moreover, the cool picture of Lionel Messi certainly attracts younger fans.
Messi Nemeziz 17.3 Men's FG Soccer Cleat by Adidas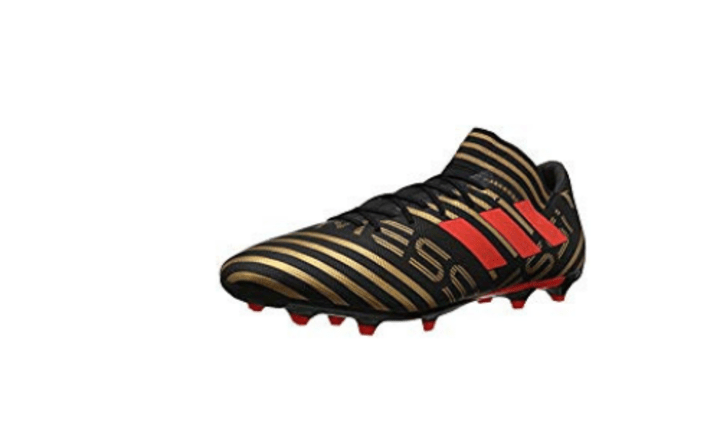 Soccer cleats are the best gift for any fan of a soccer player. These cleats are one of the best soccer cleats available in the market. Every striker's dream, every defender's nightmare. Messi is the player you wish you were and hope you never face. Haunt the keeper with goal-bound strikes and unlock agility by lacing up Nemeziz Messi.
These soccer cleats are designed for firm ground. It has soft agility mesh upper that provides the responsive touch and optimum ball control out of the box. Moreover, the dual lock collar provides ankle stability and secure lockdown. It has a unique style and design and fits well. This cleat's soleplate is made of a TPU plastic material, which is stiffer and thicker than other cleats, but is reasonably flexible to adapt to the movements of the foot. The stud pattern of the Adidas Messi Nemeziz 17.3 is composed of four half-moon-shaped studs at the back, three studs on each side at the front, and one in the middle. It provides excellent acceleration while on the pitch. The Lightweight outsole leaves Messi's unique footprint.
Argentina Lionel Messi #10 Toy Figure by Soccer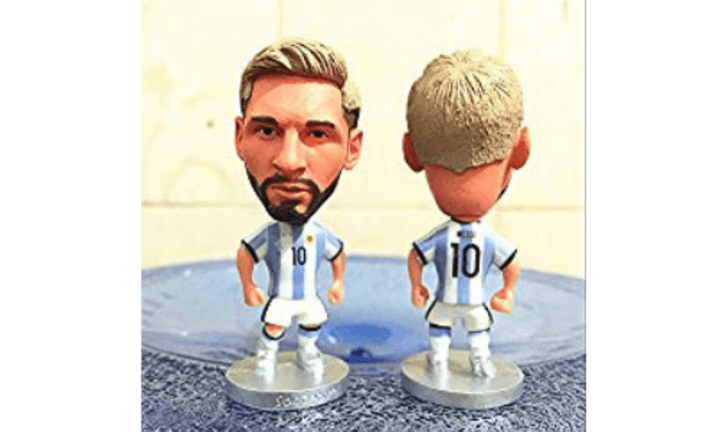 Toy figures are always a great gift as long as you're actually getting said person a figure of a person they actually like. Well, what better toy figure to get a Lionel Messi fan than one of Lionel Messi. Get this toy figure immediately. As toy figures usually look great whether they are kept on a table or in a cupboard.
Barcelona Messi #10 Soccer Backpack by Forever Fanatics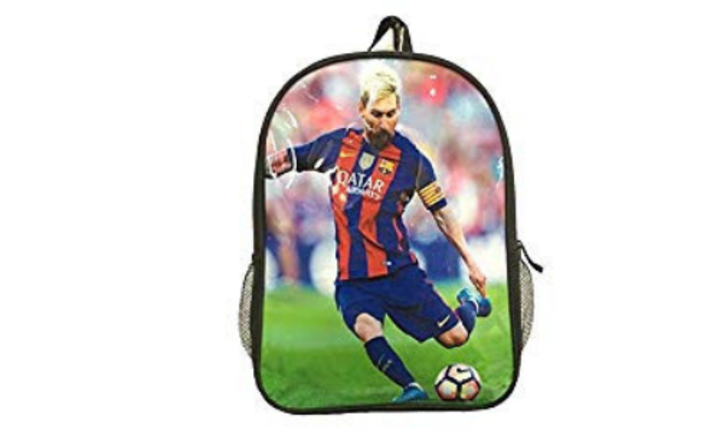 The final product included in our list is a backpack, this Forever Fanatics Soccer Backpack is designed to be the best gift for Lionel Messi fans of all ages! The Forever Fanatics Soccer Bag sports a timeless design created for superior durability with lightweight, breathable technology material and a 100 percent polyester composition which ensures the bag will always remain light and comfortable to carry.