Southgate's Revolution
Thoughts On an Incredible World Cup Campaign for the England National Team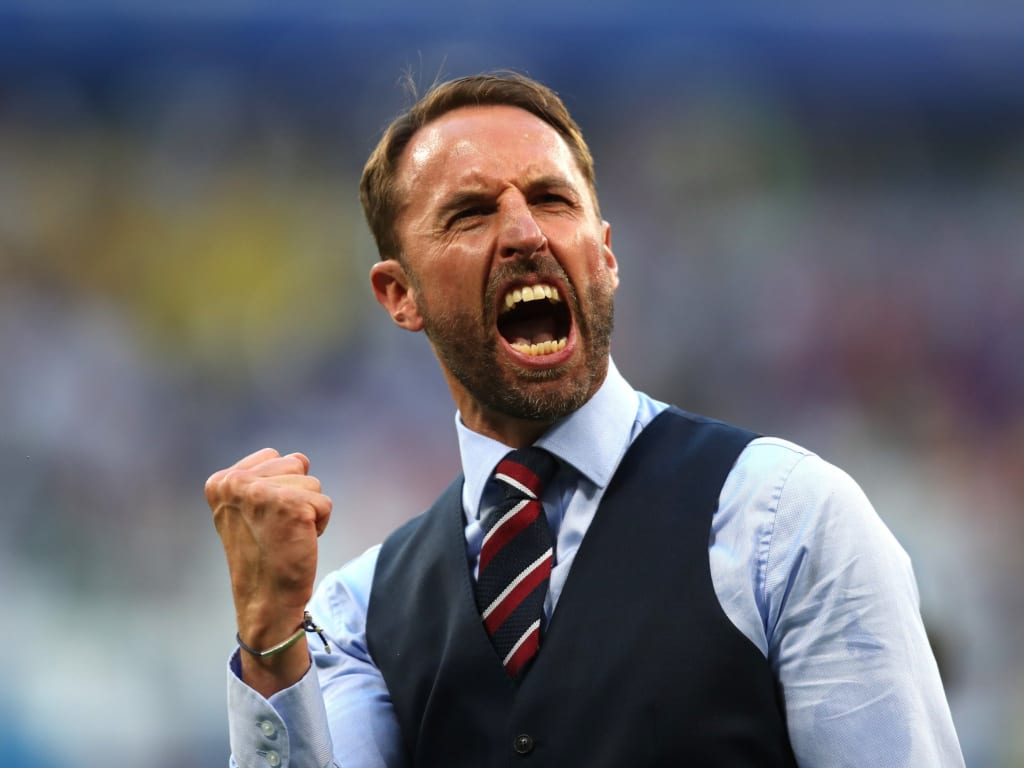 On the day of the World Cup final, the England national team returns home following an incredible run which took them to their first World Cup semi final since 1990. This tournament has seen a steady resurgence in popularity for the England team as Gareth Southgate and his young Lions recapture the hearts of a nation who had fallen out of love with their national team following a disastrous group stage exit at the last World Cup in Brazil, and an embarrassing 2-1 defeat to minnows Iceland in Euro 2016. But as the tournament draws to a close, the inevitable post-mortem of England's performance brings up some interesting points.
First of all, it could be argued that this World Cup was more a triumph of PR than football for England. Prior to this competition, the general consensus was that England would do well to get to the quarter finals of the World Cup, and to imagine we'd get any further was considered pure fantasy. England finished second in a group they were widely expected to qualify from, scraped through against Colombia on penalties and then beat a Sweden side that just didn't turn up. The opening 45 minutes against Croatia were solid, and indicative of the new positive style England have adopted. But it was also a half full of missed chances, especially from Harry Kane, that England were left to rue as they sat back and invited Croatia on in the second half.
However, the country gradually got behind the England team as it became increasingly possible that they could actually make the World Cup final. Expectations before this tournament were low, and it felt as though the nation wasn't particularly looking forward to the competition. Political developments (in particular the Salisbury poisoning) coupled with fears about Russia's attitude towards race and people in the LGBT+ community saw low ticket sales amongst England fans (as well as the declaration that nobody from the British government or royal family would attend the tournament).
But as England progressed through to the "easy" half of the draw in the knockout stages, fans began to quietly whisper that it might, at last, be coming home. "Three Lions", the undisputed anthem of Euro 96, got to number one again. Scenes of fans in Croydon box park jubilantly throwing full pints of beer in the air after England scored flooded social media. Gareth Southgate became a surprise sartorial figure this summer, with waistcoat sales going through the roof and a lookalike being swamped by fans in the Sweden game. It can be argued that this is the most likeable England team in a long while. After a tough few years for the national team, fans are starting to believe again.
In footballing terms, there are still areas of improvement for England. Pundits have repeatedly called this the "Set Piece World Cup", and nobody encapsulated that more than England. 42 percent of all goals (prior to the final) have come from set pieces, setting a new tournament record. England scored 9 of their 12 goals from set pieces (including an incredible free kick from Kieran Trippier against Croatia) and we saw the introduction of the "love train", a set piece tactic from corners which saw three or four players (including Kane and Maguire) line up before splitting and dividing the defence. Whilst Southgate has clearly been working on set pieces in the run up to this competition, the lack of goals from open play must cause some concern for England fans.
This competition also saw England playing a much more positive brand of football, with a switch to a 3-5-2 formation seeing Kyle Walker move to a centre back position, allowing Kieran Trippier to occupy a starting position on the right. Trippier's marauding runs down the wing and crosses into the box were a constant threat for opposing teams, and as such he has established himself as one of the stand-out players for England this tournament. Jordan Pickford, having not had very much to do at all in the group stages, arguably sent England through with his heroics in the penalty shootout with Columbia and pulled off some world class saves in the quarter final with Sweden. This World Cup could very well have established Pickford as England's number one goalkeeper, in a squad that already boasts Jack Butland and Nick Pope.
Alternatively, there were players who will look back and think that they could have had a much better tournament. Harry Kane has taken the Golden Boot award, and as strange as it seems to disparage a player who has won this accolade, you could argue that he could have done more. Three of his goals came from penalties, with another one a lucky deflection against Panama. He missed a multitude of chances, which appeared to frustrate him. In the semi final against Croatia, Kane found himself through on goal and blasted the shot directly at Subatic, failing to convert from the rebound. A cooler head might have squared it to Raheem Sterling, who was onside and unmarked.
A particular bone of contention for me this tournament was the treatment of Raheem Sterling by England fans. Prior to the World Cup, Sterling was subjected to the latest in a string of attacks by the tabloid media, this time for sporting an unfinished tattoo (previous offences by Sterling include buying his mum a new sink and going on holiday). Throughout the World Cup, the BBC Sport website allowed fans to rate players, and for the majority of the tournament Sterling repeatedly came last in these rankings, averaging approximately 4 out of 10.
The reason for this being so frustrating for me is that Sterling had a much better World Cup than these ratings suggest. Whilst his finishing left a lot to be desired, his movement was exceptional, with his pace proving to be a problem for defences throughout the tournament. The space he created whilst pulling defenders out of position was invaluable for England's attacks, and the argument can be made that his misfires in front of goal could be as a result of the stress caused by the tabloid media.
So, moving forward, what does the future hold for England? With Southgate at the helm, the sky really is the limit. He appears to be comfortable with making tough decisions, making selections based on performances rather than reputation. He has captured the hearts and imaginations of the country, reuniting a country previously divided by issues such as Brexit. England has a potentially world class striker in Harry Kane, with Dele Alli and Marcus Rashford also looking very promising. The missing link for England appears to be a truly creative attacking player in the same mould as Luka Modric. Players such as Phil Foden, Jadon Sancho, and Ryan Sessegnon could fill that mould.
These days, it's particularly difficult for young English talent to make breakthroughs. Stakes in the Premiership are incredibly high, with the big clubs banking on Champions League success more than league titles, which leads to teams buying in lucrative foreign talent for immediate success rather than banking on young, unproven players. Perhaps this crop of young talent should consider going the same route as Jadon Sancho, and move abroad on loan to get first team experience. Sessegnon's first season in the Premiership with Fulham will be of great interest to fans of the national team, particularly since England look weak on the left hand side (Ashley Young coming to the end of his career at 33, and Danny Rose not quite reaching his potential).
At the end of the day, regardless of how they got there, England's World Cup has exceeded all expectations. With the European Championships in 2 years, opposing teams surely have to hold them in higher regard than they have previously. The trick is to balance confidence in the squad with the hysteria that the media are prone to feeding.
Reader insights
Be the first to share your insights about this piece.
Add your insights