Reasons Why Soccer Players Swap Their Jerseys
Ever wondered how the long-time soccer ritual got its start? Here is all you need to know about why soccer players swap their jerseys.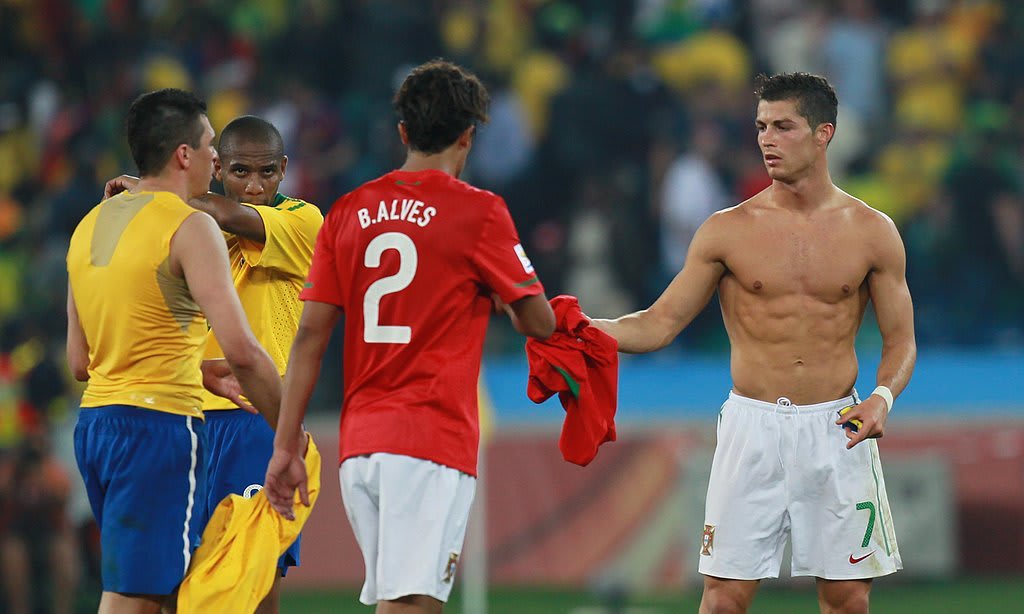 I've been an avid FIFA player for as long as I can remember, and became truly invested in following professional soccer after the 2010 World Cup. Landon Donovan scoring that last-minute goal against Algeria is what converted me to full-time fan status, and I mean, how could it not? I knew most of the rules and understood the tactics and strategies employed (not to brag, but I was pretty good at FIFA), but there was always one aspect I didn't quite know fully. After every major soccer game, I would see soccer players swap their jerseys with the opposing team and would always wonder why.
Every major sport has a tradition that is unique to itself. Hockey has playoff beards, baseball has rally caps, football has a Gatorade bath for successful coaches, and soccer has exchanged jerseys. The story behind each is interesting and worth looking into, and that's exactly what I have done with this tradition. I finally got tired of not knowing, and researched why game-worn jerseys hold so much appeal. I was surprised by the history of the tradition, how it came to be, notable swaps between players, and I'm confident you will be too.
Trading shirts is a sign of respect.
First and foremost, before getting into the nitty-gritty details, it's important to know what the after-game swap represents. Ultimately, when players trade jerseys, it is a mutual sign of respect between two competitors. That is why, often times, you'll see the best players switch with each other. It is an acknowledgment of the other's work ethic, skill, and competitiveness. It is not limited to only the elite players though, any player can ask to swap shirts with any opposing players, as long as both agree to it.
Usually, players will keep the jerseys as mementos to commemorate their playing careers. However, that does not always end up being the case. Just ask Pelé; one his 1970 World Cup jerseys was sold for $310,000 in 2002 by the family of a player he exchanged jerseys with. So if you're a huge soccer fan, keep an eye for famous game-worn jerseys, they may just be available.
The tradition started in 1931.
It is widely believed that the famous soccer tradition began at the Colombes Stadium in Paris during May of 1931. France beat England 5-2, marking the first-ever victory for the French over the Brits. Overjoyed by the historic victory, the French players asked their rivals if they could have their jerseys as keepsakes. The English players obliged, unknowingly starting one of soccer's most respected and long-standing traditions.
Shirt swaps do not always happen.
Not every soccer game is filled with respect, so it makes sense that shirt swaps are sometimes ignored. The best example of this occurred in the 1966 World Cup, in a match between Argentina and England. With a playing history that is chock-full of controversy and questionable referee decisions (Diego Maradona's "Hand of God" goal and David Beckham's red card in the 1998 World Cup being the most memorable), and considering both national teams have some of the craziest fans in world football, England vs. Argentina has become one of the biggest soccer rivalries in the world.
That statement can be affirmed by former England manager Alf Ramsey. After beating Argentina 1-0 in the 1966 World Cup quarterfinals, in what can only be described as an "aggressive" and "spirited" game, Ramsey spotted a player of his swapping jerseys with an Argentinian player. Ramsey intervened by snatching the jersey away before the ritual could be completed. While that may not seem like such a big deal, it does symbolize the relationship between the two national teams, and the glaring lack of respect each side has for the other.
The best of the best have engaged in trading shirts.
Since 1931, the biggest names in soccer's history have brought the tradition center stage. Whether it's Pelé trading jerseys with Bobby Moore at the 1970 World Cup or Lionel Messi asking to swap jerseys with Zinedine Zidane, when some of the best soccer forwards of all time exchange jerseys, you can be sure that the ritual is alive and well.
With all the soccer world's star power swapping shirts, you can be sure youth and high school age players will imitate their soccer idols and begin to trade shirts from a young age. This ensures that this act of sportsmanship and respect stays relevant and popular, and that the cycle continues to repeat itself. That is why this tradition has been stuck around for nearly a century.
There is a correct time and place for swapping jerseys.
Despite all the positives this tradition has, there have been a few notable cases where it has seemed inappropriate or poorly timed. The biggest example of this came in 2012. During a Premier League game, Arsenal defender Andre Santos decided it was a good idea to trade jerseys with former Arsenal striker Robin van Persie. At first, it doesn't seem to be a huge problem, until you read further. Here are some of the details regarding the exchange:
He swapped jerseys at half-time instead of at the end of the match.
Robin van Persie had become unpopular at Arsenal after he switched clubs to join their eternal rival, Manchester United.
The Dutch forward had danced around the Brazilian left-back for most of the first half before the swap took place, which was capped by a goal.
Swapping jerseys after an embarrassing first half with a player who not only got the better of you, but who your fans also openly hate, was not the smartest decision. It appeared as if Santos didn't care about the match, or his poor play preceding half-time. That may not have been the case, but you'd be hard-pressed to convince Arsenal fans of anything different. So while the purpose behind this storied aspect of soccer is held in esteem and is meant to extend respect to fellow players, there are unwritten rules that govern when and how that respect should be offered.
Trading jerseys sends the right message to young players.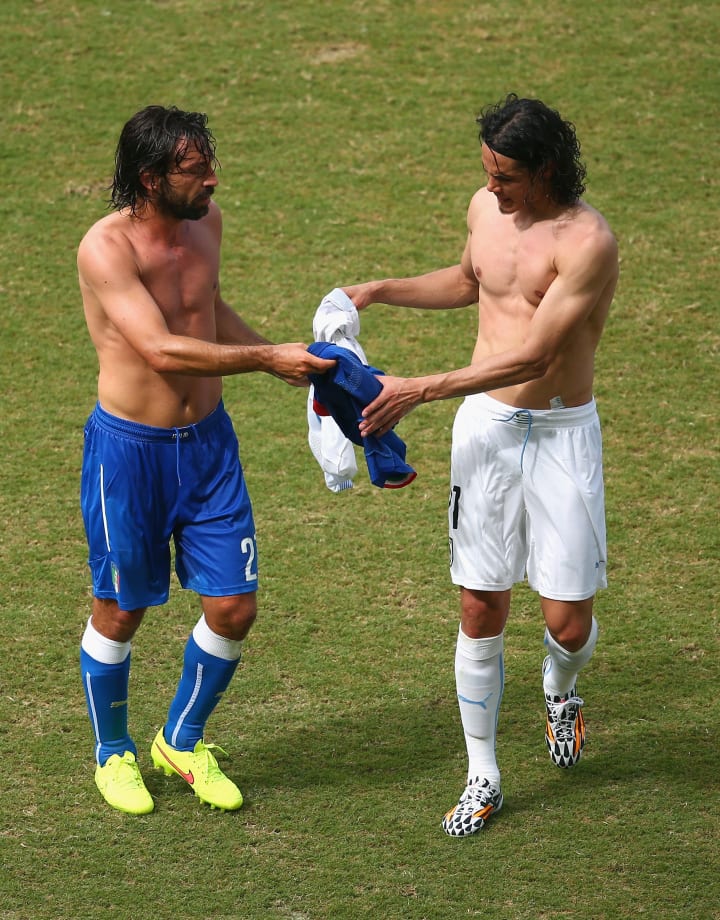 I hope that trading shirts remains a part of the soccer's fabric for the foreseeable future. Simply put, it possesses important lessons that all people, even those who don't play the sport, can learn from. It teaches respect for others while at the same time reminding you that, win or lose, it's important to show class, dignity, and humility. Just make sure you wait until the game is over before you or any other soccer players swap their jerseys with the other team to be on the safe side.
About the Creator
Huge sports fan, primarily hockey and football. Also a big TV and movie fan. Recent Marist graduate writing about whatever interests me!
Reader insights
Be the first to share your insights about this piece.
Add your insights