James Massey
A former footballer with Sheffield Wednesday and an FA Cup Winner.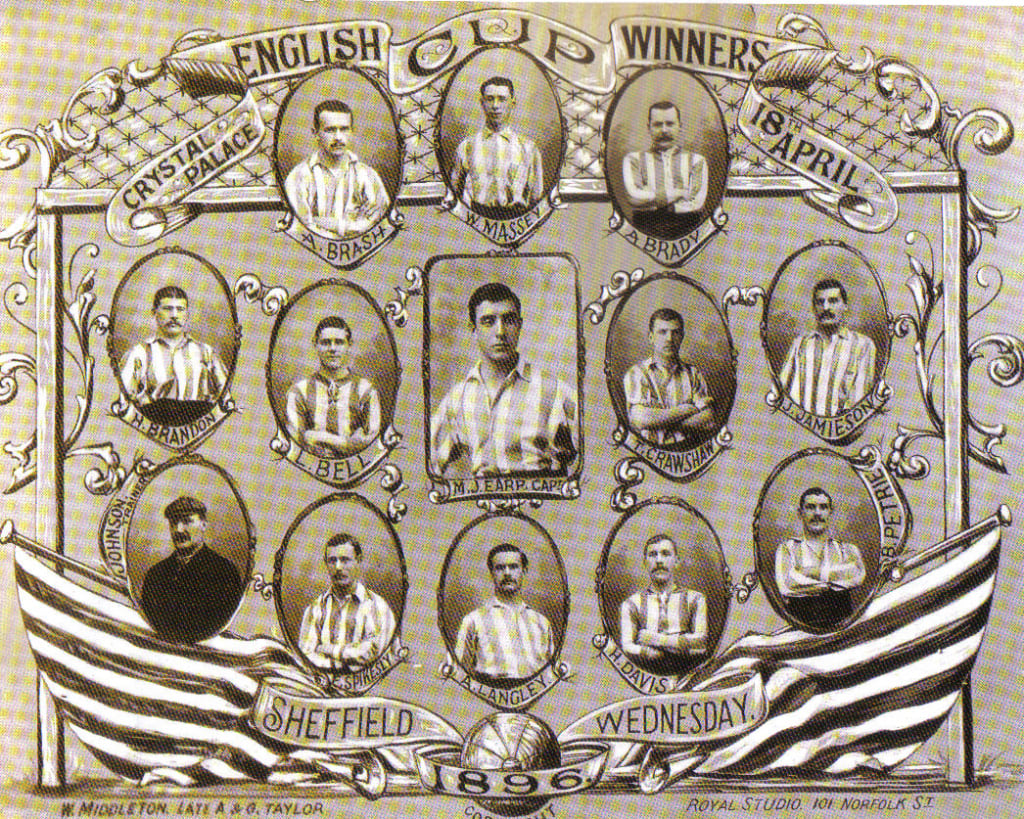 James Massey started his football career at Doncaster based football club Denaby United, before moving to Sheffield Wednesday via Doncaster Rovers. He was originally spotted by a club official who, in turn, recommended him to the Sheffield club; the official had been refereeing a game at Loughborough at the time. He persuaded Wednesday to take the 24-year-old on their books and he went straight into the reserve side, which applied their trade in the Yorkshire League. He was a regular in the second string until January 1896 when his first-team break arrived.
Before their game against Aston Villa in January 1896, regular keeper, Bill Allen complained that he was unable to walk, and thus allowing Massey to shine. He took his opportunity well and despite playing at length with a broken finger, he impressed the Owls officials.
Massey had previously already made his first-team debut, this coming against Aston Villa on 3 November 1894 at Olive Grove – The Wednesday won 1-0 with Alec Brady netting the winner in the Division One game.
After impressing in the 3-1 defeat to Aston Villa on 18 January Massey found himself first choice keeper for the next four and a half seasons. He was a master in the box had he often found himself frequently injured in a time when keepers could easily find himself bundled into the net by an opponent without the protection which is often received by today's officials.
However, he would also regularly rise to the occasion as one of the most formidable keepers in the country – this was demonstrated when reporters said that Massey was on the receiving end of a mass onslaught from the Wolves strikers as they attempted to find an equaliser in the 1896 Cup Final – which Wednesday won 2-1. The keeper would have been heavily rewarded; research suggests that during the mid-1890's Sheffield Wednesday players would receive a bonus which grew by 20 shillings (£1) for each round of the FA Cup they won.
In 1893 a writer in the 'Athletic News Football Annual' claimed that on average the then modern-day footballer earned 60 shillings (£3) per week during the winter months and 40 shillings (£2) in the summer. It is also reported that Tom Brandon, who applied his trade at Blackburn Rovers and an England international took home a staggering £4 per week in 1896.
Massey played in the final game at Olive Grove and then the first 29 games at the new Owlerton Stadium (later renamed Hillsborough), whilst most importantly helping Sheffield Wednesday to the Second Division title in 1900 whilst maintaining a record of no losses at home.
Eventually, he was on the wrong end of too many knocks and gradually lost his place to (initially) Frank Stubbs and then to the invincible Jack Lyall. Sadly, he missed the whole of the 1901-1902 campaign due to injury.
It was believed that the main stint of his injuries came in the ferocious battles with Sheffield United in the FA Cup. The Owls were drawn against the Blades in February 1900, on the 10th they drew 0-0, with the game abandoned after 50 minutes due to snow. Seven days later they drew 1-1 and the Owls lost the second replay 2-0, without Massey in goal.
The 1898-99 Division One season is a campaign in which the Owls would soon rather forget; they finished eighteenth with 24 points to their name. They didn't win one single game away from home, and to add further humiliation they were hammered 9-0 at Derby County. However, one game of note that is worth mentioning was the encounter against the league Champions, Aston Villa. Wednesday took to the field on 26 November where the game was stopped after 79 minutes of play, owing to falling light, and with the score locked at 1-1 – the Football Association committee didn't feel it was necessary to replay the game again in full and demanded the remainder of the game continue. The final eleven minutes was completed on 13th March, with Wednesday completing a 4-1 victory. In all, 29 players were used by both sides in this unique fixture, and as substitutes weren't allowed in those days with each team changing line-ups in effect you could say this was the first game in which substitutions were made.
Having fallen from grace, they did, however, bounce straight back, winning promotion at the first attempt. They did it with style by winning the league and tasting defeat at home- turning Hillsborough into a fortress.
Massey's final game for the Owls came in an FA Cup encounter on 9 February 1901, against Bury in a 1-0 defeat. Ironically, his last game in the Football League was also against Bury 28 days earlier, again at home they were defeated by two goals to one.
Legend suggests that Massey had left the S6 club with ill feelings. Though unconfirmed, allegations suggest that he was taking bribes and would profit from allowing the opposition to easily score – allegations which he flatly denied. He reformed his career after leaving Wednesday, rejoining his former club Denaby United as an amateur whilst working at the local pit.
Whilst he was approaching his 40th birthday, he was playing for South Kirby Colliery, the Doncaster side. Later in life, Massey was a victim in an incident whilst working at Barnburgh Colliery which resulted in the loss of an eye.
He died in December 1960 in Mexborough, Doncaster at the grand old age of 91 years old. He was the last serving member of that glorious 1896 side to pass away. He was considered inconsistent when he first joined Sheffield Wednesday but on his day he was more than a fine goalkeeper.