Is James Ward-Prowse the most underrated free-kick taker of all time?
Why James Ward-Prowse is constantly producing magic from free-kicks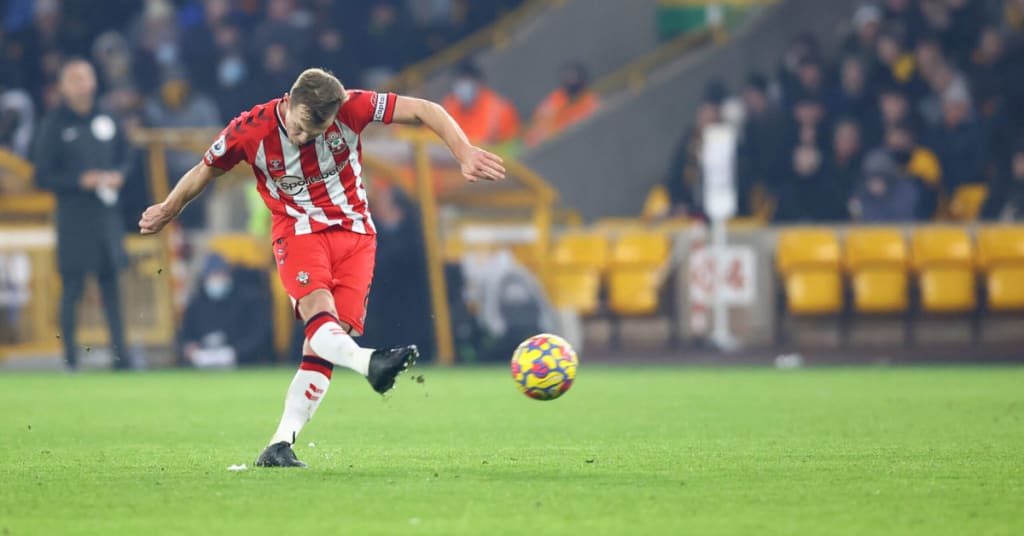 Photo © Pixabay
Premier League and league football, in general, are back. There were the first matches played after the world cup. A strange feeling since a major competition was held in the middle of the season. Nonetheless, that didn't stop Southampton's star James Ward-Prowse from producing another magic against Fulham that needs investigating and rightly puts forward a question from the title.
Southampton is having a dreadful season. When I am writing this story they sit at the bottom of the Premier League table.
To be completely fair, we all knew that they will have a difficult season. A season when they might have trouble staying up. Despite their past success of being labelled as a solid mid-table club if not even more.
Not enough qualitative recruitments in the summer, some injuries of important players, and a questionable first-choice goalkeeper … all added to the fact that their academy didn't produce any stand-out players lately.
In the beginning, Ralph Hasenhüttl took advantage of knowing a team to every detail and Southampton managed to pick up point after point.
But even he didn't have a magic wand. Even he wasn't able to deal with a poor squad.
Nevertheless, despite his dismissal things weren't getting any better. In fact, it's easy to say that it got even worse for Southampton.
However, why should we just look on the dark side? There is something within Southampton's team that is worth paying attention to.
When looking at the squad, there is obvious thing that James Ward-Prowse is the best player there. When fantasy managers decided who to pick, only he was a tempting choice.
On a pitch his leadership is breathtaking. Not just in terms of personal performance but in a way of behaving and positively affecting his teammates. Every team should deserve to be led by a such captain.
But that isn't something that got me really excited. It was his free-kick speciality. Let me explain why.
James Ward-Prowse has now scored 15 direct free-kick goals in the Premier League. He is only 3 behind all-time leader David Beckham and well clear of any other potential threats from behind.
Since he is "only" 28, Beckham's record is rightfully in danger. Even if Southampton is relegated, there is hard to believe that James Ward-Prowse won't be playing Premier League football in the future.
Southampton's skipper swerve on the ball is almost perfect if not so. You can see that when he takes corners and free-kicks on the side.
However, long gone are the days when that was enough to be a free-kick specialist. When a team receives a free-kick in the danger zone (somewhere between an 18-yard box to 32 yards) a wall of 4–6 players is immediately formed.
In addition, one player also lays down on the floor, a yard behind the wall, so that a shot doesn't go underneath it or through the legs of players standing in it.
Moreover, a wall can therefore jump as much as it can when a shot is fired making a free-kick taker's life even more difficult.
But that's not all. From the last season on, free-kick taker's teammates can not be located near the wall. That was a common case in the past for blocking a goalkeeper's view.
It's true that there is a creative way of doing something similar if players move closer to the free-kick taker so they do not break the rule but trust me. I've been there. This new rule drastically helps goalkeepers who can now more freely focus on their corner of the goal.
So, where is the potential to even score from the direct free-kick? There is. And James Ward-Prowse is making the most of it.
As mentioned he has enough swerve on the ball. He does generate enough power on it. His teammates do help him in trying to block the goalkeeper's view as much as they can. His accuracy is insanely precise. What's left?
The dip of the ball. His shot technique is so inspiring that the ball dips just enough. Not too late, not too soon. Once the ball is well over the wall and right before the goal line. With, of course, everything mentioned above.
Just watch his free-kick goals and be amazed. How on earth does he do it? It's obvious that he places the ball on the floor precisely how he wants it.
It's obvious that he hits the ball with a specific place on his foot. It's obvious that his type of football boots are helping him. But more details remain hidden (in his football feeling).
How everything defines such perfection will probably be revealed by himself when he retires. Or not. That's up to him.
For sure that will be another theme to be discussed by football pundits who played top-level football. Until then, let us all enjoy watching James Ward-Prowse taking free kicks and opposition players getting frustrated when committing fouls around the box.
Reader insights
Be the first to share your insights about this piece.
Add your insights