If Mbappé leaves Paris Saint Germain he will make a big mistake
Mbappé's dream is Real Madrid
Kylian Mbappé Lottin is a 23-year-old player because he was born in 1998, who defends the Paris Saint Germain team and his country's national team.
Mbappé signed with Paris Saint Germain in 2017 on loan initially and was only bought out definitively in 2018 for €180 million, becoming the second most expensive player in history and at the moment he is currently the third-highest scorer in Paris Saint Germain history.
At the 2018 World Cup, Mbappé became the youngest French player to score in a World Cup, as well as becoming the second teenager, after Pelé, to score in a World Cup final. He was the top scorer for his national team, along with Griezmann, in winning the Cup, and he received the awards for Best Young Player of the Cup and French Player of the Year for his achievements and this is incredible.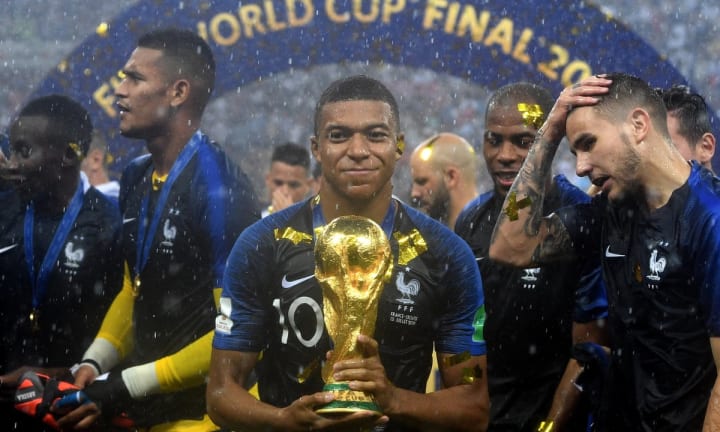 But will it be a good decision for him to leave the Parisian club and go to Madrid?
In this story I want to share my opinion, maybe you agree and maybe you disagree, which is very normal, but in my opinion, he will be making a big mistake and let's get to the facts...
Mbappé has publicly stated several times that he was always a big fan of Cristiano Ronaldo and that he always wanted to have a career like Ronaldo when he was playing for the Madrid club, so it is clear here that Mbappé is a Real Madrid fan, that's where his idol made the world respect him so what would be the best club for him to make history?
Although Real Madrid is one of the best clubs in the world but is it like that until today?
The Paris Saint Germain team has a squad that would suit Mbappé better and I can not see that in Real Madrid, apart from the fact that Luka Modric is still in the squad, Tonny Kros idem, but they have little time at the club and Real Madrid wants Mbappé for 6 seasons, who would Mbappé be served by?
The big problem for Real Madrid is that many players who go there intend to be the star of the team and with Mbappé it would be no different because he wants to be at a club where he is the guy, it was like that with Neymar, when he left the Barça went because he was tired of living in the shadows of Messi and Mbappé was already in the shadow of Neymar and everything got worse when Messi joined the Parisian squad.
So in my opinion, neither Barcelona nor Real Madrid is the teams they once were, they've gone down a lot and if Real Madrid still manages something today it's thanks to striker Karim Benzema, this is a real number 9, finisher, at this moment he is the guy on the team, and yes he is one of the influences for Mbappé to join the Madrid club.
But even Benzema has little time at Real Madrid, for about 2 seasons and here is the question, from the news you can know how Real Madrid is putting together their starting 11 and will not be such a competitive squad and having Mbappé will only make them carry the team in the back.
Was Mbappé making the right choice? Maybe yes, maybe not, only the future will tell us, because I can not see Real Madrid at the level I was, many teams today are going down the level so we can only respect Mbappé's choice and hope that he wins wherever he goes.
About the Creator
I'm a young dreamer who seeks to make many dreams come true, one of them is to make a living from writing, I love to write about everything, including the things I love the most, so stay here, maybe you'll identify with me.
Reader insights
Be the first to share your insights about this piece.
Add your insights