Huddersfield 0-3 Liverpool: Stats Review
Liverpool won at Huddersfield with minimal fuss, but some interesting statistics merit a closer look.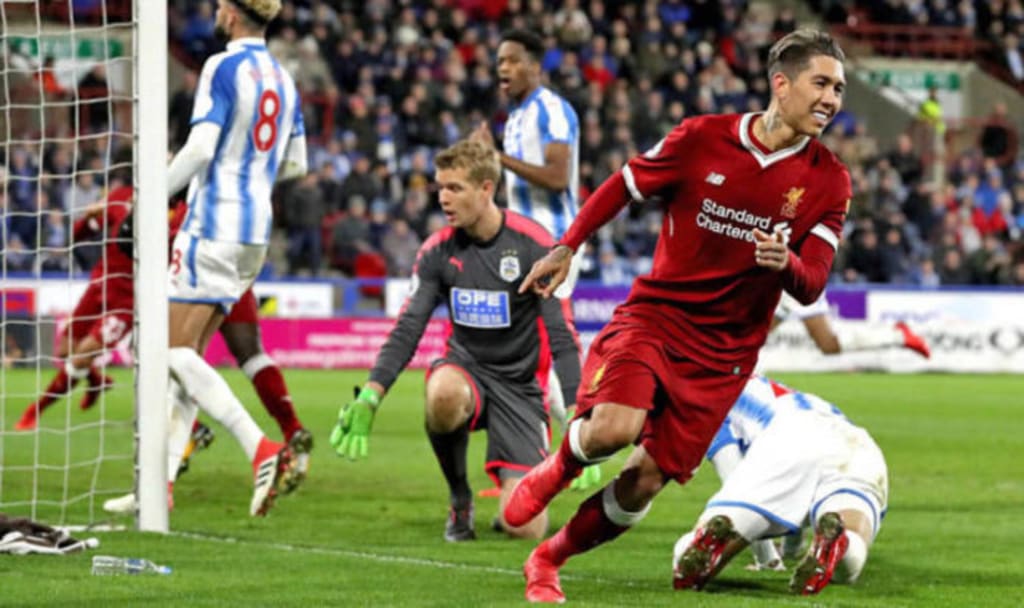 Roberto Firmino celebrates after putting Liverpool 2-0 in front.
Sound the church bells! Liverpool had a lot of possession away from home, and won! This has been all too rare an occurrence in recent times. Prior to this match, the Reds had played 46 away matches in the Premier League under Jürgen Klopp. Those games split almost evenly between Liverpool having less or more than 59 percent of the possession.
In the 24 games where they had under 60 percent possession, Liverpool won a very impressive 51 points. That equates to 2.13 per game, or 81 over a 38 game season.
By contrast, when having at least 60 percent possession, Klopp's team had taken just 28 points from 22 matches, or 1.27 per game. That's not quite relegation form, but it's certainly mid-table, at best.
Liverpool's goal difference on the road had been +22 since Klopp took charge. Only three goals of that came from matches where the Reds had over 59 percent ownership of the ball. Liverpool literally doubled their goal difference in such matches by winning 3-0 at Huddersfield whilst having 75 percent possession.
Most teams aren't foolish, though; they sit deep and let the Reds have the ball. Huddersfield sometimes like to play out from the back, but they took no such chances here.
In fact, they took very few risks at all. Liverpool arrived on the back of two defeats, so shouldn't the home side have tried to get at them a bit more? Huddersfield did have the first decent chance of the match, through Laurent Depoitre, but they offered very little overall.
With far more important matches against relegation rivals to come, perhaps they were saving their legs. Huddersfield came to life a little when Collin Quaner came on, but by then they were already two goals down and it was well into the second half. It was too little and too late against a dominant Liverpool side.
The visitors took possession to new levels. The Reds completed 811 passes, which is just 33 shy of the Premier League record, and Joel Matip attempted 161, which is the most a Liverpool player has mustered since records began.
David Wagner won't have minded the opposition centre-back having the ball. Emre Can and Sadio Mané having it enough to create four chances each will have bothered him, though. The latter's pass to play in Firmino for the second goal was one of the highlights of the match.
It was Can who was technically the more creative of the two, though, as he created two clear-cut chances. These are defined as "a situation where a player should reasonably be expected to score usually in a one-on-one scenario or from very close range."
Creating two in one match is a reasonably rare event. It has happened 56 times in the Premier League so far this season, meaning that it occurs roughly twice a week on average. Though with 220 players starting each week, plus substitutes, the percentage of players who achieve this particular benchmark is obviously pretty small.
A Liverpool player has met this mark eight times in 2017/18. What is particularly unusual is that no player has done it more than once, and it has also been done by some of the squad's lesser lights and/or defenders.

Notice also how this has happened more times away from home than at Anfield. In three of those four matches on the road, Liverpool had over 60 percent possession, so it's not that they don't necessarily create golden opportunities in those games.
Soccer is always tough to analyze with statistics. On the face of it, this was a far better performance than Liverpool put in at Swansea when losing a week ago, yet on the numbers, that was the superior showing of the two. Jürgen Klopp will just be thankful his team's losing streak is over ahead of their meeting with Tottenham this weekend.