How Soccer Cleats Should Fit
Understanding how soccer cleats should fit can improve how well you play.
Image via Nathan Rogers/Unsplash
Your soccer cleats should fit like a natural extension of your feet. With your feet being your most valuable asset on the field, you'll want to be sure they are comfortable, secure, and even safe. Wearing ill fitting cleats can harm more than just the game; it can ultimately lead to injury, as well. Complete range of motion is a must, as is flexibility. From the shape of your cleats to the placement of your laces, you have to consider several factors before you commit to a soccer shoe.
The length of your soccer cleats should fit properly.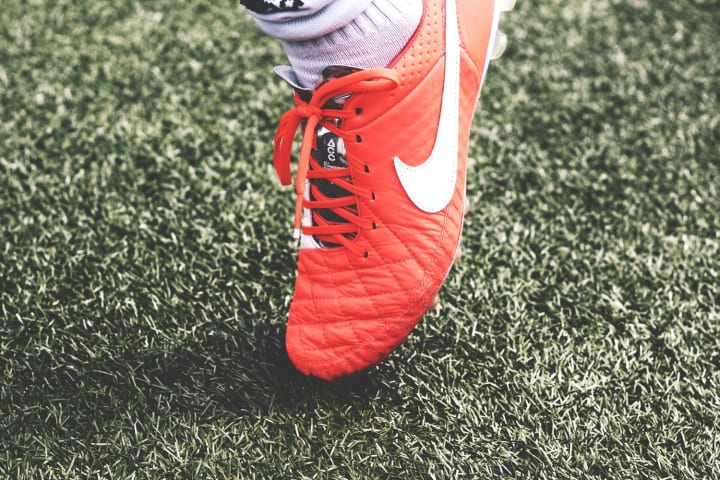 Don't go thinking that soccer cleats should fit like any other shoe. Cleats have to conform to the feet and support the ankles. That being said, length is a crucial factor in the fit of your cleats. To be a successful soccer player, you depend on your feet. Speed, dexterity, and fluidity are all musts. In trying on cleats, make sure that the shoe is almost the exact length of your foot. The idea is to ensure the cleat fits close to your toes, but never touches. You need some wiggle room, but not much. A shoe that's too large results in problems, such as slippage and blisters. This is also why you should wear socks as you try on new soccer shoes. Since cleats are narrow toward the toe, you have to make sure you have enough room for your whole foot to fit.
Pay attention to the width of your cleats.
Soccer cleats should fit correctly with regards to width, as well. You see, the majority of cleats are one-size-fits-all width-wise; but as we all know, one size rarely fits all, and that goes double for shoe size. It's possible to find cleats designed for wider feet, but you'll have to do some digging, and may want to take your search to the best soccer cleats for wide feet you should buy. These soccer shoes will have a serious impact on your game, but beyond that, the only thing you can do to ensure your shoes fit is to break them in before you hit the field. Walk around in them as much as you can. Do it at your own house. Consider wearing thick socks as you do so, just to provide a bit of stretch.
Check the ankle height.
Soccer shoes reach two ankle heights. There are low cleats and mid cleats. The former provides a broader range of motion because of their low profile. The latter offers more protection than low cleats. With mid-profile shoes, there's less risk of ankle sprains, which make the best soccer cleats with ankle support a necessity if you want to ensure a longer playing career. Try on a pair of cleats in both categories. What you choose depends on what you like, each shoe has benefits for different positions.
Choose the right material.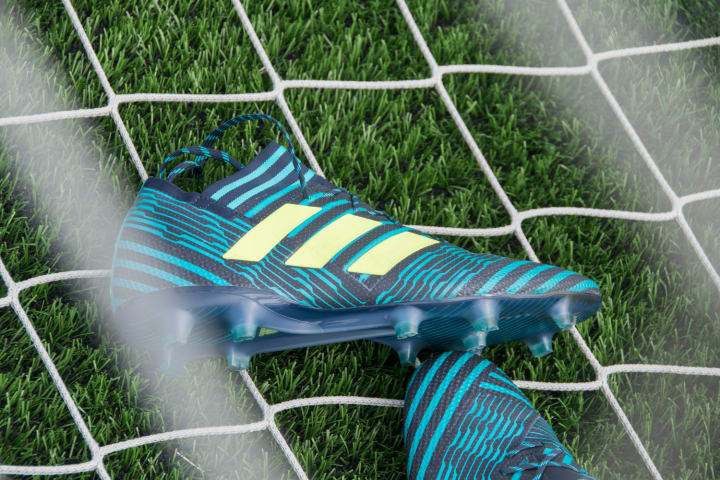 You might not think the material will affect the way your shoes fit, but it does. Your cleats might fit perfectly, but if the material doesn't feel good, then it doesn't matter. Because soccer cleats should fit almost like a second skin, the fabric has to feel comfortable and encourage movement. The ideal cleat is exceptionally lightweight and thin, but also durable. Most importantly, the perfect shoe conforms not only to your foot, but also to the soccer ball.
Kangaroo leather, or K-leather, is the traditional material for cleats. It's supple and comfortable to such a degree that you don't have to break in the shoes before you play a game with them. Full-grain leather and cowhide are commonly used, too. They don't offer as much range of motion as K-leather, but they're sturdier and more durable.
Genuine leather cleats aren't waterproof, which can pose a problem. For that reason, some players opt for synthetic leather. The material is usually breathable with a comfortable fit. Cleats made of plastic-based synthetic fabrics tend to be lightweight, long lasting, and waterproof. Knitted soccer cleats are making their mark these days, as well. The surface is textured, which gives you more control of your kick, as well as more traction when you run.
Think about the playing surface.
The playing surface makes all the difference. You can't wear cleats meant for a hard surface when you're playing on grass. Some players choose to buy a pair of soccer cleats for every possible surface. It's helpful for people who play on any available field. Alternately, think about shoes with detachable cleats, so that you have more control over where you play. Versatility is the word with sporting equipment. Otherwise, base your pick on where you play most often.
Explore different types of cleats.
Now, let's talk about the assortment of cleats available. Players who prefer playing outside on the grass need cleats for firm ground. Hard ground cleats are necessary for equally hard playing surfaces, such as a packed dirt field, as they sit on the soil rather than sinking into it. For indoor play, go with indoor soccer shoes, which resemble sneakers and don't actually have cleats. Soft ground cleats are among the best soccer cleats for playing in the rain, as they offer additional traction for swift play on these muddy, soft surfaces. The cleats themselves are typically made of metal. Finally, cleats for turf and artificial fields are cone-shaped and can work well on harder surfaces, as well.
What's your stud pattern?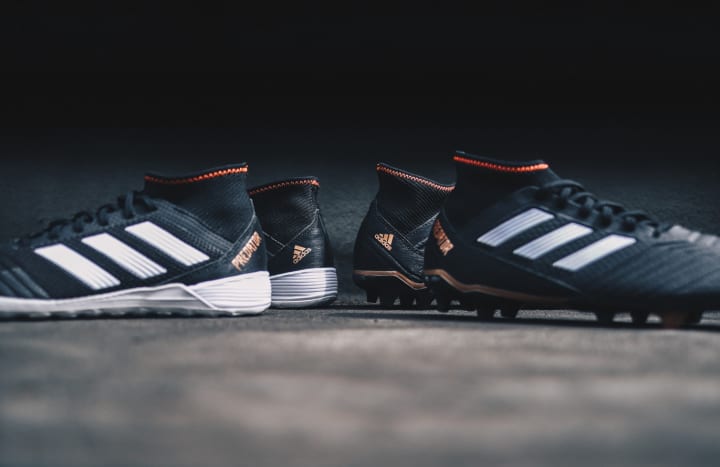 The pattern of studs, if they exist at all, don't necessarily change the way soccer cleats should fit, but they affect the way you play. Conical cleats have round bottoms that aid in flexibility and range of motion. Sharper studs that resemble a blade grow thinner towards the toe. Made for softer surfaces, they help you to dig in and get more traction. Unfortunately, they can impede movement to an extent because it takes more effort to pull them from the pitch. If you want a versatile shoe that works anywhere but don't want detachable cleats, choose a pair designed for firm surfaces.
Do you want better grip or more dig?
Here's why it is essential to choose the right stud pattern carefully. Again, the studs don't affect the way soccer cleats should fit, but they nevertheless have an impact. It all comes down to whether you need traction or a grip. Digging into soft surfaces is vital, or else you'll slide all over the field. However, sharp studs can ruin a firm pitch, and might cause you or a teammate to roll an ankle next time around.
Look into lace placement.
Lace placement does factor into how your soccer cleats should fit. The laces aren't always in the center. When the laces lie further right or left, your strike zone automatically increases. The only thing to keep in mind is that cleats with side laces often have a looser fit.
Make sure you find the right shoes for the position.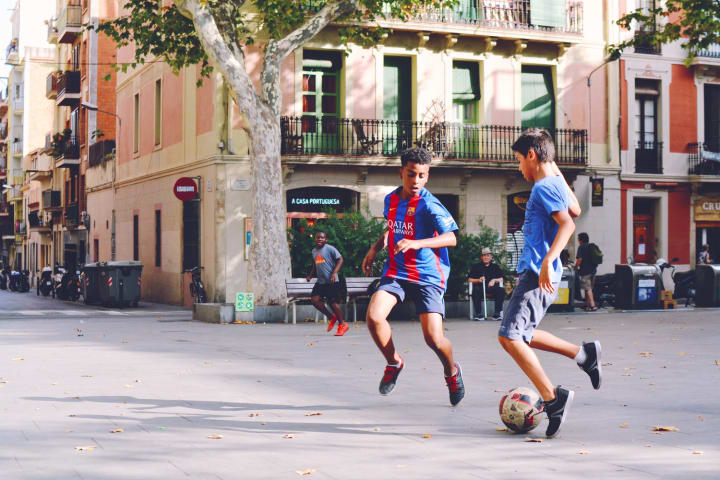 Each position on the field has a pair of cleats that impact the play. If you play defense, you need to protect your ankles. As a winger or a forward, however, flexibility and freedom of movement are more important, and the lighter, the better.
Comfort and flexibility are essential for playing soccer. You need fast feet. Soccer cleats should fit like they're tailor-made for your feet and no one else's.
how to
About the author
I'm a sports nerd that has multiple fantasy teams in every sport. If you want to know who won the championship in any major sport in any year you've come to the right place.