Good Deeds: Marcus Rashford - the conscience of a country
Football and philanthropy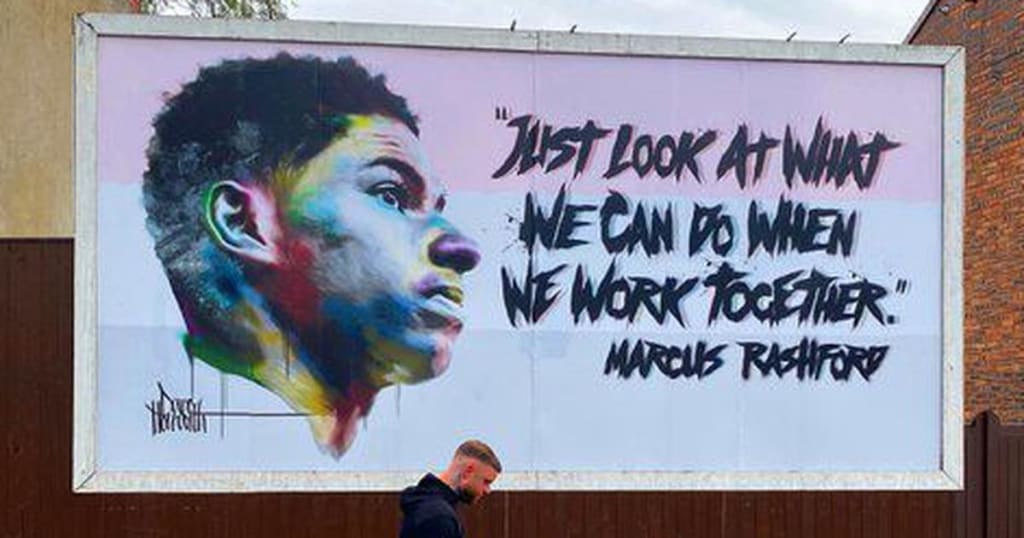 This is Marcus Rashford.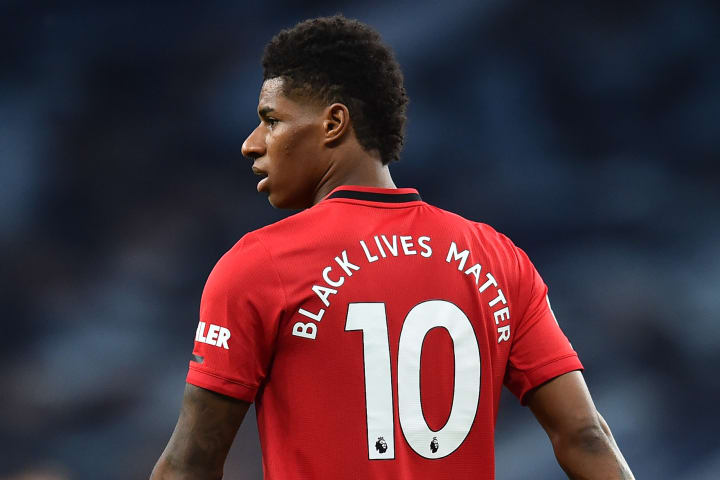 He is a professional footballer who plays for the Premier League club Manchester United, and has also represented the England national team over forty times.
At just twenty-three years of age, he has already achieved some notable milestones: He's scored more than fifty goals for United, and has reached double-figures for the national team; he's won the FA Cup, the EFL Cup, the FA Community Shield, and the Europa League; he scored on his England debut in May 2016, becoming the youngest English player to find the net in his first senior international match; and was the tournament's youngest ever player when he appeared at the UEFA Euro Championship in 2016.
Impressive for someone who won't turn twenty-four until the end of this year.
It's almost impossible to say whether he will be seen as a 'great' player; talent and potential are not always fulfilled. The history of British football is littered with young men who could have gone on to become world beaters, only to find their destinies waylaid by injury, or personal demons.
However, the omens are good. Rashford is quick, hard-working, technically adept, intelligent, and - most important of all - has an eye for goal; the most priceless attribute for a center-forward. As long as he doesn't suffer serious injury, there's a very good chance we'll still be talking about him as a player long after he has retired.
But, if that's proven not to be the case, even if Rashford's on-field achievements aren't discussed in the years to come, we will still be talking about him. For, during a time when many of our political leaders have shown themselves to be incompetent, or morally-skewed, this young footballer from the North-West of England has proven himself to be the conscience of the country.
Whilst the nation's politicians revert to meaningless soundbites, Rashford has spoken clearly, and strongly, about one of the most challenging, and emotionally divisive, issues in the United Kingdom today: Child hunger and poverty.
But, more than that, he's actually done something about it.
So much so that the words 'Good Deeds' are - in my mind - utterly synonymous with name Marcus Rashford.
It started in 2019 when he set the 'In the Box' campaign, which essentially involved Rashford and his mother visiting local homeless shelters and children's homes in the Manchester area to dispense food boxes.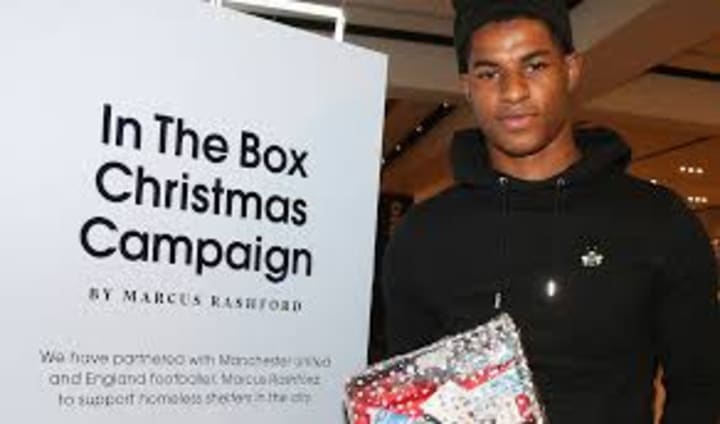 As one of the most maligned members of British society (that of the rich, pampered, elite footballer), such high-profile charitable work is not uncommon. But this wasn't a mere publicity stunt.
Although now wealthy, Rashford grew up in poverty. In fact, given his relative youth, that poverty was a recent memory. This campaign mattered to him.
However, it quickly became apparent that it wasn't enough.
30% of all children in the United Kingdom are now living below the poverty line: To readdress that balance, Rashford needed - and wanted - to do more.
And when Covid landed on these shores, he was given the chance. One he took.
One of the most controversial actions of Boris Johnson's Conservative government during the March 2020 'lock-down' was the cessation of free school meals for children who came from low income families. Ordinarily, those children would be given meals, free of charge, whilst attending school. Given the poverty these children came from, this might be the only meal they received that day.
But, with the schools now closed, the UK government felt no need to subsidize the programme, or to continue helping those families.
Rashford felt otherwise.
Initially, he teamed up with another local charity, FareShare, to deliver meals to children who were no longer receiving their free school meals. At the outset, his involvement was going to simply be a "substantial" monetary donation with the aim of feeding 400,000 children in the Manchester region.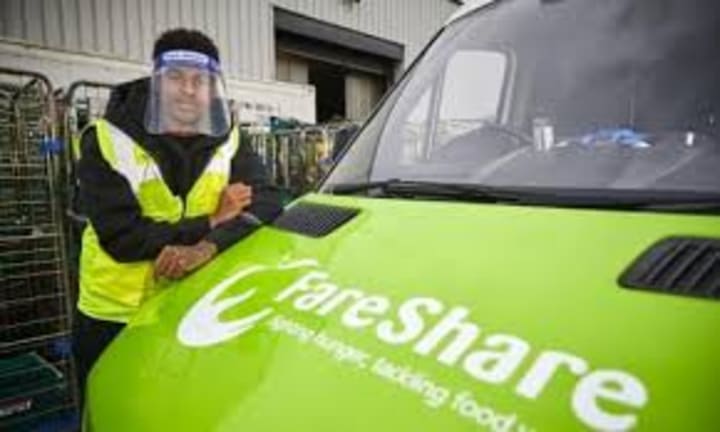 However, after consulting with the charity, Rashford saw the 'bigger picture': Although his assistance would make a huge difference, it wasn't going to be enough to tackle this most pernicious of problems. He wanted to do more. And, as a public figure, he had the power to do so.
Harnessing the power of his following on social media, within a few weeks, FareShare quickly raised over £20 million. And it wasn't about just feeding children in the North-West of England anymore; by June, the charity had fed over three million children across the ENTIRE country. The following month it was four million.
But, it was in June, that Rashford truly entered the public consciousness.
Once again utilizing his considerable social media influence, he wrote an open letter to the UK government calling on them to end UK child poverty.
The response from right-wing commentators was both vitriolic, and expected; who was he, a rich, cossetted sportsman to tell the powers-that-be what to do? Get back to kicking a ball around, young man, and leave this stuff to the grown-ups.
Except...
A few days later, the Conservative government announced a change (i.e. a 'u-turn') in the policy regarding free school meals: The scheme would now be funded. Politicians who had been decrying Rashford as a publicity-seeking, 'virtue signaler' just a few weeks before were now falling over themselves to praise him.
Only he wasn't going to stop there.
In September, Rashford announced that he had set up the 'Child Food Poverty Task Force.' Working in collaboration with several UK food shops, manufacturers, charities, and delivery companies, this charity has already helped more children in need in a few months than the government has done in years.
It is a 'Good Deed' writ on the largest scale imaginable.
And he's still going.
He's is continuing to lobby the government (during Prime Minister's Questions a short time ago, Boris Johnson said Rashford was a more effective opposition than the actual Leader of the Opposition, Keir Starmer); he is working with more local and national charities to ease child poverty...
And he's still playing for Manchester United, and still scoring goals.
Marcus Rashford is a commendable, admirable young man. A supremely talented athlete whilst on the pitch; and a morally-virtuous individual off it. During a time when a global pandemic has left many families without an income, and struggling to feed their offspring, he has used his considerable fame for good, to help put food on people's tables.
Millions have benefited from his words, and actions. And he has pricked the conscience of the nation, forcing us to face a problem that, as a first-world, developed country, we'd rather pretend didn't exist. If we're discussing child poverty now, it's in no small part due to Marcus Rashford.
In fact, I'm not even sure 'Good Deeds' begins to even cover it...
I don't think it even comes close.
----------------------------------------------------------------------------------------
If you've liked what you've read, please check out the rest of work my on Vocal.
You can also find me on Elephant Journal and The Mighty.
If you've really liked what you've read, please share with your friends on social media.
If you've really, really liked what you've read, a small tip would be greatly appreciated.
Thank you!