The Special One
The Wonder that is Jose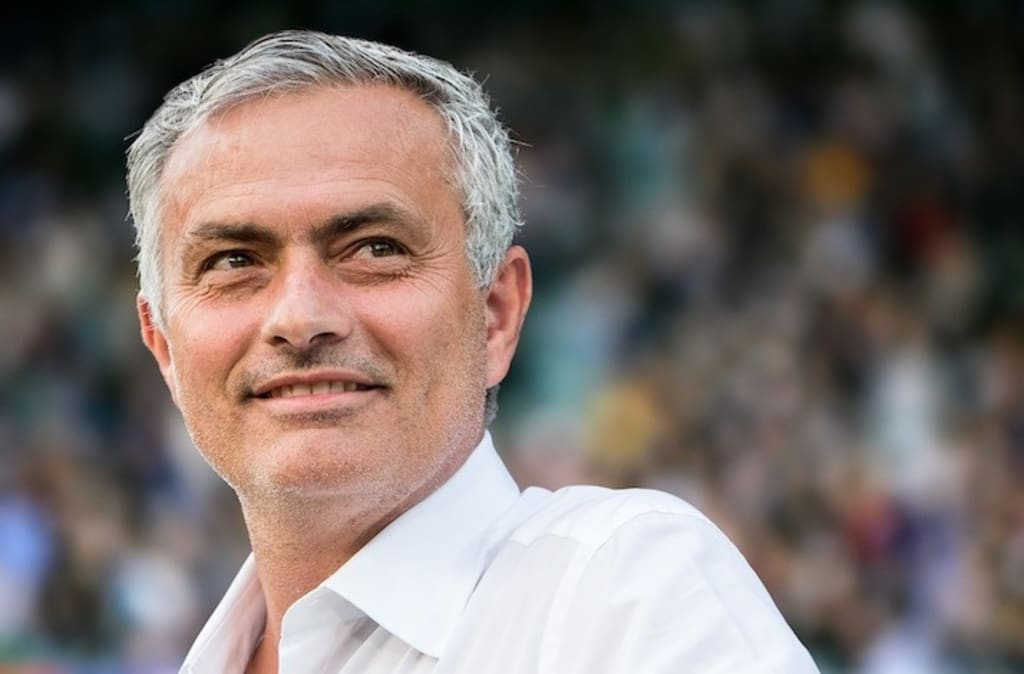 For those of you unfamiliar with European football, Jose Mourhino is the current manager of Tottenham Hotspur, one of the English soccer's most historic clubs.
In their 138 year history, Tottenham have won a total of 24 trophies. Considering the relative strength of the Premier League, and European Club competitions, it's not a bad haul.
However, in a managerial career spanning just 20 years, Jose has won 25.
25.
It's no exaggeration whatsoever to say that he's one of world football's most successful coaches.
Regardless of your personal opinion of him, when the pantheon of great football managers is finally built, Jose's place is assured.
However, just as wonderfully, in a sport where the coaches can often have the charisma of a lawn-mower, Jose is a class-apart. Even when he's being miserable (which he can be, a lot), he's good value.
He's box office. Sometimes his teams are as well.
But, even if they're prosaically dull, he is always entertaining. In fact, he can often be the most intriguing part of a game. However, sensing Jose, he wouldn't have it any other way. It's why I love him. He's an unrepentant showman. And if the game itself doesn't deliver, then his press conferences normally do.
And they did so even from the very beginning.
When the billionaire Roman Abramovich purchased Chelsea football club in the early 2000's, he spent millions of pounds in assembling a world-class team. However, his shrewdest signing was the manager he hired; the Portuguese Mourhino. Under his stewardship, Chelsea become a winning-machine, picking up trophies for fun.
However, the fireworks started before a ball was even kicked. In the very first press conference he gave (one that has since become part of British football folklore), Jose told the media, that he was "The Special One."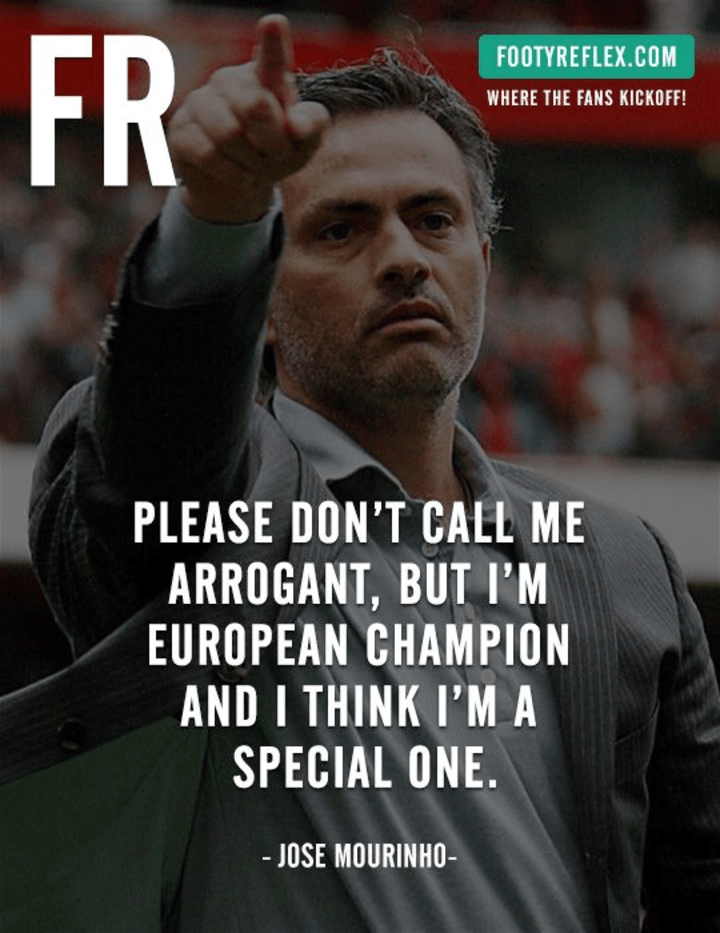 Now, the British sporting media love a soundbite; Chelsea's new boss had given them one they could dine out on for days (in fact, over a decade on, they still are). However...
He also had a point. His claim wasn't as ridiculously boastful as it first appears. (Well, of course it was ridiculously boastful - it's Jose.) But there was validity.
Because he had just won the Champions' League.
With Porto.
Now, Porto aren't minnows; they had a long history, and their players weren't too shabby. But, compared to the gargantuan sharks that had made Europe's top prize their Holy Grail, Porto wining that trophy was some achievement. Even more so when you consider they outplayed some genuine European heavyweights en route to the final.
It was the kind of thing only Jose could do.
Oh, and they also won the domestic Portuguese league.
Just as they had the year before. (Which they had won with a new club record number of points.)
When they'd also won Europe's 'second' competition, the Uefa Cup.
Was Mourhino being arrogant? Perhaps - he's not exactly the poster-boy for humility. But, I'll be honest: If I had those achievements on my resume, you can bet I'd be calling myself "The Special One." Well, to myself, at least. I wouldn't actually say it aloud: Only Jose could introduce himself to British football that way.
However, having done so, now he had to deliver.
Which he did.
Yes - the Chelsea team he managed had a spending power few could match. But, having money and spending it wisely are two different things. Jose did both. In that first season he bought Ricardo Carvalho, Paulo Ferreira, and Didier Drogba. There haven't been many defenders as cultured as Carvalho, nor few as consistent as Ferreira. As for Drogba? On his day, the Ivorian forward was unplayable, and bullied opposition defenders for fun.
As did the rest of the Chelsea forward line: Duff, and Robben, ably supported by Frank Lampard in midfield.
That season Chelsea won their first league championship for 50 years, breaking a range of records in the process.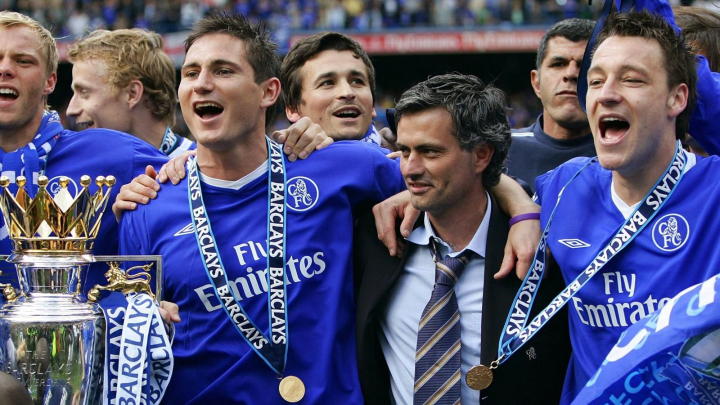 They also won it the following season as well.
So far, so special.
But it wasn't just on the pitch Jose was winning fans.
He'd calmed down a bit since that first day in front of the press, but his dealings with the media were still good value. He was charming, funny, intelligent, and - when he wanted to be - fantastically spiky. Up to this point, Alex Ferguson was the undisputed master of getting under the skin of opponent coaches with a few well-aimed barbs - Jose became every bit his equal (just ask Arsene Wenger).
And then there were the stories: Legend has it that, having been banned from the dressing room due to being sent off in a previous match, Jose hid inside a laundry trolley, and was smuggled into the changing room to deliver the half-time team talk. Motivational lecture delivered, he was smuggled out the same way.
I mean, c'mon - that's fantastically absurd.
And then...
Chelsea didn't win the title the following season.
However, that blow was softened by Jose and his boys winning both (both) domestic cup competitions. Still pretty special.
Anyway, Chelsea spent big in the summer (again), and everyone was looking forward to them making another tilt at the title the following season. Except...
Jose left the club. Whilst that next season was still in progress. This was massive news at the time; it was actually the lead segment on the national news. The official line was that he'd left by 'mutual consent' but - honestly - no-one was buying that.
The Chelsea owner was a ruthless oligarch; its manager a non-too modest showman. Given the size of the egos involved, it's amazing they hadn't killed each other before this point.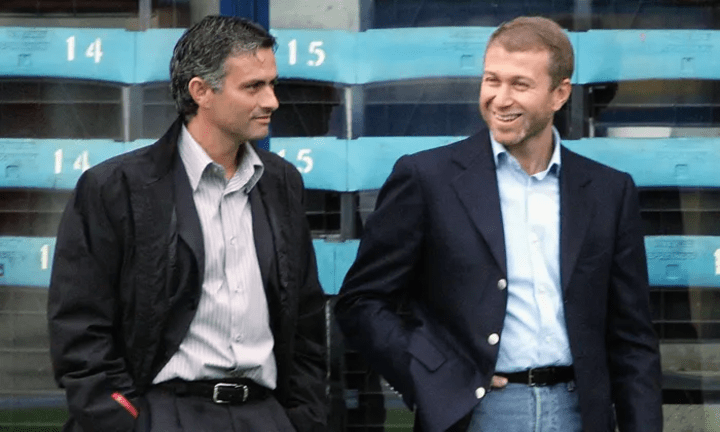 The chances are it was a straightforward battle for supremacy; unfortunately for Jose, Roman owned the club, and he didn't. Really, there was only ever going to be one winner there.
Granted, Chelsea weren't in the best of form when Jose walked, but they still had a great squad; despite not yet reaching the standards of the previous seasons, it wouldn't have surprised anyone if the team had turned it round.
They didn't, and finished without a trophy.
The following season, Jose surfaces in Italy as manager of Inter Milan. Where - surprise, surprise - over the next few years he wins things. Namely, the Champions League - the biggest of them all.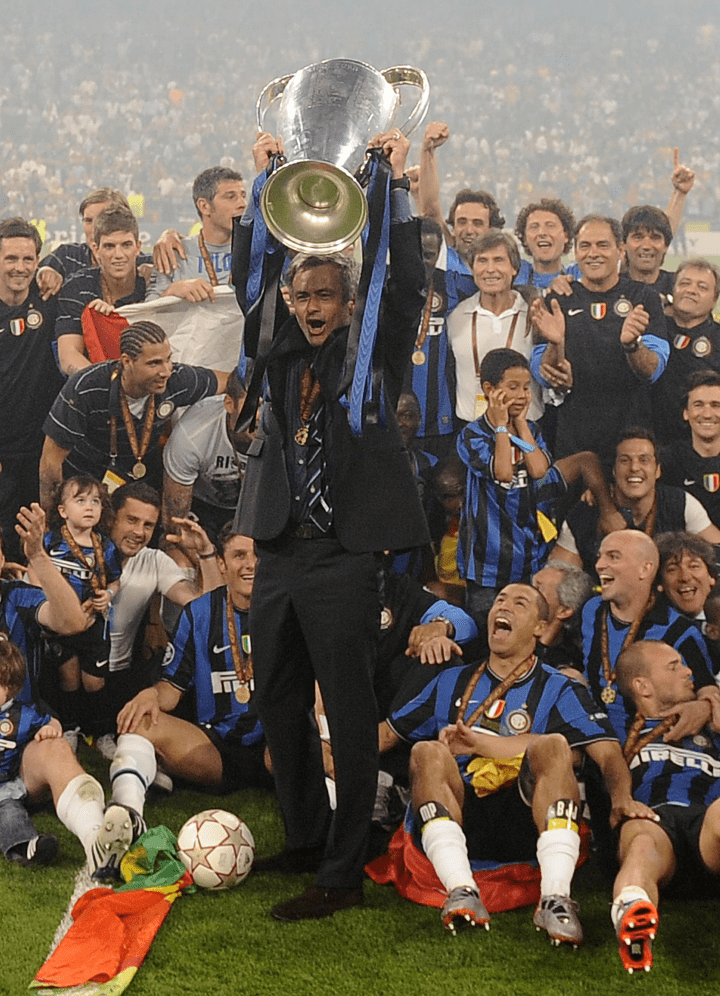 However, a pattern seemed to be emerging. A brief, but stellar, trophy-laden few seasons, followed by a swift departure.
No sooner were the Inter fans dreaming of a Mourhino-inspired dynasty, then he was off. There was no acrimony with his departure here: Real Madrid wanted him, and they had pockets deep enough to buy out his contract.
But, the same pattern emerged: Win some trophies, then, 'goodbye.'
However, now the murmurings were beginning to grow louder. Given the size of his ego, annoying club owners must come naturally to Jose. But, antagonizing the players was a different matter. Whilst at Madrid, there was talk of discontent. Now there was talk he'd 'lost the changing room.'
When he left, no-one was surprised.
However, such talk didn't deter the Chelsea owner from appointing Mourhino for a second stint.
The club won things (what a shock), but..
Well, Jose had changed.
The champagne football from his first era was gone. It wasn't awful, but, even as a Chelsea fan, I didn't always eagerly anticipate a match. It was a lot more defensive, a lot more cautious. Quite frankly, it bordered on dull at times. As did Jose.
The sparky, charismatic, witty, suited and booted Mourhino was replaced by a grumpy middle-aged man who wore a tracksuit a lot.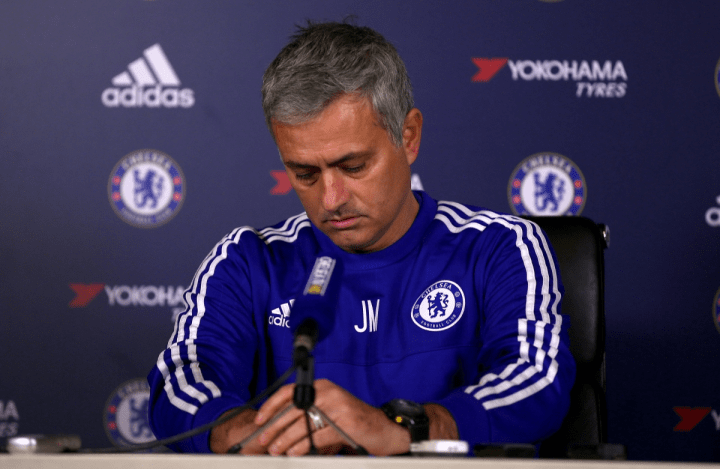 It was all a bit disappointing.
The end, when it came, wasn't a shock this time.
Chelsea fans who'd been traumatized with his first departure, accepted his second with a shrug of the shoulders. He had by no means tarnished his legacy (to be fair, his first time at the club was a glorious period, the most successful in their history; it's doubtful he could have soiled that even if he'd sold Cech, Terry, and Lampard, and then walked around every match-day naked except for an Arsenal scarf around his neck), but he certainly hadn't enhanced it.
Chelsea fans will always be grateful to Jose, but most don't mind if he never returns to the club as coach.
Manchester United were next, a club that, steeped in history, and trophies, really, really, should have been the perfect stage for Mourhino. It should have been ideal. Except the timing was all wrong.
He was who the club should have appointed directly after Sir Alex Ferguson's golden reign.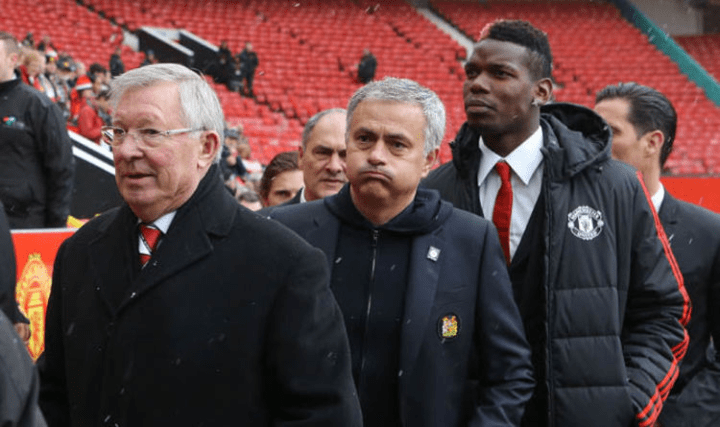 Not only was the Scot a master tactician, and motivator, he was also a force of nature. He was always going to leave a huge void at the heart of Old Trafford, and following him was a tough ask. Jose was one of the few with enough personality to have been able to.
As it was, he was the third to try and follow the legendary Ferguson. United weren't a terrible team, but they'd regressed under the previous two managers who'd both found Ferguson's shoes too big to fill.
However, there were signs the slide was going to be arrested. Given Manchester City's newfound wealth, a revitalised Chelsea, and a Liverpool team that was slowly beginning to echo ones from its own illustrious past, United were never going to win the title. But two trophies in his first season was way more than could have been expected.
As was finishing second the following season. The football wasn't always scintillating, but it was mighty effective.
But, as it prosaic as the football might have been, it was still easier on the eye than Jose's press conferences. He wasn't just being terse now - he was being downright rude, more than once demanding 'respect' from the assembled journalists. How it never descended into a fistfight I'll never know.
However, you couldn't help ask yourself, if that's what he's like in front of the media, what must go in the changing room?
Did he ever 'lose' the players? Results would suggest otherwise, but the atmosphere around Old Trafford wasn't exactly cheery. Jose could still win you matches, but there was the distinct impression he was... well, a bit toxic. Sir Alex Ferguson once famously described the former Chelsea captain, Dennis Wise, as being the kind of man who could start a fight in an empty room. It appeared as if Jose had been taking lessons from the diminutive midfielder.
The end - again - was no surprise.
Then, a short time ago, he pitched up in North London, at Tottenham.
Now, Spurs are, historically, a 'big' club. They may not have been prolifically collecting trophies since their glory days, and the Premiership title has always seemed out of reach, but they have history, pedigree. They also have a spanking new, state-of-the-art stadium, and a more than decent squad - chief among them, Harry Kane, unarguably one of the best strikers in the world.
On that front, it's a good fit for Jose.
However, Tottenham fans are also used to attractive football - Jose circa 2004 would have been perfect; Jose circa 2020 is an entirely different proposition. He's got more conservative as he's grown older, and whether Spurs supporters will be willing to sacrifice entertainment for success will be an interesting side-show to Mourhino's time in charge. His teams may not play with the same abandon as they did in his early days as coach, but - given time - they normally end up with silverware. Whether that will win over the fans remains to be seen.
Tottenham have just had an indifferent season; however, he took over half-way through, and - given the additional strangeness provided by Coivd-19 - he didn't let himself down. But, although they're currently rank outsiders to be English champions next season, I'd be absolutely not surprised in the slightest if they win something: It's Jose - it normally happens.
(Well, that or he gets acrimoniously fired, or just leaves. Either way, there's always some sort of drama.)
But, there's something else...
There's glimpses, flickers, that the old Jose is back. No, not in the style of football - that's still a bit boring. But he's smiling again. Being silly, and making jokes. The sourpuss from Old Trafford has been replaced with a much more avuncular incarnation. I wouldn't say the twinkle is yet back in his eyes, but he's not snarling, and snapping, and demanding 'respect.' He's being witty, and charming again.
Whether it's just due to an extended break from the game, or a genuine excitement at the prospect of establishing Spurs as the force they've got the potential to be, he's certainly a lot more relaxed.
Can England fall in love with him all over again? Quite frankly, no. He's managed Chelsea, Manchester United, and now Tottenham; there's huge swathes of Manchester, and London who will never warm to him again. And, given what happened in some of the matches involving Chelsea and the red team from Merseyside, he's never going to a favorite among Liverpool fans.
But, he's still got 'something.' Even if you hate him, you can't deny that English football is better for having him back.
I am fascinated to see what he does this season. I will always be. Because, it doesn't matter whether he's telling the press he's the best manager in the country with a disarming smile on his face, or snapping at them, informing them they're all basically idiots. It doesn't matter if he's winding up opposing coaches, or hiding in laundry trollies. It doesn't matter whether he's sprinting the length of the pitch to celebrate a winner, or mucking around with the ball-boys.
Jose Mourhino is "The Special One." And he's always worth watching.
----------------------------------------------------------------------------------------
If you've liked what you've read, please check out the rest of work my on Vocal.
You can also find me on Elephant Journal and The Mighty.
If you've really liked what you've read, please share with your friends on social media.
If you've really, really liked what you've read, a small tip would be greatly appreciated.
Thank you!