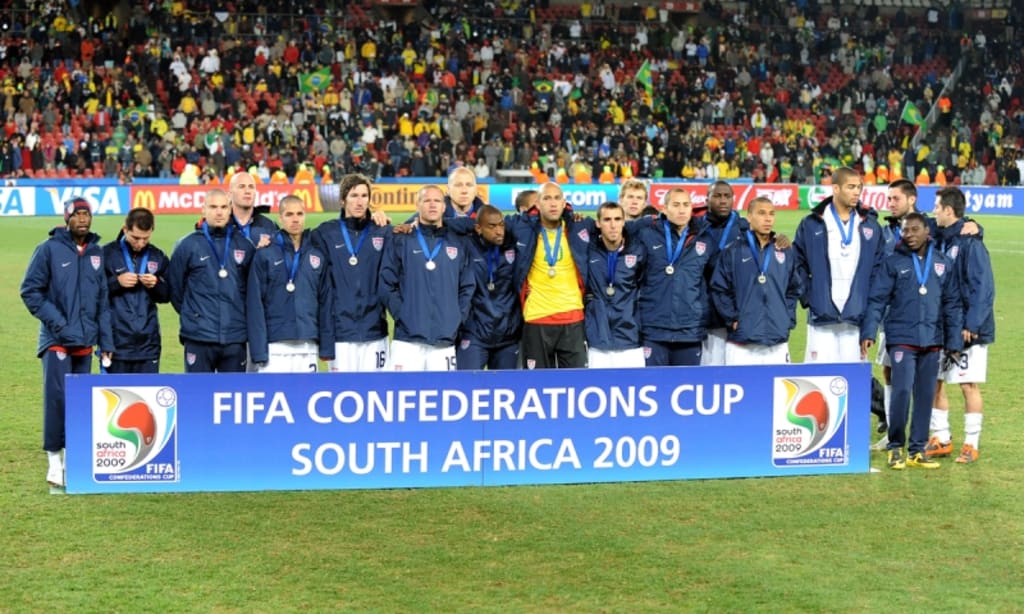 Our American 2nd Place Confederations Cup Medalists
It's no new idea, in fact there's probably been debate about this since the dawn of International Football even in it's earliest 'infringes' on the Club Game at the turn of the 20th Century. Now I'm something of an odd, old soul in that I'm a Country First, Club Second man in a world of Club First Thinking, usually. In many ways my soul still hasn't recovered from wasting 0-0 after 90 and Tim Howard's 16 Saves in Brazil, who just recently retired as the MLS Regular Season Concluded by the way. And when we failed to qualify for Russia, well... it's lucky I had my wife to keep me from complete suicide watch. That Applebee's I went to for access to BeINSport for #ThatNightInTrinidad is on my personal shit/cannot revisit list. For awhile I avoided Applebee's entirely, but you know—two for $20 reels you back in.
As we're within this Club Season's first International Break we brace ourselves for all the cliches: star player gets hurt with his nation, club manager gets fired because the owners have too much time on their hands, player from midtable team relatively safe from relegation, but with no significant hope of winning any trophies plays the most crucial games of his 'season' trying to get his nation qualified for either Euro 2020 or Qatar 2022. To be honest I never really, really felt the complaints of Club First People about the International Break until FIFA, the video game, Career Mode got International Management. To me it's only really tiring when the game schedules you five USA-Mexico games, or two games with India you'd not schedule if you could, or have to play Northern Ireland, Canada, and China with no Top Tier Challenger in sight. But I shouldn't get into the weeds, I've already got a pretty good, FIFA Video Game Article.
Instead let's ask the question: why not have completely separate Club and International Seasons??? I can't take sole credit for this particular idea, as I'm sure it's been around for quite some time. I personally first thought about it in earnest when Gab Marcotti mentioned it on EPSNFC. All hail the #GabMarcottiPlan. With no breaks, the Club Season could be retooled to fit within August to April. I'll admit it would take some time getting used to having Champions League Finals in April and the compression of the season as a whole. But we got used to Champions League Finals being on Saturdays despite European Tradition of all midweek games, and that was very much a change for the better. So hopefully this would be embraced the same way.
Leaving May, June, and July to schedule International Matches and attempt to allocate something of a break for players. To some extent Club Football is just as much to blame on player fatigue in this period as commercially successful preseason encounters keep getting pusher earlier and earlier up the calendar. Here's a basic view for how it could look:
World Cup Year:
First two weeks of May off for rest, then UEFA & CONCACAF Nations Leagues in those next four weeks of late May/Early June, as well as the Nations Leagues of the other Confederations if they create them. For the bulk of teams, that's four to eight matches, or at worst in the lower leagues the low double digits. My thinking is you don't really want to have the Nations Leagues and Qualifying for Competitions in the same window really. Now if UEFA continues to tie aspects of qualifying to theirs, that might need to be reworked. Or we could simply have the drama of qualifying this close to actual tournaments. Both would be worth considering. It's also a good built in warmup for team growth and chemistry. Now this would lead to a need to have the 3rd Week of June open, and teams would choose whether to take all the rest or schedule a pre-tournament friendly. Then pretty close to tradition have the World Cup the 4th Week of June through 3rd Week of July. Then even the players who played 7 World Cup Games have a week to rest before August.
Women's World Cup Year:
Now I know FIFA's proposals so far for the Expanded Club World Cup have had it placed in Year 4 of the Cycle, but for me it's kind of logical to place it here in the month of May just as an extension of that Club Season. Then, selfishly, I'd want CONCACAF to place the Gold Cup in this June, so that we could send our best team to the Copa America the next summer if invited. Which currently—speaking about Copa America 2020—it's still up in the air who COMONBOL is going to invite for their two to six spots. Hopefully our United States group gets invited and builds a reputation to continue to be invited. And a universal complaint about the Gold Cup is having two per cycle. That's a change that needs to be made regardless. One Gold Cup is enough.
So UEFA would need to organize their qualifying for the Euros in June as well or perhaps three weeks of June and one Week of July. Then the Women's World Cup could have three weeks of July and the first week of August as an almost solitary stage and all the spotlight.
Euro Year:
Pretty similar to the World Cup Year. The Nations Leagues last two weeks of May and first two weeks of June. Third week off. Euros, Copa America, Asian Cup, and African Cup of Nations fourth week of June, and first three weeks of July.
Year 4:
Then you've got Year 4 free and clear almost exclusively for World Cup Qualifying. It would even be possible to bring back the Confederations Cup after Qualifying is over. Which as you can tell from my article photo I do miss that competition, and I still can't believe we blew that 2-0 Lead on Brazil in the 2009 Final. And I'll still swear til the day I die that we beat Ghana and get our World Cup Quarterfinal with Uruguay if Charlie Davies is healthy instead of getting in that car crash. A very friendly matchup to possibly crash the Semis, but I digress. That's the bare bones of the basic plan and I think it's a fair and decent one. It'd be difficult on Clubs that play outside the Club Season, but that's already very true anyways. The question is will FIFA ever embrace the wisdom of separating the Club and International Seasons. I would've said up until recent years that there isn't really any hope for it, but making changes and tweaks in both FIFA and sports in general is very much in vogue right now, so we can hope. A small flickering hope, but it's there.
Reader insights
Be the first to share your insights about this piece.
Add your insights