Best Soccer Autobiographies
All of the best soccer autobiographies are written by people who inspired their teams to numerous victories. Their tales of struggle and success will inspire you to achieve all your goals.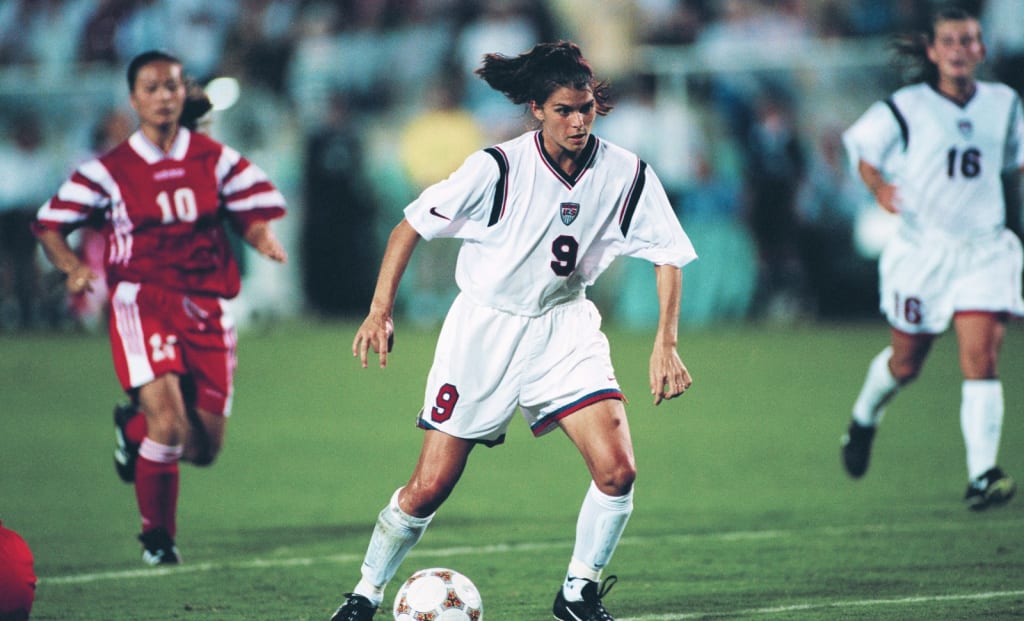 Some of the best soccer autobiographies have been written not only by soccer players, but also by coaches and managers who have participated in this beautiful game and helped form the playing career of so many of the world's most successful athletes. Soccer is one of the world's most popular sports, and behind the scenes, there are many people who deal with contract negotiations, trades, and the logistics for each player. There is plenty of politics involved that fans of the sport almost never see. The best soccer books every fan must read and other football books give us knowledge on the life story of many players, as well as some intel into other aspects of the game.
When Nobody Was Watching is Carli Lloyd's memoir, which will both inspire and uplift readers. Carli Lloyd was a midfielder and team captain of the 2015 US Women's team who won the FIFA World Cup that year for the first time in 16 years. Lloyd talks about this epic achievement, but she also recalls her struggles through her playing career of sticking to the sport and how she almost quit at one point before meeting her mentor and trainer, James Galanis. This New York Times bestseller is definitely worth a read, if not simply for its motivational tone.
Managing My Life: My Autobiography by Alex Ferguson is one of the best soccer autobiographies out there because it shows a different perspective from most other titles. Ferguson was once a soccer player himself and had a tough life, but this book chronicles his success through his managing career with Manchester United and how he received the highest honor possible in England, which is a Knighthood from the Queen herself. "Sir Alex" Ferguson's memoir is unique from other soccer player memoirs, and it provides a fresh story and outlook into the game of soccer, as well as a glimpse of one of the three best British managers ever.
Arguably the most famous female soccer player in the United States, Mia Hamm's memoir, Going for the Goal, is one of the best soccer autobiographies on the shelves. This must-read book is not only a memoir of Hamm's road to success, but it is also a guide for any child who is trying to succeed in the game of soccer. It features ways to make the team, illustrated guides, and personal anecdotes from Mia herself.
Roy Keane is the former captain of the Manchester United football team, and he played on multiple teams for 18 years throughout his career. This memoir, The Second Half is one of the best soccer autobiographies ever written because it chronicles Keane's incredible journey through soccer and life. He went on to become a manager and a broadcaster, and there were many psychological struggles he had to deal with through his retirement as an athlete. Keane's story is an honest and moving reflection, which pretty much anybody can relate to.
Johan Cruyff is considered to be one of the greatest soccer players of all time. This autobiography starts his life story in postwar Amsterdam, and leads up to his soccer career, in which he won eight champion leagues, three European cups, and the 1974 World Cup.
Brian Clough is a manager for Manchester United, and his charismatic personality is what makes him so interesting and fun to read about. This autobiography explains his three decades as a coach, and all of the controversy he has faced for his personality and methods. However, this is what makes him special and respected, so Clough remains true to himself.
Forward is written by Abby Wambach, who was a forward on the US Women's National Soccer Team during her playing career. Wambach became the highest scorer in the history of soccer for both men and women when she was 35, and in this memoir, she tells much more than her story of her career in soccer. She is a fierce woman who stands up for women's rights and advocates for the pursuit of happiness and success at all costs. This book is a New York Times bestseller, and if you pick up any autobiography about female soccer players, this should be it.
Pelé is the greatest soccer player of all time, and whether you know anything about the sport of soccer or not, most people in the world have heard this name. This is one of the best soccer autobiographies on the market because it is written by the legend himself. Pelé has won three World Cups and scored 1,283 goals. In his retirement, he has become a global ambassador and travels the world to show how soccer can transform communities.
Zlatan Ibrahimovic is a famous striker and the captain of the Swedish national soccer team. In this essential book every soccer fan should read, Zlatan talks about his tough life story as a child, and how soccer was always his outlet. He goes on to talk about his present soccer career, his fierce personality on and off the field, and how the sport has molded him into a more confident human being.
Wreck My Life is written by Mo Isom, who is an All-American soccer player. This is one of the more inspiring autobiographies, going much deeper than the game of soccer. In this memoir, Isom brings us into her life story behind the game. She was struggling with an eating disorder, the suicide of her father, and recovering from a bad car accident all at once. Then, she tells the reader about how God entered her life and everything changed. This is a very religious book and Isom explains how God was her savior.
The best soccer autobiographies on the market feature a range of perspectives, including men and women players, managers, coaches, and a variety of player's nationalities. With each perspective in mind, you'll understand the game of soccer and the legends who have shaped the sport on a much deeper level than you would simply by playing the game.